Padres try rookie infielder Spangenberg in left field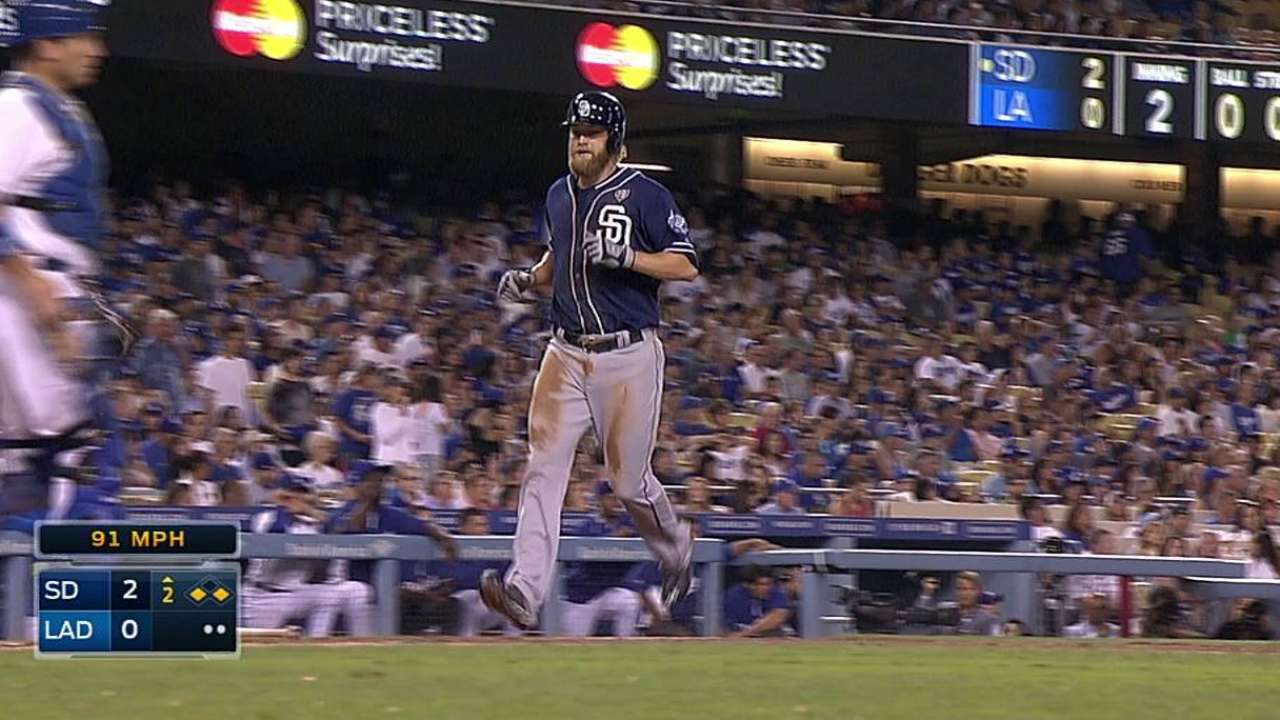 LOS ANGELES -- Padres manager Bud Black slotted rookie infielder Cory Spangenberg in left field for Wednesday night's finale with the Dodgers as a way to get both his and third baseman Yangervis Solarte's bat in the lineup.
Black was discussing Spangenberg's first Major League start as a left fielder before the game when the 23-year-old walked by the Dodger Stadium dugout.
Black asked Spangenberg, a natural second baseman, if he had ever played left field in the Minor Leagues.
"One inning," Spangenberg said.
Black turned to the reporters surrounding him.
"And you guys said he didn't have any experience," he joked.
Spangenberg -- the Padres' first-round pick 2011 -- played just 16 games in the outfield in his Minor League career -- 15 coming in center and the other coming in left.
He did appear in left field after pinch-hitting during the Padres' 12-inning loss to Colorado on Saturday.
"I think, obviously, we're challenging him a little bit," Black said. "Talking with the coaches .. our desire to put him and Solarte in there at the same time and keep [Alexi Amarista] at short."
Spangenberg has swung a hot bat since his call up to the Major Leagues from Double-A San Antonio on Sept. 1.
His RBI single in Tuesday's 6-3 Padres win gave him six RBIs through his first seven Major League games -- tying a franchise record shared by Yasmani Grandal (2012), Sandy Alomar (1988-89) and Miguel Ojeda (2003).
He's 8-for-22 in those seven games -- including two pinch-hit home runs -- although he's not known for his power, hitting just 12 homers in 1,484 Minor League at-bats.
On Wednesday, Spangenberg got his second consecutive start in the leadoff spot after leading off and playing third Tuesday.
"That's where I've been hitting all year, so I'm comfortable there," he said. "Any way I can get in the lineup, anywhere I can hit is fine with me. It's great just to be up here and experience what it's like to be in the big leagues -- the schedule, the travel, just the type players you're playing against."
Michael Lananna is an associate reporter for MLB.com. This story was not subject to the approval of Major League Baseball or its clubs.