Kennedy still searching for answer vs. Dodgers
Padres righty falls to 0-3 in six starts against LA this season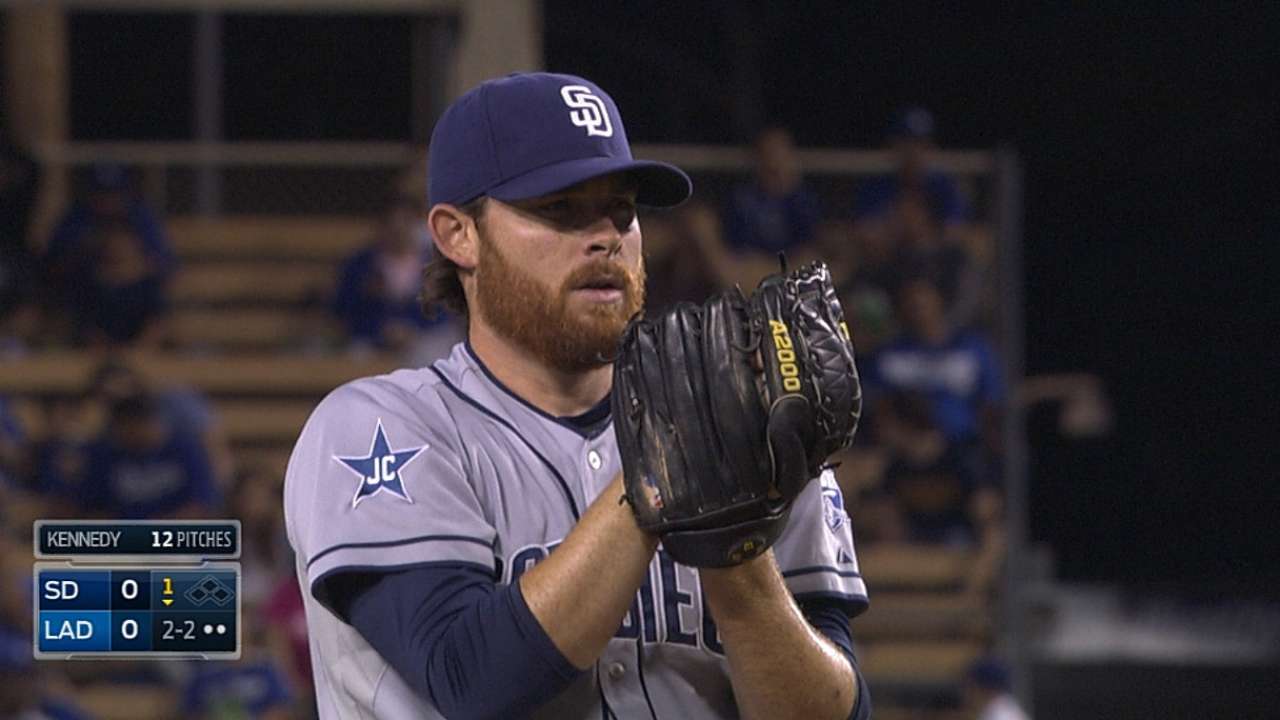 LOS ANGELES -- There's been no dodging the Dodgers. Not for Ian Kennedy. He's been seeing blue all season long. He likes that -- the recurring battles and adjustments. He likes the game within the game, the chess match. On Wednesday night, though, it was checkmate, Dodgers.
Kennedy took the mound against Los Angeles for the sixth time this year, and for the sixth time he came away winless. Kennedy allowed just three earned runs in his six-plus innings, but he was opposed by a strong Dan Haren, who turned in a seven-inning gem to hand the Padres a 4-0 loss at Dodger Stadium.
It wasn't Kennedy's sharpest outing, by any means -- he allowed 10 hits -- but the right-hander was able to pitch his way off a cliff on more than one occasion.
"I thought he threw the ball fine, good velocity, good tight slider, good change," manager Bud Black said. "I thought overall he pitched well enough to win on given nights. Kept us in the game, threw pitches in the seventh inning in a pitchers' duel. He got outpitched by their guy, and we didn't hit their guy."
Haren flummoxed Padres hitters with an assortment offspeed pitches and a biting splitfinger, allowing just four hits to go along with five strikeouts.
The Padres had their best chance to make a dent in the fourth inning. Seth Smith reached on an errant throw by Justin Turner at second base, then cleanup hitter Jedd Gyorko doubled to put two runners in scoring position. But Yasmani Grandal popped out, Rene Rivera struck out, and Will Venable grounded out to strand both runners.
Haren went on to face the minimum in his next three innings, before giving way to the Dodgers bullpen to seal the win.
"He was using all of his pitches -- his split, his cutter, his fastball, his curveball when he needed to," said Padres catcher Rene Rivera. "He always kept the ball down and he kept us off balance."
Against Kennedy, the Dodgers made their first move in an arduous 30-pitch second inning.
Right fielder Matt Kemp led off with a single to right field, and two batters later, Carl Crawford doubled to the left-center-field wall, where Venable was unable to make an athletic catch. Kennedy then allowed a single to Juan Uribe and walked A.J. Ellis to load the bases, but he was able to wiggle out of danger with back-to-back strikeouts against Haren and Yasiel Puig.
From there, Kennedy said he was able to rein in his pitch count thanks to some aggressive swinging and a pair of double plays. He finally faltered, however, when Hanley Ramirez singled with two outs to drive in Turner from third base in the sixth. An inning later, Kennedy allowed a third hit and second double to Crawford, then an RBI single to Uribe for the Dodgers' third run. Right-hander Nick Vincent entered after Uribe's single and worked out of the inning without further damage.
"I think Ian did a great job today," Rivera said. "Three runs is nothing for a starter. And we had a couple of times when he had men on second and third and no outs or one out, and we didn't score any runs. It's bad when you don't have any run support."
Haren, on the other hand, had plenty of offensive support from Crawford, who went 4-for-4 on the night, drove in two and tied a career high and Dodgers record with three doubles. His third knocked in the Dodgers' fourth run against reliever Tim Stauffer in the eighth inning.
Kennedy, who dropped to 10-13 on the season and 0-3 against the Dodgers this year, said Crawford's hot hitting was the key difference in his sixth and final 2014 start against Los Angeles -- it was the most crucial piece on the chess board.
"Crawford had a really good night. I think he's been swinging the bat really good. I saw how his series numbers were," Kennedy said, referring to the left fielder's 9-for-13 series and .440 September batting average. "Kemp's being swinging the bat really good, and when those guys are doing it, it allows the other guys in the lineup to do well. It makes the lineup a lot deeper. If you have some guys struggling, it allows you to attack a bit more.
"But yeah, they're hitting the ball pretty good. There's a reason why they're in first place."
Michael Lananna is an associate reporter for MLB.com. This story was not subject to the approval of Major League Baseball or its clubs.