Konerko working toward return on road trip
Retiring captain expected to hit for first time on Saturday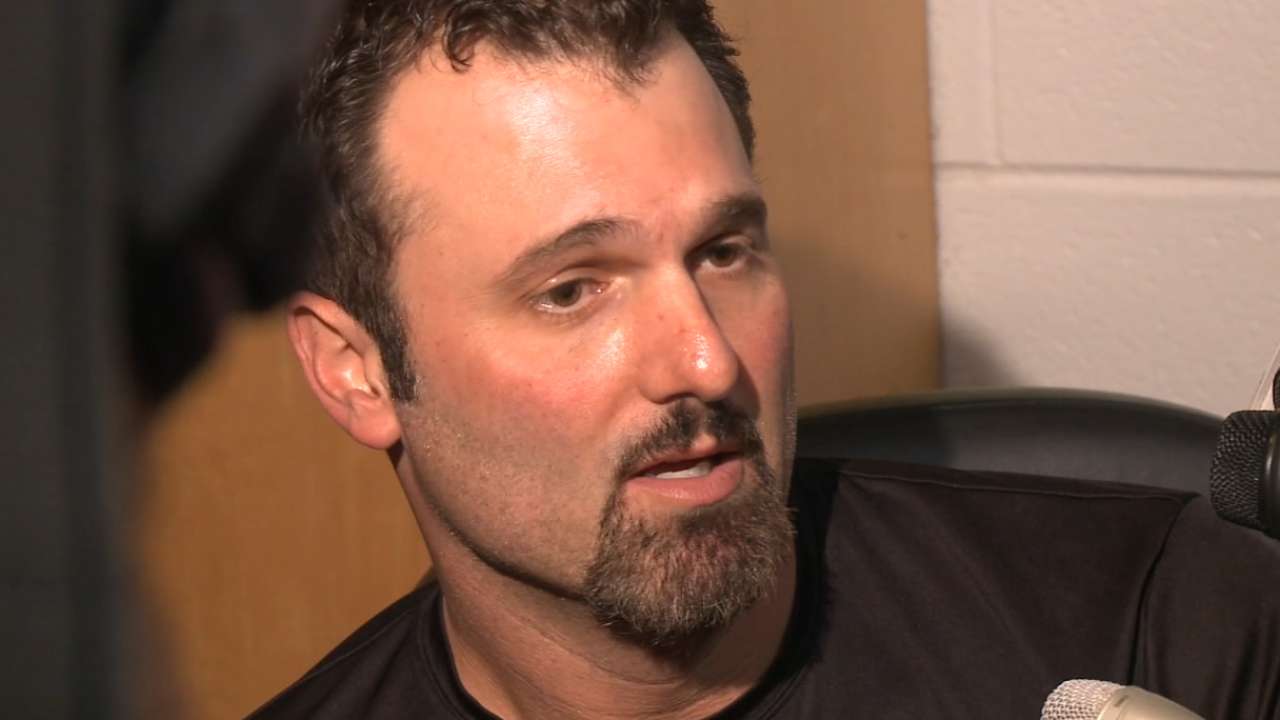 CHICAGO -- Paul Konerko still plans on returning to action during the White Sox upcoming nine-game road trip to Kansas City, St. Petersburg and Detroit, despite dealing with the fractured sesamoid bone in his left hand. The worst-case scenario continues to be Konerko playing at some point during the final four home games of the season against the Royals, and the final four games of his 16-year-run with the White Sox.
Progress has been made daily, although Konerko added that he hasn't done any exercising or anything aggressive.
"The plan is to pick up a bat, maybe feel it, take some swings, and see what that feels like," Konerko said. "If that feels good, and there's nothing sticking out, less painful, take it from there and maybe hit some balls this weekend, Saturday.
"Once I know it's good, it's not like I have to go through a program of building it back up. If I can hit a pitched ball, I'll be available the next night. Or that night. There will be some discomfort, but it's enough that I can keep on it and not have to worry about it setting me back any more."
On this most recently completed American League Central road trip to Minnesota and Cleveland, Konerko was honored with a large bottle of 2005 Ladera Cabernet Sauvignon and a $10,000 donation to Children's Home + Aid from the Twins and with a Les Paul Gibson guitar from the Indians. The gifts and tributes brought a smile to Konerko's face, especially since they had a direct connection to Konerko's interests and charitable involvement and came from division rivals.
They also hit home for Konerko as a representation of going about business the right way and earning respect from your opponents, which is something a player can think about more as his career comes to a close.
"You start off playing the game, and you don't really have any respect from anybody. You're trying to earn it from your own teammates, your own people," Konerko said. "So to play for a long time and at the end of it, you have people on the other side that you've been trying to beat, and they've been trying to beat you, taking time out of their day to plan, to have a gift for you, to have a ceremony, to give you something, that's pretty neat.
"I feel good about that. You don't really think about those things when you're playing. You're not really worrying about how you're impacting [things]. You don't really care about the other side of things. You hope they respect you, but you're caring more about your own side. But when you get to the end, and they stop and they do that for you, it feels good. I think a lot of players would like their opponents' respect."
Scott Merkin is a reporter for MLB.com. Read his blog, Merk's Works, and follow him on Twitter @scottmerkin. This story was not subject to the approval of Major League Baseball or its clubs.