Trio of September callups take part in Tuesday's action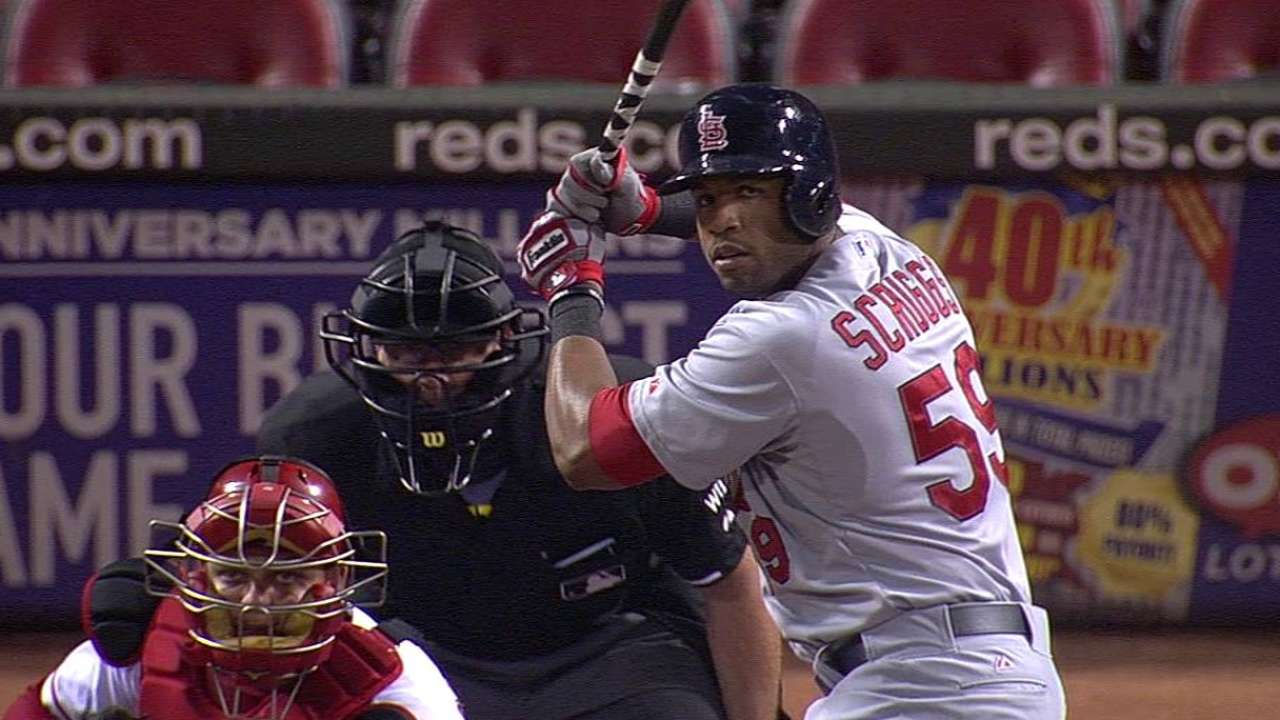 CINCINNATI -- Three of the Cardinals' September callups played in Tuesday's 9-5 loss to the Reds at Great American Ball Park.
Sam Tuivailala made his Major League debut in the eighth inning, allowing two runs on three hits, walking one and striking out one over two-thirds of an inning. The 21-year-old right-hander gave up a two-run bloop single by Chris Heisey that right fielder Randal Grichuk dove for but couldn't come up with.
"It was good to get my feet wet," Tuivailala said. "Just the experience that first time, it was amazing. I'm just glad to get out there, and hopefully get into another game."
Tuivailala had some butterflies, as is to be expected, but manager Mike Matheny paid him a visit while he was on the mound.
"My heart was pounding," Tuivailala said. "I was trying to breathe and slow the game down and just trust myself. … [Matheny] was asking me, 'How's it going?' and trying to relax me. And it worked. He's a good guy; he's really good at just making the situation calm down and it definitely rubbed off on me."
It also helped that Matheny was a big league catcher for 13 years.
"He probably knew what I was going through," Tuivailala said. "He's seen a lot of guys come up here and have their debuts, and young ones like myself."
Outfielder Tommy Pham also made his big league debut, pinch-hitting for Matt Holliday in the ninth and striking out.
Xavier Scruggs, who made his Major League debut on Sept. 4, pinch-hit for Matt Adams in the ninth and hit an RBI double for his first big league hit.
"I kept the baseball. It definitely felt great, and I could actually breathe after that," Scruggs said. "It definitely weighs on you for sure [until that first Major League hit]. It's the one thing that you're thinking about, just being able to help out the team by getting on base. I'm just glad I was able to get it out of the way, and now I can just focus on playing my game."
Scruggs is excited to be with the Cardinals as they make another postseason push, knowing that his next hit could be a big one.
"It's cool, because these guys have always been playing for something," Scruggs said. "Just being able to watch them and being able to come up and hopefully contribute is huge."
Manny Randhawa is an associate reporter for MLB.com. This story was not subject to the approval of Major League Baseball or its clubs.