Penny back to bullpen to make room for Alvarez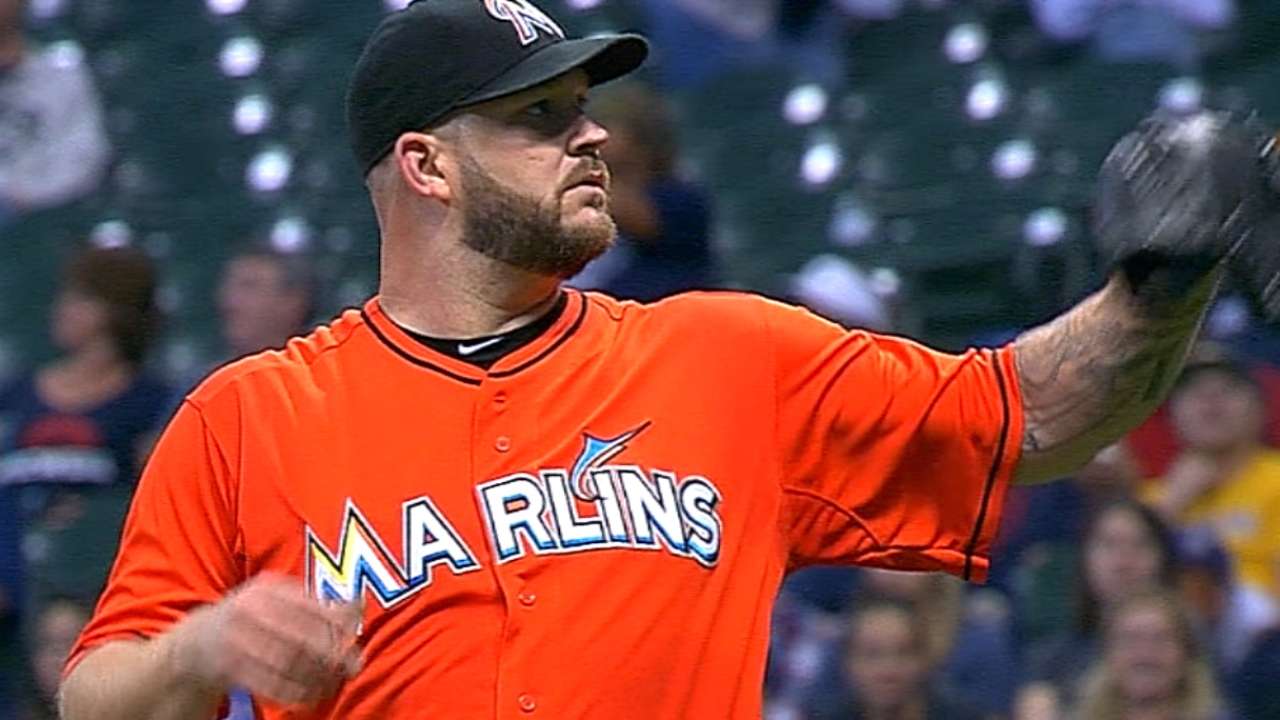 MILWAUKEE -- The return of right-hander Henderson Alvarez will move veteran Brad Penny to the bullpen, Marlins manager Mike Redmond said before Wednesday night's game against the Brewers.
"We'll see where we can mix him in, but he'll pitch out of the bullpen," Redmond said of Penny. "Whether it be on Saturday or wherever, we'll see where we need him going forward."
Alvarez, 10-6 with a 2.88 ERA this season, missed one scheduled start after leaving his outing on Sept. 1 with an oblique strain, returning to the rotation sooner than expected. He is scheduled to start the opener of a three-game series at Philadelphia on Friday.
Penny, who did not pitch in the Majors in 2013 and was called up Aug. 9 from Triple-A New Orleans, started Monday in the series opener against Milwaukee, allowing two runs on four hits in six innings to get the victory in his longest big league outing since 2011. He made two relief appearances in late August before returning to the rotation.
Brad Hand, who pitched six scoreless innings as a spot starter in Sunday's 4-0 victory over Atlanta, will start the second game on Saturday at Philadelphia. Tom Koehler, who allowed two runs on six hits in five innings Tuesday night in Milwaukee, will start Sunday against the Phillies.
Pitching prospects Andrew Heaney and Anthony DeSclafani were brought up earlier this month when rosters were expanded, creating a surplus in the bullpen with limited opportunities, especially with the Marlins battling their way back into the National League Wild Card picture.
"We've got a lot of arms down there and we've got a lot of young guys that we're not sure where they're going to fit in," Redmond said. "Do we want to get them innings? Of course. But at the same time, too, with these games that are tight, one-run games where we have chances to win, we're going to use the guys that have been here all year.
"Will there be a spot start down the road or innings that those guys can pitch? We'll see. But for right now, we're going to stick with the guys that have pitched and have helped get us to this point. But, in saying that, too, there's always games where you need arms, you need guys to log innings. There'll be a start where somebody gets knocked out early or whatever, and we'll need those guys to pitch. It's just hard. As of right now, we haven't really needed them."
Jim Hoehn is a contributor to MLB.com. This story was not subject to the approval of Major League Baseball or its clubs.