Votto's status for rest of season remains unclear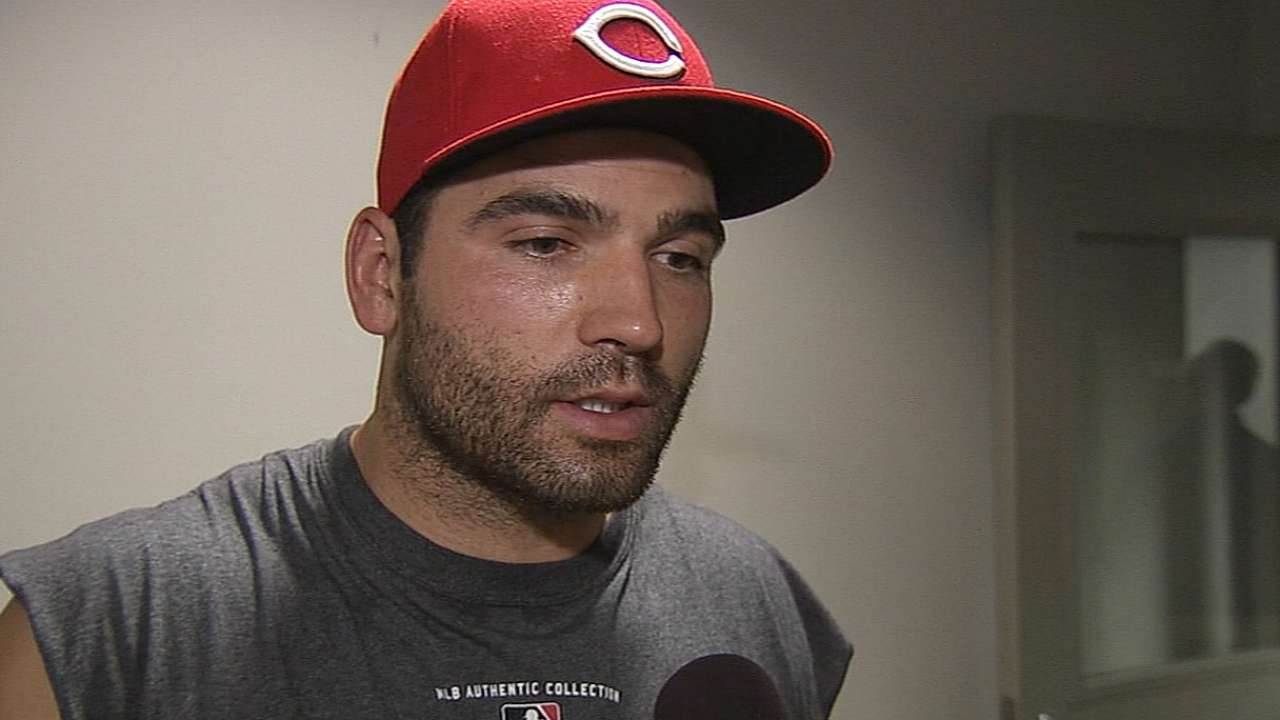 CINCINNATI -- The most definitive, concrete news about injured Reds first baseman Joey Votto on Wednesday was that it was his 31st birthday. As far as an estimate of whether Votto can return to the club and play in 2014, it remains as hazy as ever.
Votto, who on July 8 went on the disabled list for the second time this year with a distal strain of his left quadriceps, has been doing well with taking grounders the past few days. On Wednesday, manager Bryan Price reported that he has liked what he's been seeing.
"He felt better [Tuesday] than the day before," Price said. "He hit off the tee. We'll see how he feels today. I don't want to say more of the same. It's progress."
The jump from Votto making progress to a timetable for his activation from the DL remains too far to make.
"I can't answer those questions yet. It's not a short distance," Price said. "We have a long way to go, not necessarily in time but as far as things to accomplish -- hitting live BP, running the bases, seeing live pitching, doing anything we can to simulate a game environment. We haven't even talked about whether there is a trip to instructional league or simulated games.
"We haven't even gotten to that point because there is no reason to invest in that unless we're getting close to a possible activation. If we get to a point where we can realistically set those things up as a precursor to his activation, we'll see."
In 62 games this season, Votto is batting .255/.390/.409 with six home runs and 23 RBIs. He also spent from May 21 to June 10 on the DL with the same injury.
After Wednesday, the Reds have 16 games left in the season and are nearing elimination from postseason play. Many teams and players, often at this point, would be stopping attempts to bring injured star players back and focusing on the next season.
And Votto isn't just any star player, but also a very expensive one on a small-market club. The 2015 season will be the third year of his 10-year, $225 million contract, when he will be earning $14 million.
"No doubt about it, it's unique," Price said of Votto's situation. "[What] we agreed upon when we put him on the DL was if we felt like we got him back and put him in an environment to risk re-injury or setbacks, we just wouldn't do that. You know what? His commitment to playing and our commitment to wanting to play is important. It deserves every attempt.
"If we said, 'Hey, you can play in a week and play the last several days of the season,' that might be something we deem worthy as a stepping stone into 2015. To get him ready to have a single commemorative at-bat in the last game of the season isn't really the goal."
Mark Sheldon is a reporter for MLB.com. Read his blog, Mark My Word, and follow him on Twitter @m_sheldon. This story was not subject to the approval of Major League Baseball or its clubs.