Jaso, Gentry feeling effects of concussions
Catcher returns to Oakland; outfielder injured Tuesday night in collision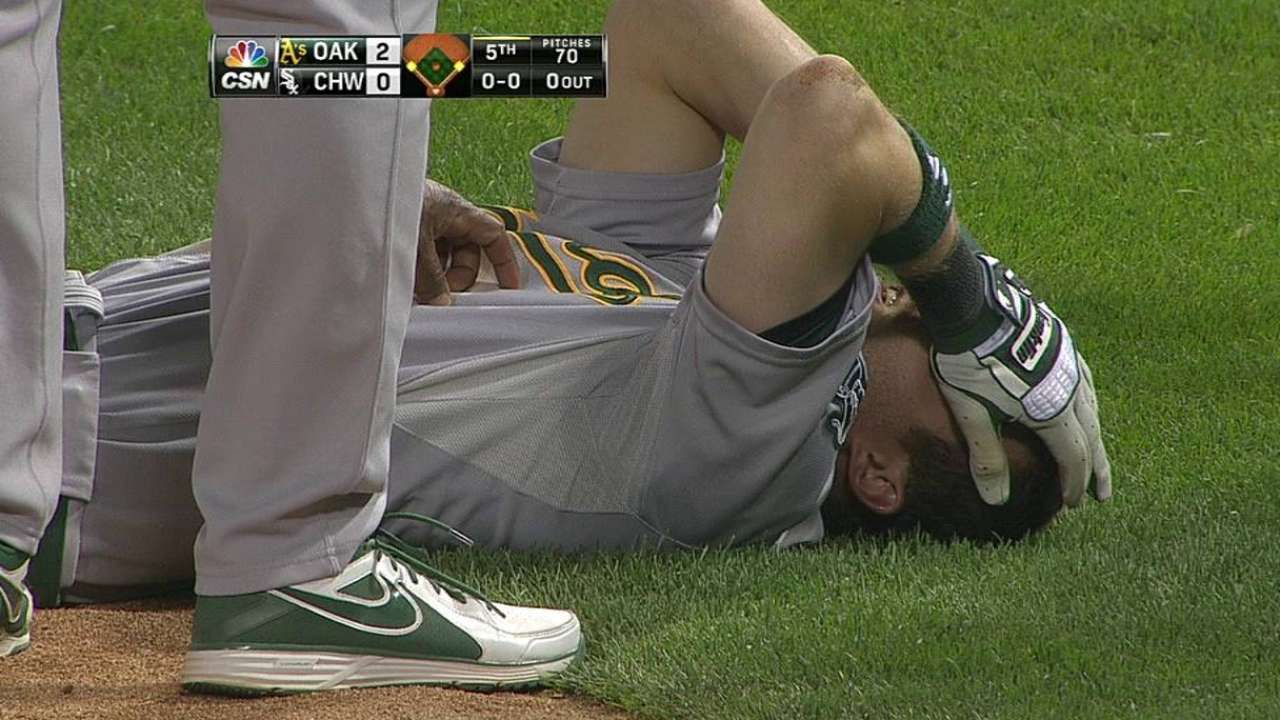 CHICAGO -- John Jaso will return to Oakland and halt baseball activities for the time being in light of his meeting on Wednesday with a concussion specialist in Pittsburgh.
"Just wasn't happy in the direction that he was going," manager Bob Melvin said of the assessment by Dr. Micky Collins, whom Jaso has consulted since sustaining the concussion on Aug. 23 -- his second in 13 months.
It's unclear, Melvin said, if Jaso will be shut down for the season. Even if he had been cleared by Collins -- and subsequently, Major League Baseball -- Jaso would have been used only in hitting situations.
Melvin said he was optimistic for Jaso's meeting but not surprised with the assessment.
"No, not really," he said. "I mean, that's why we sent him there. … On a personal level, I'm more worried about the person than I am the baseball player."
Outfielder Craig Gentry experienced his second concussion since 2011 after colliding with White Sox second baseman Carlos Sanchez during the fifth inning of Tuesday's 11-2 win.
Gentry met with doctors in Chicago, but didn't undergo an MRI exam.
"He's a little better than he was last night," Melvin said of Gentry. "He's still not asymptomatic, so he's not going to be doing anything until his symptoms are gone."
Gentry's head collided with Sanchez's shoulder while beating out a bunt fielded by pitcher John Danks, who was charged an error on the play.
After lying on the ground briefly, Gentry regained his footing and then asked Melvin where he was.
Like Jaso, it's unclear when or if Gentry will return.
In a positive note for the A's, closer Sean Doolittle threw to hitters for the first time since going on the disabled list on Aug. 24 with a rib injury.
Doolittle threw roughly 20 pitches to complement the bullpen session he threw Monday. He remains optimistic of returning by the weekend.
"I thought he threw the ball really well, threw all his pitches, intensity was like he was in a game," Melvin said, "so we'll see how he comes in [Thursday]. If he comes in [Thursday] all right, then maybe we look to activate him the next day."
Daniel Kramer is an associate reporter for MLB.com. This story was not subject to the approval of Major League Baseball or its clubs.