Tigers' bats silenced in Porcello's strong start
Righty fans seven in 6 2/3 as Detroit falls one game back in division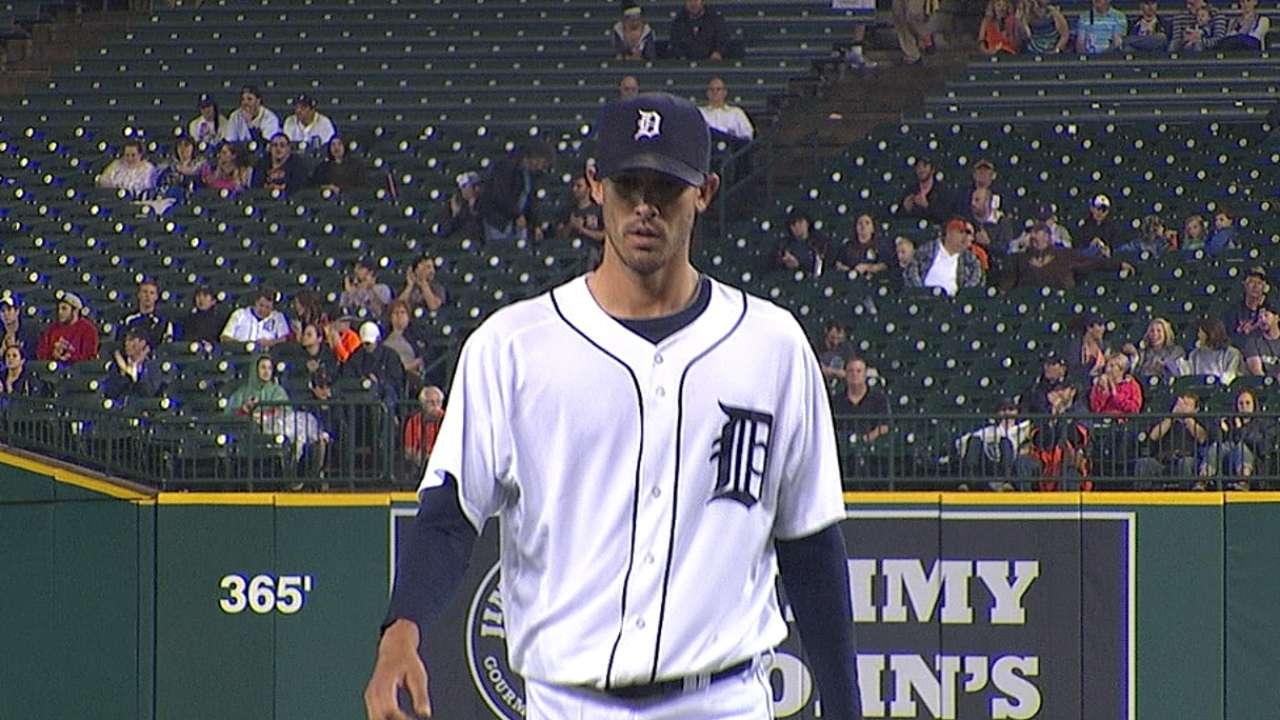 DETROIT -- The Tigers headed into Wednesday night feeling like they had put all the pressure of the division race on the Royals to try to hold off their march to first place in the American League Central. But Detroit ran into a pitcher whose nickname involves big games.
James Shields actually owns a 4.98 postseason ERA, and he entered the series finale with a 3.71 career ERA in September. The next run he gives up this month will be his first after 15 1/3 scoreless innings in back-to-back starts. Shields' seven shutout innings in the Tigers' 3-0 loss on Wednesday night left nobody in the home clubhouse questioning his branding.
"He's got the fire, that's number one," said starter Rick Porcello, whose 6 2/3 innings of two-run ball fell short against Shields. "He's a big-time competitor. He's got great stuff. I mean, he's throwing 94-95 tonight with a good cutter, and his changeup's one of the best in the game if not the best in the game.
"He's got the makeup of an ace and he's got the stuff of an ace. He pitched like it tonight."
Or, as Royals manager Ned Yost put it: "You don't earn a nickname like 'Big Game James' for nothing. And it just showed exactly how he got his nickname tonight. Games don't come bigger than this."
A win would've sent the Tigers into a badly needed off-day with a one-game division lead. Instead, the Tigers trail by a game with 16 left to play in the regular season. They settled for taking two out of three in the series, halving what had been a two-game deficit entering the week and setting up a rematch next weekend at Kauffman Stadium.
Bigger picture, Detroit ended its march of 24 games in 23 days with a 14-10 record. The Tigers missed a chance to finish with a winning record in its roll of 55 games in 55 days out of the All-Star break, settling for a 27-28 mark.
They'll have two off-days in the next week, the latter just before the next Tigers-Royals showdown in Kansas City. They're not where they wanted to be, but they've got a shot.
"We're closer than we were when the series started, and that's a positive," Tigers manager Brad Ausmus said.
While the Royals begin a four-game series at home against Boston, the Tigers are off on Thursday before welcoming Cleveland for three games at Comerica Park.
Not only did the Tigers take the first two games vs. the Royals, they led for 17 of 18 innings, and they looked very much like the more experienced, looser team, capitalizing on mistakes, executing fundamental plays, and looking confident. Shields was the equalizer.
"I think it's a big game," Shields said, "definitely one that we needed, for sure. But I think every game from here on out is pretty crucial, so we're having fun with it. That's what it's all about. We took a couple tough losses the last couple of days, but we're having fun right now and enjoying the moment."
Beyond his track record in postseason races was his track record at Comerica Park, where he's now 5-0 with quality starts in his last five outings. None, though, were as good as this one.
Shields gave up a leadoff single to Ian Kinsler, picked him off at first base upon a replay challenge, then he retired Detroit's next 18 batters. Just two Tigers in that 18-batter stretch hit the ball into the outfield, including a Nick Castellanos fly ball to the center-field warning track.
One batter after another, Shields racked up quick outs, either with the ball on the ground or in catcher Salvador Perez's mitt. He had as many three-ball counts as balls to the field during his 18-batter roll. By comparison, Shields put six batters in 0-2 counts over the same stretch.
"He's got three-plus pitches that he can throw for strikes in his fastball, cutter, changeup," Ausmus said. "He's a workhorse. He's one of the better pitchers in the league and he had an excellent night tonight.
"They're a pretty good team, and James Shields is a pretty good pitcher. Are we disappointed? You're disappointed every time you lose. We didn't give this game away. They beat us. They pitched better and they hit better. That happens. The big picture is we won two out of three, we gained a game since they were here. We've still got plenty of time."
Jason Beck is a reporter for MLB.com. Read Beck's Blog and follow him on Twitter @beckjason. This story was not subject to the approval of Major League Baseball or its clubs.