Weiss touts Arenado, LeMahieu for Gold Glove consideration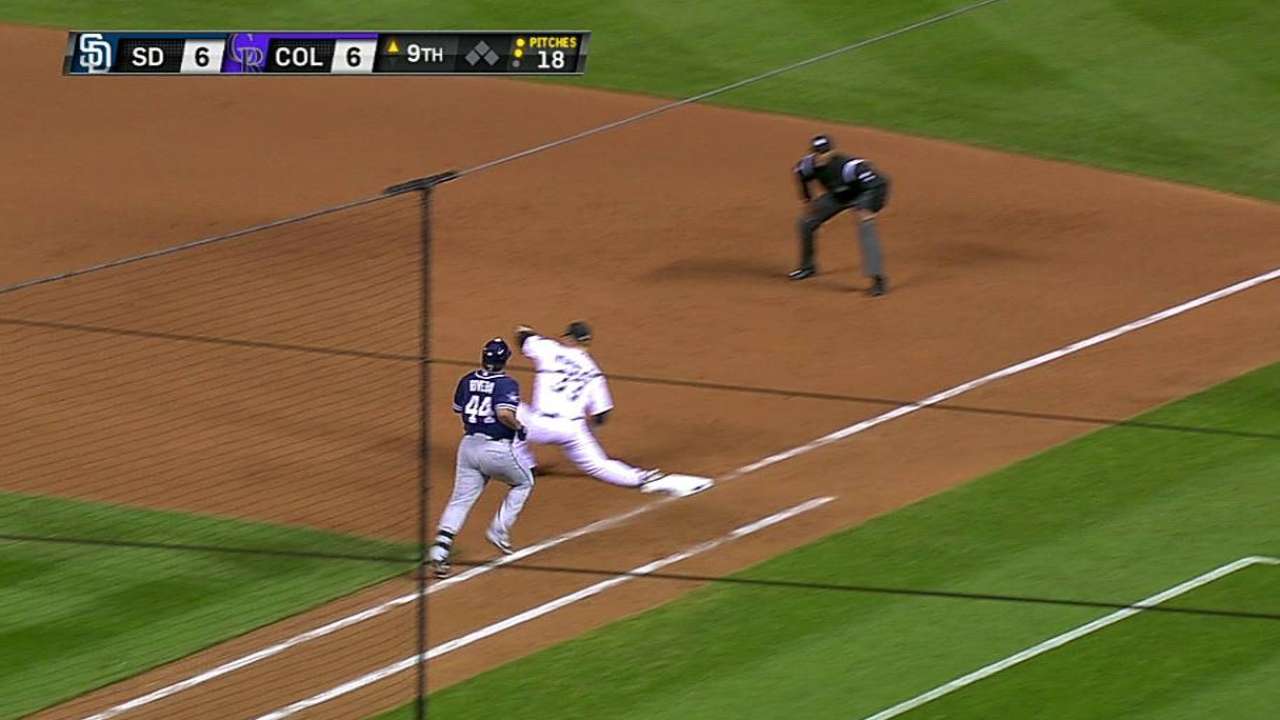 NEW YORK -- The Rockies are officially eliminated from postseason contention, but that won't stop Walt Weiss from campaigning for some of his players to take home what he believes would be well-deserved hardware. The manager noted Wednesday afternoon that third baseman Nolan Arenado and second baseman DJ LeMahieu should be serious contenders for Gold Gloves.
"I think people will recognize them," Weiss said. "I would be disappointed if Nolan didn't win it, [and] same with DJ."
Weiss' vouching comes with plenty of merit. Both men lead National League players at their respective positions in Defensive Runs Saved and Ultimate Zone Rating, according to FanGraphs.
Despite playing in just over 100 games due to a May finger injury, Arenado has 17 DRS and a 6.2 UZR. Arenado's UZR edges Cincinnati's Todd Frazier (6.0), but his DRS lead is considerable. New York's David Wright -- whose season is over -- is second with 13 DRS. From there, a considerable dropoff leaves San Francisco's Pablo Sandoval and Washington's Anthony Rendon tied for third with 7 DRS apiece.
Arenado could also benefit from his potent offensive reputation, which -- whether deservedly or not -- seems to play a role when it comes to Major League managers and coaches placing their votes.
"His reputation has been established as a defender," Weiss said. "You're seeing him on the offense side turn into an elite player there, too."
With a more modest offensive output, LeMahieu won't have that advantage, but his advanced defensive metrics stand up. He's the NL leader among second baseman in DRS (18) and UZR (10). Cincy's Brandon Phillips, who won his fourth Gold Glove last year, is second with 3 DRS and third with a 6.6 UZR. Philly second baseman Chase Utley (2 DRS, 6.7 UZR) is in his neighborhood, seemingly a tier below LeMahieu.
"[LeMahieu is] one of those guys that tends to fly under the radar because he quietly gets it done," Weiss said. "Not only has he made the routine play every night, he's made some great plays this year. He's made some web gems. People, when they think of DJ, they may not think of him in those terms, but he's very capable of making a great play.
"People are taking notice."
Tim Healey is an associate reporter for MLB.com. This story was not subject to the approval of Major League Baseball or its clubs.