MLB.com Columnist
Jim Callis
Position prospects boost Draft stock at Cape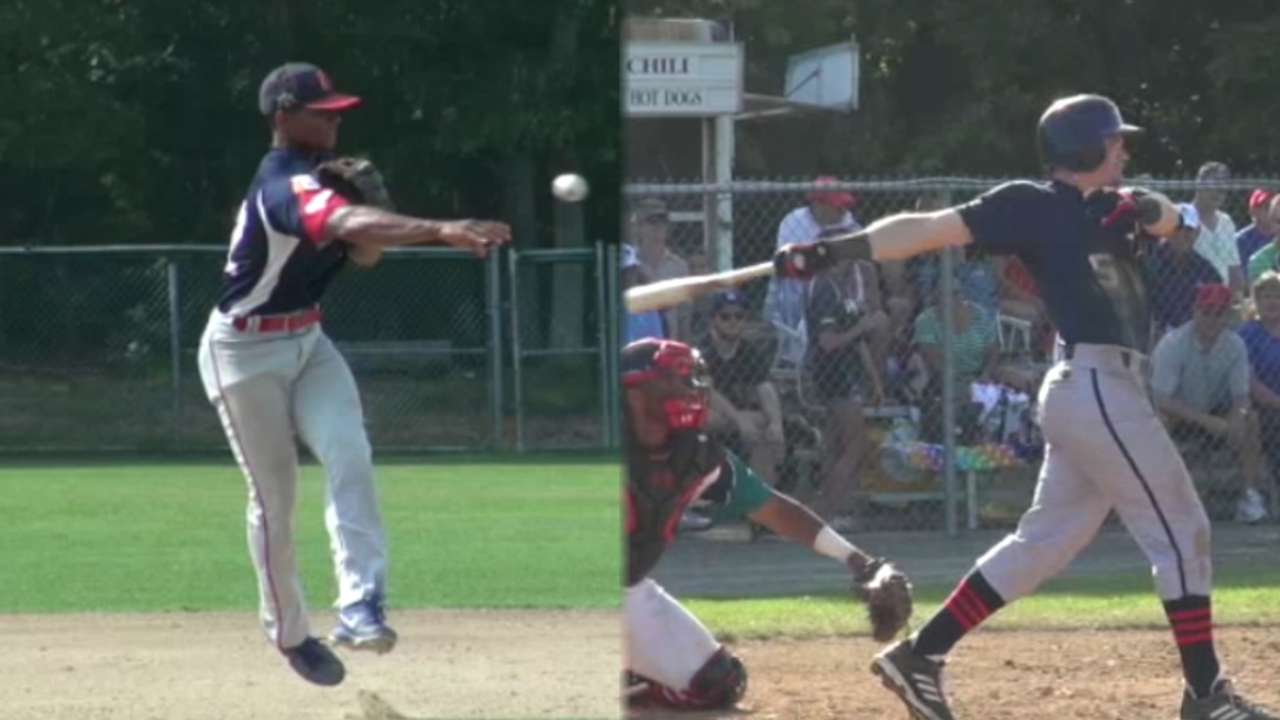 Scouts constantly bemoan the lack of elite college position prospects. Teams are so aggressive about signing athletes out of high school that few up-the-middle first-round talents make it to college in the first place.
That was evident in the wood-bat Cape Cod League, the premier summer college circuit that has produced more than 1,000 Major Leaguers (including more than 200 who are currently active) and 13 first-round picks in the 2014 First-Year Player Draft. Harwich outfielder Ian Happ was the lone player who entered the Cape season as a consensus first-rounder for 2015, and he did nothing to diminish his status. Several others significantly helped their causes, such as Bourne shortstop Richie Martin Jr. and Brewster outfielder Gio Brusa, though their lack of track records means they'll have to prove themselves again as juniors next spring.
Happ, Martin and Brusa headline the Cape's 10 best position prospects below. All will be juniors. For last week's evaluation of the Cape's top pitching prospects, click here.
1. Ian Happ, OF, Harwich Mariners (Cincinnati): Also the Cape's top hitting prospect a year ago, Happ returned to Harwich and led the league with a .936 OPS, 12 doubles and 25 walks. A 5-foot-11, 195-pound switch-hitter who's better from the left side of the plate, he has deceptive strength and controls the strike zone well, so he projects to hit for power and average. Happ played mostly second base in 2013, but he lacks classic infield actions and spent most of his time in the outfield this spring and summer. Though he has solid speed and arm strength, some scouts believe Happ may fit best in left field, where his bat still would allow him to profile as a regular.
"He's stronger than you think," an American League scouting director said. "He has such a good swing, and he's so balanced. Those type of guys figure out a way to get to their power."
2. Richie Martin Jr., SS, Bourne Braves (Florida): After hitting .193 with Falmouth last summer and a combined .279 in his first two seasons at Florida, Martin was a revelation with the bat this summer. He finished second in the batting race at .364 and topped the Cape with 36 runs and 59 hits. The six-foot, 180-pounder did a better job of shortening his right-handed swing and showed some gap power. Martin's speed, range and arm all grade as plus tools, and of the five shortstops on this Top 10 list, he's the only one likely to remain at the position as a pro.
"He can play defense in the big leagues," Bourne manager Harvey Shapiro said. "We've had Matt Tolbert and Nick Ahmed at shortstop in Bourne, and Richie has better range than both of them. How high he goes [in the Draft] depends on his bat. I think scouts would say his bat has come a long way from last summer. He hit with power toward the end of year. He got stronger and more aggressive and started turning on more balls."
3. Gio Brusa, OF, Brewster Whitecaps (Pacific): Another breakout player, Brusa batted .322 with a Cape-best .545 slugging percentage after hitting .257 and slugging .397 in his first two years at Pacific. One of the more physical and well-rounded players at the Cape, he is a 6-foot-3, 210-pound switch-hitter with above-average power potential and average speed. He's better as a left-handed hitter, and he'll have to tighten his strike zone after posting a 31-4 strikeouts-to-walks ratio. Brusa moves well and has a solid arm that is suited for right field.
"He was the surprise of the Cape for me," a National League scouting director said. "He hasn't performed well at Pacific, and no one was really talking about him. Then I go to the Cape and see him do everything: throw, hit home runs, spray line drives. He'll still have to perform well in the spring."
4. Steven Duggar, OF, Falmouth Commodores (Clemson): Though scouts didn't fully believe his official time of 6.26 seconds in the 60-yard dash during the league's workouts at Fenway Park, they did credit him with plus-plus speed and thought he was the fastest player on the Cape. Duggar also may have had the best all-around tools in the league. He's a 6-foot-2, 195-pounder with the strength and bat speed to hit for power, though he's mainly content to produce line drives from the left side of the plate. Duggar's speed makes him a basestealing threat and would allow him to fit well in center field if he adds some defensive polish. Primarily a right fielder at this point, he recorded nine assists in 40 Cape Cod games.
"Duggar has great tools and untapped power potential," a senior NL scouting official said. "He has a 55 arm and he's at least a 70 runner [on the 20-80 scouting scale]. He drives the ball in batting practice, but not in games."
5. Chris Shaw, OF, Chatham Anglers (Boston College): Unquestionably the best power hitter on the Cape, Shaw led the league with eight homers and won the league's John J. Claffey Award, given to its top New England prospect. At 6-foot-3 and 248 pounds, Shaw has a massive presence at the plate and well-above-average power to all fields. While he can get overly aggressive at times, scouts credited him with doing a nice job of shortening and controlling his left-handed swing. Shaw lacks speed, so he'll have to move from right field to first base as a pro, but he has the hands, solid arm and enough athleticism to be an asset there.
"He's on the radar now," Chatham manager John Schiffner said. "We saw a lot of left-handers, and he handled them well. He goes opposite field a lot and he's very patient. The power is there. I thought he had the best power on the Cape. Some guys had great batting-practice power, but his showed up in games."
6. Donnie Dewees, OF, Hyannis Harbor Hawks (North Florida): Dewees lost most of his sophomore season after breaking his right wrist diving for a ball in early March, but he made up for lost time by showcasing some of the best all-around tools on the Cape. At six feet and 190 pounds, Dewees has a natural feel for hitting and the strength for at least average power. His plus speed serves him well on the bases and gives him a chance to play center field in pro ball, though he played right for Hyannis in deference to Houston speedster Kevin Survance. Dewees has an average arm.
7. Mikey White, SS, Brewster Whitecaps (Alabama): While he won't play shortstop at the next level, he has enough offensive upside and moxie to profile as a regular elsewhere. Using a compact stroke from the right side of the plate, the 6-foot-1 and 205-pounder generates good pop for a middle infielder and displays solid on-base skills as well. White's instincts and strong arm somewhat mitigate his fringy speed and range at shortstop, so he's better suited for second base and also is capable of handling the hot corner.
8. Kevin Newman, SS, Falmouth Commodores (Arizona): The first player in league history to win consecutive batting titles, he hit .380 and took home the MVP Award. Newman excels at controlling the strike zone and making line-drive contact, as evidenced by his 18/9 K/BB ratio, though his bat is his lone plus tool. He's a 6-foot-1, 185-pound right-handed hitter who won't have more than modest gap power, and scouts believe his average speed, range and arm likely will push him to second base in pro ball. Newman's Cape manager won't bet against him staying at shortstop, however.
"He's the classic case of, 'Let's see if he can before we say he can't,'" Falmouth manager Jeff Trundy said. "He doesn't have blazing speed or a great arm, but he has incredible savyy, great instincts, great anticipation, a great transfer and a quick release. All the things he has to do, he does. He's a great kid and a great leader. I'm not saying he's Derek Jeter, but he has a lot of those same intangibles."
9. Travis Maezes, SS/3B, Brewster Whitecaps (Michigan): Maezes shared shortstop duties with White for Brewster and usually shifted to third base when both were in the lineup. Scouts thought Maezes had one of the best left-handed swings in the league, and they envisioned the six-foot, 188-pounder developing average or better power once he gets stronger and a bit more patient at the plate. An average runner with at least plus arm strength, he fits the third-base profile well and also might make for an intriguing package as a catcher.
10. C.J. Hinojosa, SS, Harwich Mariners (Texas): After leading Texas to a surprising third-place finish at the College World Series, Hinojosa came straight to the Cape and continued to play with his trademark enthusiasm and savvy. Hinojosa may not have a true plus tool other than his arm, but he's a right-handed hitter with a penchant for making hard contact and he owns more pop than the typical 5-foot-11, 180-pounder. His quick hands work well at the plate and in the field. While Hinojosa is yet another shortstop whose instincts and arm stand out more than his fringy speed and range, which probably portends a move to second base, he might have a better chance to stick at short than White, Newman and Maezes.
Jim Callis is a reporter for MLB.com and writes a blog, Callis' Corner. Follow @jimcallisMLB on Twitter. This story was not subject to the approval of Major League Baseball or its clubs.