Back home, Worley keeps Phils' bats in check
Williams hits two-run single, but starter gives up pair of homers in fifth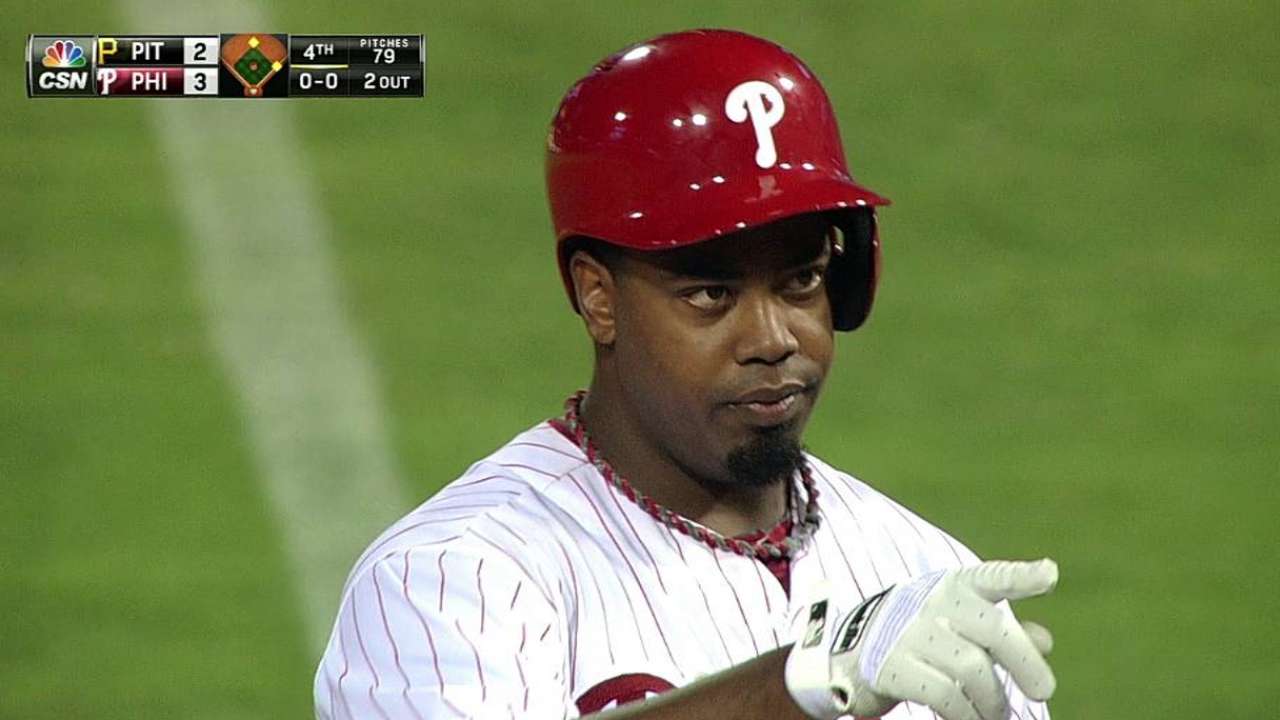 PHILADELPHIA -- The Phillies traded Vance Worley in December 2012, but he never left Philadelphia.
Worley still lives in the city, but Wednesday was his first opportunity to pitch against his former team. The right-hander would have preferred a better performance, but he pitched well enough to help lead the Pirates to a 6-3 victory at Citizens Bank Park.
Worley allowed four hits, three runs, two walks and struck out four in just five innings, while Phillies pitchers Jerome Williams and Luis Garcia allowed six runs in five-plus innings.
"I wouldn't say there was any extra emotion," Worley said on a humid night. "Just extra sweat, and that's about it. … I don't treat any start any different. I've always been that way."
It is interesting to look back at the Worley trade. The Phillies shipped him and pitching prospect Trevor May to the Twins for center fielder Ben Revere. Philadelphia considered starting pitching a position of strength at the time, so the club felt it could afford to trade two starters for a center fielder. The Phillies certainly needed one. They traded Shane Victorino to the Dodgers that July and the farm system had nobody capable of being an everyday center fielder.
"We just felt getting a controllable player with quite a bit of upside, we felt like he was a good fit for us," general manager Ruben Amaro Jr. said at the time.
Worley is 7-4 with a 3.18 ERA in 16 appearances (15 starts) this season after resurrecting his career following a miserable year with the Twins in 2013. Revere is hitting .308 with 43 stolen bases.
Who would the Phillies take right now if they had the choice?
It is an interesting hypothetical, only because they have multiple holes to fill in the offseason, with some of them possibly coming in the rotation and outfield. Cole Hamels and David Buchanan figure to be in next season's rotation. Cliff Lee is a question mark because of a strained left flexor pronator, although Amaro said Wednesday he expects Lee to be ready to go. A.J. Burnett could be back, if he picks up his $11.75 million player option. Kyle Kendrick and Williams are free agents after the season.
The Phillies also need more punch offensively. Left field needs to be figured out and Marlon Byrd could be traded, but is Revere the guy in center field? He is pursuing the National League batting title -- his 0-for-4 effort Wednesday didn't help the cause -- but his .700 OPS entering the night ranked just 112th out of 152 qualifying hitters in baseball and his arm has hurt them defensively.
The Pirates jumped to a 2-0 lead in the first inning as Williams slogged through a 37-pitch inning, but the Phillies chipped away at Worley. They cut the lead to 2-1 in the second when Cody Asche doubled and scored on Wil Nieves' single to left.
The Phillies took a 3-2 lead in the fourth. Worley started the inning with a walk to Ryan Howard. Asche followed two batters later with a bloop single to left field to put runners on first and second. Nieves flied out to right field, but Worley walked Freddy Galvis on five pitches to load the bases.
Worley only needed to get Williams to end the threat, but Williams laced a single to right field to score Howard and Asche.
"Overall, stuff was sloppy," Worley said. "It did the opposite of what I wanted the ball to do. I made it work tonight."
The lead didn't last. Andrew McCutchen hit a stand-up inside-the-park home run in the fifth, a ball Revere could have played better off the left-center-field wall. He tried to make the catch at the wall, but the ball simply hit too high off it. The ball ricocheted toward right field, but it took Grady Sizemore a while to get there to pick it up.
Russell Martin then hit a solo homer to left to make it 4-3.
"It was hit hard, high up on the wall," manager Ryne Sandberg said about McCutchen's homer. "Ben's got a tough read there as far as going over to the angle. Looking at it, get some help from the right fielder on that to at least keep that to a double or a triple."
Garcia allowed four consecutive hits to start the sixth inning as the Pirates scored twice to make it 6-3, while four Pirates relievers held the Phillies hitless through the final four innings.
Todd Zolecki is a reporter for MLB.com. This story was not subject to the approval of Major League Baseball or its clubs.