Bounce this way: Bucs gain ground in NL Central
McCutchen's inside-the-park home run has Pirates only 3 1/2 games out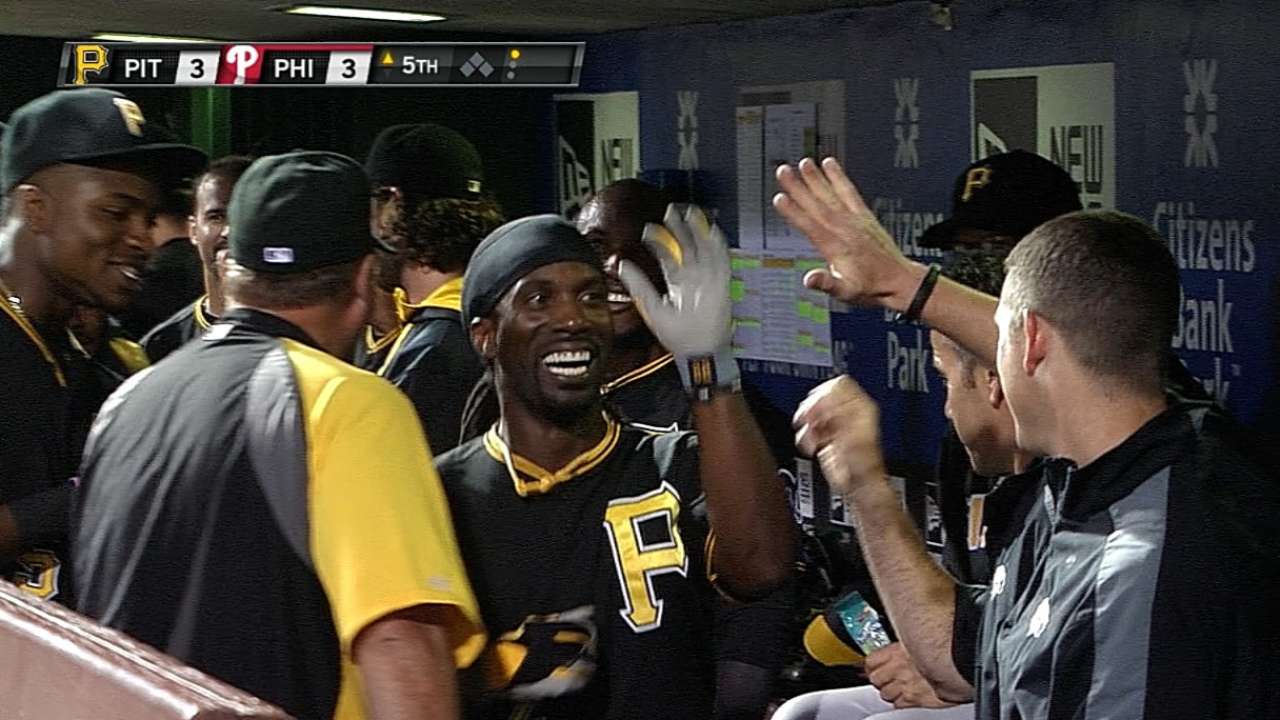 PHILADELPHIA -- Andrew McCutchen doesn't generally need bounces to go his way, but the Pirates will take anything and everything in their favor as they have their sights set on the playoffs with less than three weeks to go.
The Pirates gained ground in the National League Central and held their lead in the NL Wild Card standings Wednesday with a 6-3 win against the Phillies at Citizens Bank Park. That aforementioned bounce was one off the left-center-field wall that allowed McCutchen to have a stand-up inside-the-park homer -- the most invigorating of the Pirates' 13 hits.
The victory moved the Bucs 3 1/2 behind the Cardinals in the NL Central and kept the Pirates' lead for the second in the Wild Card at 1 1/2 games. It was also the fifth win in six games, three coming at Wrigley Field and the other two in Philadelphia for a team with a .438 road winning percentage.
"It's what we've been doing ever since Chicago," McCutchen said. "We've been swinging the bat well, pitching well. We just got to keep it up."
McCutchen's first career homer that didn't leave the yard was part of a trio of two-run innings for Pittsburgh. Russell Martin hit a solo homer -- this one over the fence -- later in the fifth to give the Pirates a 4-3 lead. They padded their lead in the next inning with RBIs from Josh Harrison and Starling Marte.
"We've shown the ability to battle back in games when we've been underneath, we've shown the ability to continue to grind out at-bats," manager Clint Hurdle said. "We had some opportunities to create more separation, and when we don't get it, we continue to go to the game takes us."
The Bucs have averaged 5.8 runs in their last six games, which came on the heels of a four-game losing streak. They scored in the first inning as Harrison and Marte started the game by getting plunked by Phillies starter Jerome Williams. McCutchen singled to put both runners in scoring position, and they scored when Martin lined a hit to left field.
This gave instant support to Vance Worley, who made his return to Citizens Bank Park, where he pitched in parts of three seasons with the Phillies. Worley has revamped his career in Pittsburgh this summer, but Wednesday was far from his best outing.
The right-hander admittedly said he was "sloppy," and the biggest swing which hurt Worley was a two-run single by Williams that came with the bases loaded and two outs in the fourth. It marked the second consecutive night the Phillies had an RBI hit from their starting pitcher.
"I didn't even really have a first pitch to go to," Worley said. "It seemed like my four-seam was sinking, my sinker was cutting and my curveballs were nowhere near the zone, and if I threw my cutter right, it was five feet short. I had to find a way to keep battling."
Worley ended with four strikeouts to four hits and two walks, and he worked a clean fifth inning to line himself up for the win. It was his seventh of the season and first at Citizens Bank Park since June 16, 2012, when he beat the Pirates.
As for having any extra motivation pitching against the team that traded him after the 2012 season, Worley said it was just another outing.
"I wouldn't say there was any extra emotion," he said. "Just extra sweat, and that's about it."
The Pirates then got four perfect innings of relief from four different pitchers. The eighth and ninth were nailed down by the usual suspects: setup man Tony Watson and closer Mark Melancon. The sixth and seventh, however, were thrown by some new Pirates.
Recent callups Bobby LaFromboise and John Holdzkom both tossed one scoreless frame, and the pair has yet to allow a run in a combined 5 2/3 innings since joining the Pirates earlier this month. LaFromboise, a lefty, struck out two in the sixth during his second appearance in black and gold. Holdzkom, meanwhile, recorded his fourth shutout inning in the last nine days.
"They've shown very good poise and rhythm," Hurdle said of the two. "They've shown pitchability. ... Bobby has shown the ability to spin some balls, throw a changeup with some deception, with a quick arm. Holdzkom has been very impressive since he's been here."
Stephen Pianovich is an associate reporter for MLB.com. This story was not subject to the approval of Major League Baseball or its clubs.