Hochevar excited about first throwing session
Royals right-hander underwent Tommy John surgery on March 17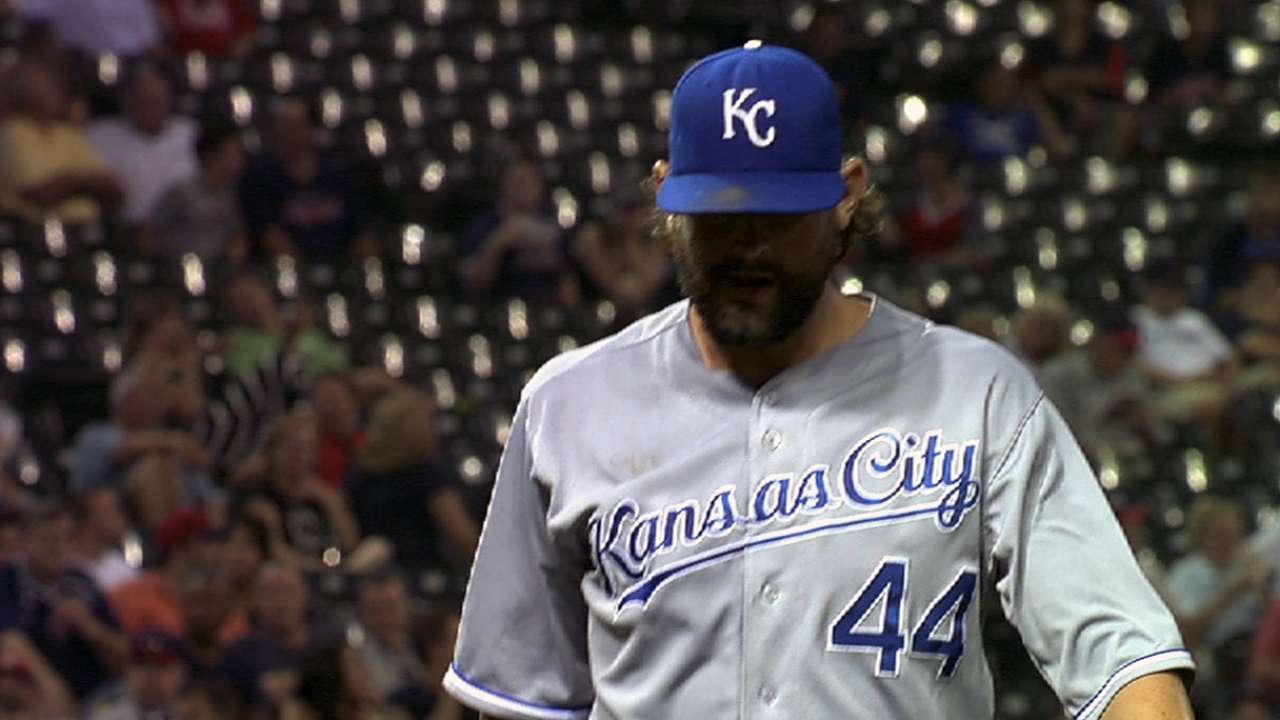 DETROIT -- Luke Hochevar was smiling like a kid under a Christmas tree. And why not? He had a wonderful gift, his first throwing session since last March.
The Royals' right-hander, who underwent Tommy John surgery on March 17, threw a baseball for the first time since then on Wednesday in an indoor batting cage at Comerica Park.
"It felt awesome, my first couple of throws, just because I hadn't thrown for a while. But overall it felt good," Hochevar said. "Typically getting loose is a little cranky, but today it felt awesome. Hopefully that continues."
Hochevar, with pitching coach Dave Eiland as his catcher, threw two sessions of 25 throws each from about 45 feet. Being away from it for so long was difficult.
"Especially doing it every year since I started playing, when I was 6, 7 years old. It was weird to let it go and not be doing that every day," Hochevar said. "But it was awesome. I was fired up. It was like I was getting ready for a game."
Hochevar injured his ulnar collateral ligament on March 3 while pitching two scoreless innings against the White Sox in a Cactus League game in Arizona. He was hoping to return to the Royals' rotation after a successful first season in the bullpen (1.92 ERA in 58 games).
For now, he'll be tossing twice a week and then accelerate his program until he can throw off the mound in January.
"I'd like to think I could go into Spring Training like I would any other time, especially with having my surgery done in March, that'd be almost a full year," Hochevar said.
Hochevar, after seven-plus years with the Royals, does not have a contract for next year and his return remains an open question.
"We've got a whole lot more important things to focus on right now and that's winning a championship," Hochevar said.
Hochevar has been close to the team all season and is now traveling with them too. The Royals' chase for the postseason is a bittersweet experience -- he's with his teammates, but he cannot play.
"That's really tough because you want to be a part of it, you want to be strapping it on every day with the guys and help be a part of something special," Hochevar said. "And so it's tough, it really is and I knew that was going to be the toughest part of it,"
"But there's nowhere in the rulebook that says I can't be in the dogpile."
Dick Kaegel is a reporter for MLB.com. This story was not subject to the approval of Major League Baseball or its clubs.