Montero's first win keeps Wild Card hopes alive
Young contributes three hits to help complete sweep of Rockies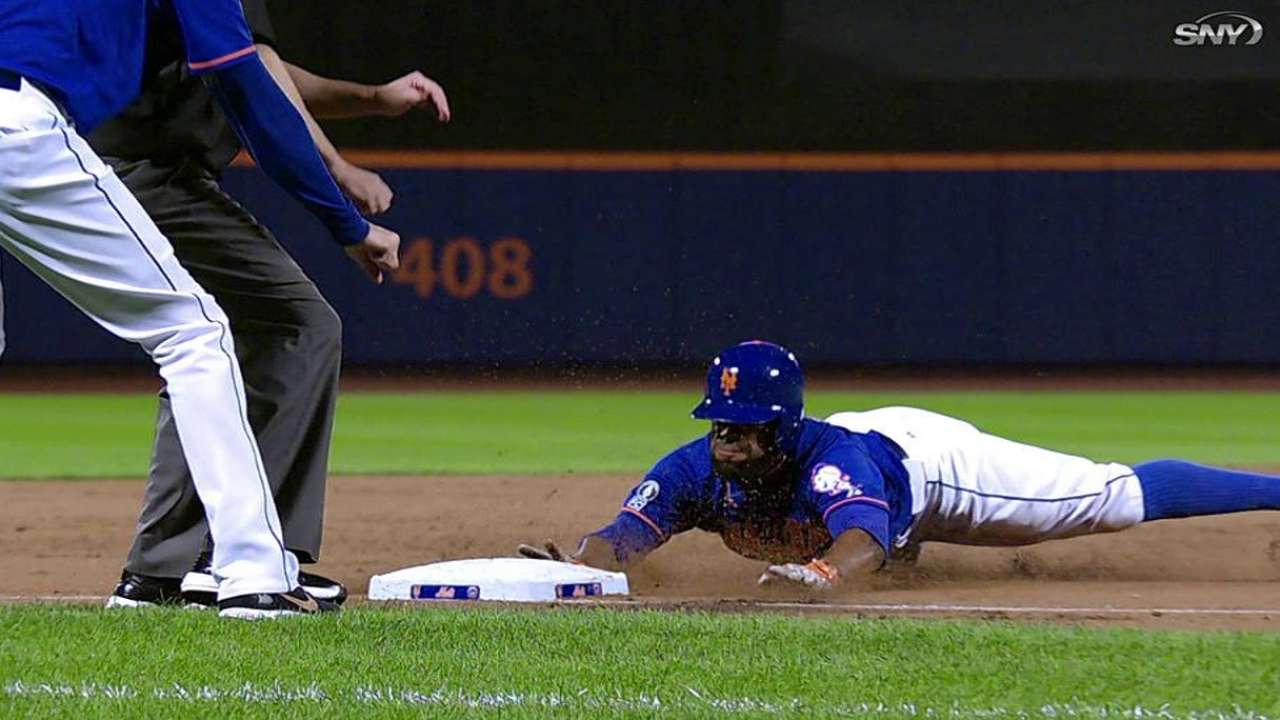 NEW YORK -- The Mets understand more than anyone that really, truly playing meaningful games in September remains far from realistic. Though they entered Wednesday's play a tantalizing 5 1/2 games out of a National League Wild Card spot, they trailed five separate teams in that race. The most popular mathematical projection systems gave them less than a one percent chance to play in October.
But until the scientists tell them they're really, truly, seriously out of this thing, the Mets will continue revving forward with all the vigor they can spare. Rookie starter Rafael Montero gave them another nudge in that direction Wednesday night, delivering 5 1/3 shutout innings in a 2-0 win over the Rockies at Citi Field.
With 16 games remaining, the Mets stayed within shouting distance of their pipe dream for at least one more day, 5 1/2 games back of the Pirates for the NL's fifth and final playoff berth.
"When you walk through the clubhouse, those doors, right now in September, even though you're looking at a Wild Card, you're still playing for something," manager Terry Collins said. "That's the only way to come in every day, to know that it's fun to go out there and compete."
It was Montero, in a brief return to the rotation, who set the tone in his first career victory. Keeping the Rockies hitless until the fifth inning, Montero walked four batters but struck out seven, relying on his low-90s fastball, mid-80s changeup and low-80s slider. By the time the Rockies started timing his arsenal, rapping out a pair of hits to open the sixth, Montero was at 106 pitches and out of the game. A quartet of relievers finished things off, anchored by closer Jenrry Mejia, who recovered from Tuesday's hiccup to submit a perfect ninth inning.
"It's huge for him," Collins said of Mejia. "There's going to be nights where it doesn't go good, but the only thing that matters is not how you did, but how the team did. He came to me today and he said, 'I need to get back in there.' And I love it. I love that stuff."
The Mets plan to move Montero to the bullpen to finish out this season, but could first give him one additional start.
"I felt pretty good," Montero said of his first career win. "Thank God it happened once. But if I continue to pitch the way I did tonight, there will be more to come."
Though offense continued to trickle in for the Mets, Montero and a quartet of relievers ensured that they wouldn't need much of it. Eric Young Jr. was first to break through against Rockies starter Tyler Matzek, tripling a ball off center fielder Drew Stubbs' glove to plate a run in the second. Five innings later, moments after Matzek left the game, Juan Lagares lofted a sacrifice fly deep enough to double the margin.
Playing in front of his father, the Rockies' first-base coach, Young finished 3-for-3.
"I struggled to get him out," Matzek said. "Had I had better fastball command, it probably would've been a lot easier. So I relied on secondary pitches. It's easier for him to hit offspeed pitches. Had I been able to throw the fastball in, where I wanted it, I wouldn't be talking about it right now."
The win moved the Mets to within four games of .500 for the first time in more than a month. More importantly, it further expanded their imaginations with less than three weeks left in the regular season.
The Mets understand that a playoff berth is still largely unrealistic. But they're looking at the calendar now, peeking at the scoreboard every now and then. A four-game series with the division-leading Nationals looms, and if the Mets can somehow win three or four of those contests, their dream will become that much more real.
"Coming off this Rockies series, everybody's feeling good," Young said. "Confidence is up amongst the players, and it's needed going into the Washington series. They've been hot the second half. But we can really put a damper in their season, as well as accelerate ourselves here in this last couple of weeks."
Anthony DiComo is a reporter for MLB.com. Follow him on Twitter @AnthonyDicomo. This story was not subject to the approval of Major League Baseball or its clubs.