Matzek impresses, but offense kept off-balance
Rookie scatters four hits and gets a double, but Rox are shut out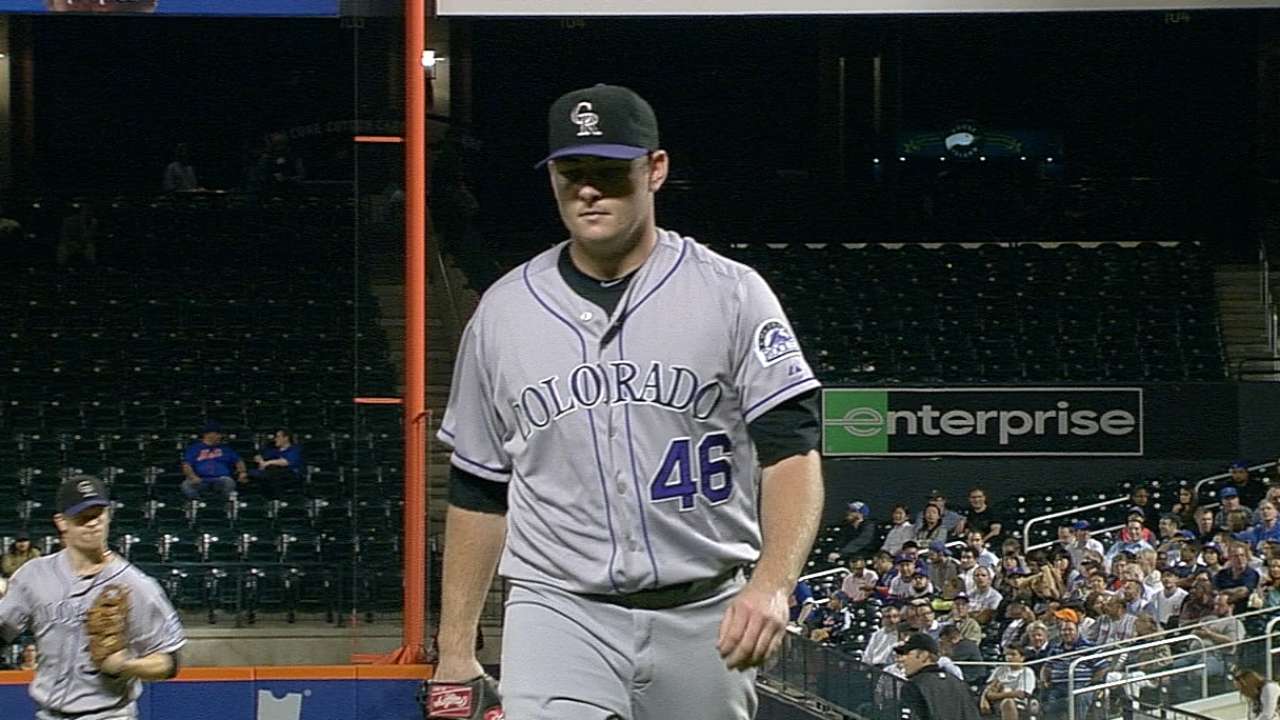 NEW YORK -- The Rockies' 2-0 loss to the Mets on Wednesday night marked the start of the final chapter of their beleaguered 2014 season -- the one where they are mathematically eliminated from the playoffs and have little to play for besides intangibles like pride and respect and, perhaps, beginning to battle for 2015 roster spots.
Manager Walt Weiss doesn't want his players to discount the potential value in these last 2 1/2 weeks.
"I talked to the guys the other day, a couple times here in the last few weeks, just reminding them how important it is to go all the way to the finish line," Weiss said prior to the game at Citi Field. "We all need those reminders from time to time, but these guys have been really good at that. They have been. They haven't wavered.
"There's maybe a bit of a tendency with where we're at in the standings to start counting down to the offseason. I just reminded them that that's not acceptable. You keep earning respect in this league by the way you compete."
It wasn't for lack of effort, necessarily, but this final chapter began the way the previous one ended: with a shutout loss at the hands of a Mets rookie right-hander and Colorado mustering little support for a strong outing from its own first-year hurler.
Tyler Matzek held the Mets to two runs in 6 1/3 innings. The Rockies finished 1-for-7 with runners in scoring position and stranded seven runners. Those two added up to a sweep for New York and six straight wins for the home team over Colorado in Flushing.
"We executed very poorly tonight offensively. It ended up costing us," said Weiss, whose team went 2-for-20 with runners in scoring position and stranded 21 men on base in the series. "You score two runs in three games, and you're not going to win."
Like the series' first two contests, the Rockies' young starter provided a sliver of a silver lining. This time it was Matzek. He scattered four hits and four walks while striking out seven -- four of them via swings-and-misses on his slider.
His 22-inning scoreless streak came to an end in the second, but in the last month he owns a 2.57 ERA and 1.12 WHIP.
Matzek was displeased with his lack of fastball command, which pushed him to rely on his secondary stuff -- his slider in particular -- more than he would've liked. Eric Young Jr. smacked one of those sliders to the gap in right-center for the Mets' first run.
"Had I had better fastball command, it probably would've been a lot easier," Matzek said. "So I relied on secondary pitches. It's easier for [Young] to hit offspeed pitches. Had I been able to throw the fastball in -- where I wanted it -- I wouldn't be talking about it right now."
Young, a former Rockie, finished 3-for-3 with his father, Eric Young Sr., another former Rockie, and now Colorado's first-base coach, watching.
"That was fun. More importantly I'm glad to do that in front of my dad, who really hasn't had a chance to see me play up close and personal," Junior said. "For me to do that was special."
Mets starter Rafael Montero stymied the Rockies for 5 1/3 innings. Colorado didn't collect its first hit until the fifth -- Matzek doubled to left -- and when it did manage to put runners on, like in the sixth when they put men on the corners with nobody out, the big hit evaded them.
Weiss this week called offensive opportunities "gold" in what is widely considered a pitchers' park, and converting on them indeed proved to be the difference Wednesday. Matzek walked four batters and the Mets cashed in twice. Montero walked four batters and the Rockies didn't make him pay.
"I trust our offense to go out there and score runs," Matzek said. "It didn't happen, but they're one of the most explosive offenses in the game for a reason."
So it goes. The Rockies will take the field 16 more times this season.
"Nobody likes losing. Losing [really stinks]," Matzek said. "Having pride in yourself, wanting to go out there and beat the other guy, the guy in the other dugout should be the most important thing."
Tim Healey is an associate reporter for MLB.com. This story was not subject to the approval of Major League Baseball or its clubs.