Hendricks hits wall, 'pen falters once more in finale
Cubs relievers allow seven runs in 2 1/3 innings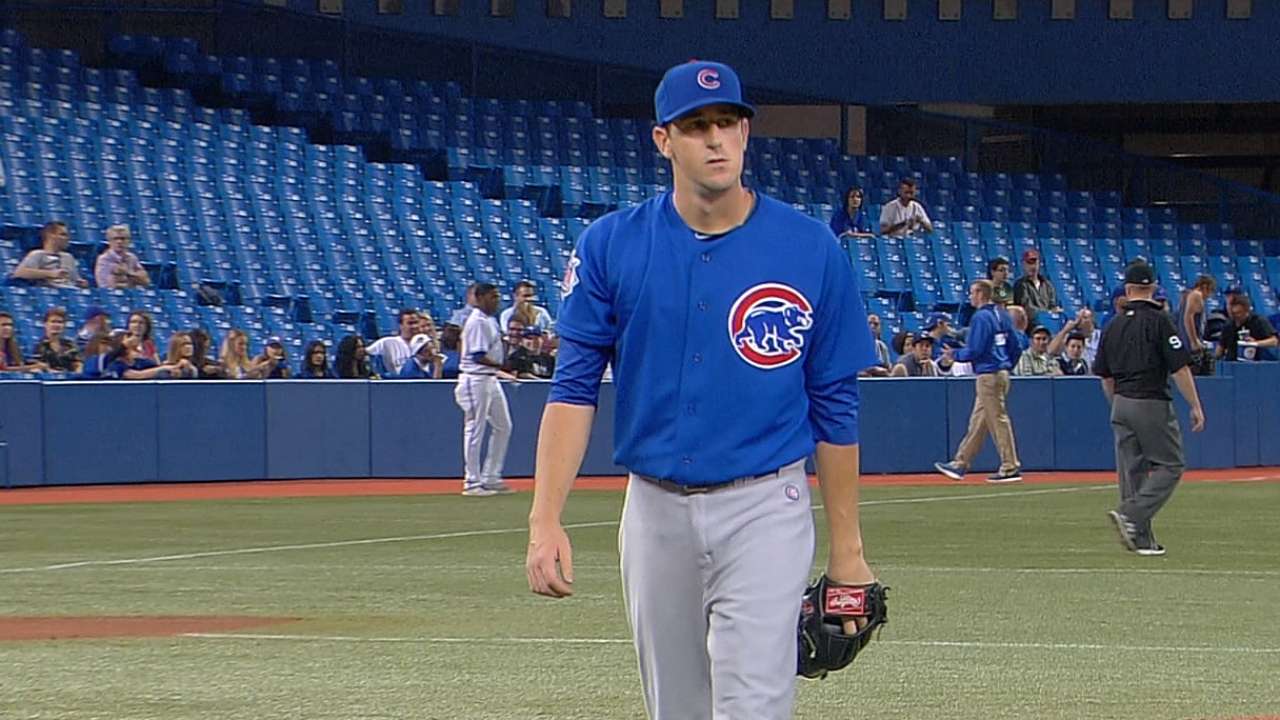 TORONTO -- The Cubs' recent woes continued on Wednesday night in the series finale at Rogers Centre as the club saw its losing streak reach six games in a lopsided 11-1 loss to the Blue Jays.
Chicago was outscored 28-3 in three straight losses to Toronto.
"I'd love to be able to explain to you exactly what's going on the last five or six days, but stuff just happens," manager Rick Renteria said. "We have a well-needed day off [Thursday] and we're leaving for Pittsburgh, and hopefully we're able to recover and get something started Friday."
The game, up until the sixth, had been a pitchers' duel. Toronto's Drew Hutchison and Chicago's Kyle Hendricks battled back and forth, surrendering a combined three hits over five innings. But as Hendricks stumbled in the sixth, the Cubs came apart at the seams, allowing ten runs in the sixth, seventh and eighth innings.
Chicago relievers Justin Grimm, Wesley Wright, Kyuji Fujikawa and Arodys Vizcaino worked a combined 2 1/3 innings and allowed seven earned runs and seven hits as the game got out of hand.
Hendricks, who saw his seven-start unbeaten streak come to an end after he gave up three runs on four hits and a walk in the sixth inning, said he thought he was on his way to his best outing of the season.
"I felt strong through the whole outing, but it sucks getting beat like that," he said. "I know we've hit a skid lately, but we need to do something to get out of it."
The Cubs put up a brief fight when Jorge Soler broke Hutchison's shutout bid in the seventh with an opposite-field solo shot to right to make it 4-1 before Welington Castillo doubled and reached third on an error with one out. That marked the end of the line for Hutchison, who had breezed through the Cubs' order early on and at one point retired 15 straight batters. Hutchison went 6 1/3 innings, allowing four hits and an earned run with 10 strikeouts, and was otherwise untouchable.
"It's been going well lately," Hutchison said. "I felt like I pitched six really good innings and maybe the wait there hurt a little bit coming out for the seventh. But that's always a good thing when you wait that long. Falling behind those guys was frustrating, but overall I thought it was a good outing."
Mired in a slump and now experiencing their second six-game losing streak of the season, the Cubs, who've had 10 players make a Major League debut this season, enter an off-day Thursday with an eye on getting away from the ballpark for a day.
"We haven't had a whole lot of stints like this throughout the course of the season, quite frankly," Renteria said. "In terms of just poor play in general, it's probably the one that I look at and say, 'We haven't played our best ball.' But we have to work through it. I want these kids to keep their heads up and get a day off tomorrow and get ready to go on Friday."
The 24-year-old Hendricks, who suffered his first road loss of the season, said a short rest Thursday should help the Cubs take their minds off their recent woes.
"For me personally, I'm just going to move on," he said. "As a team, we have to take it, get away from the being-at-the-field every day routine. It's a day to relax, get away from the park and come back Friday."
Jamie Ross is an associate reporter for MLB.com. This story was not subject to the approval of Major League Baseball or its clubs.