Rangers held to RBI single in loss to Angels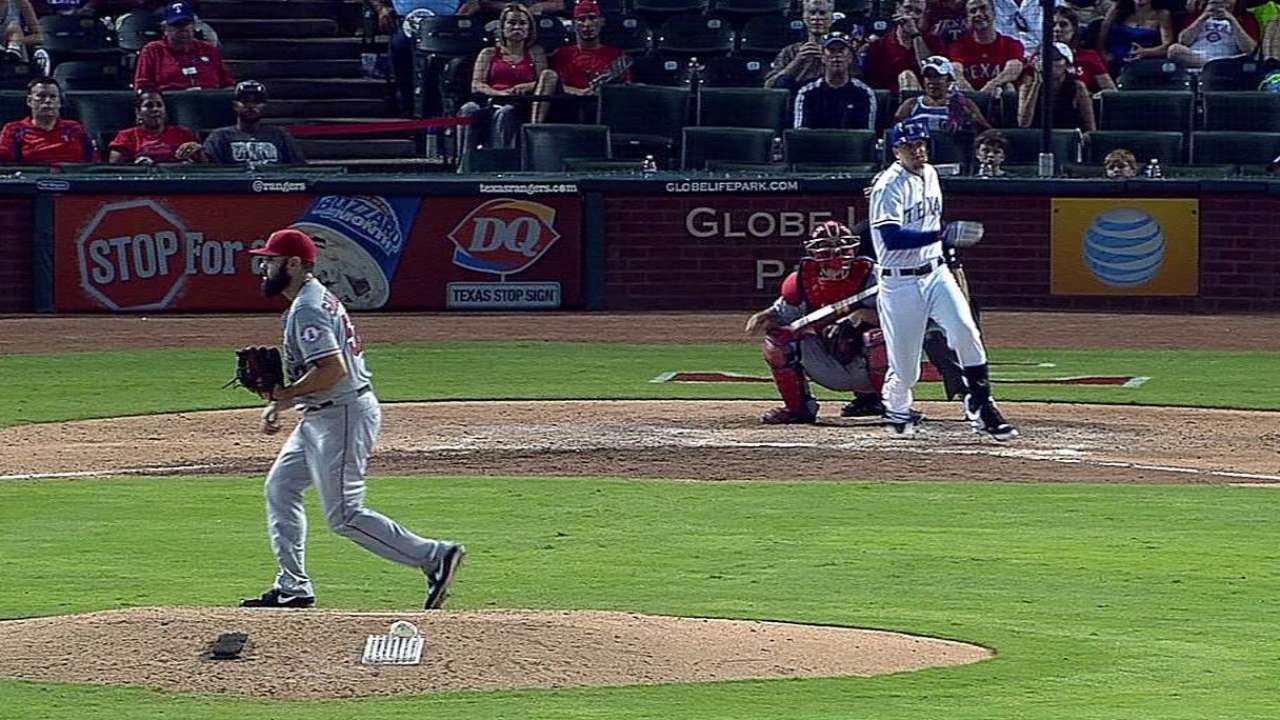 ARLINGTON -- This would seem a daunting, overwhelming, almost impossible task for the Rangers in sending out a lineup that includes five or six rookies a night to face the hottest team in baseball. But interim manager Tim Bogar, having just watched his team lose to the Angels, 8-1, on Wednesday night, doesn't see it that way.
"It's just baseball," Bogar said. "We don't have a choice who we play. That's just the way it goes. These guys are capable of beating anybody if we play well. We need to play better. We need to field better. We need to have better at-bats with runners in scoring position, like I've said from the beginning. You can't have the bases loaded and not do anything with it. You can't get guys on early and not execute. You can't come in out of the bullpen and not make pitches.
"It's not so much [that they're] the best team in baseball. They are a really good team. I'm not taking anything away from them. They are a really good team, but for five innings we were right with them."
That's true, but the Rangers were also down, 2-0, before they batted in the bottom of first inning. That's not a good thing for the young lineup, which was getting ready to go up against Matt Shoemaker, who had a 1.31 ERA in August.
The Angels have now won seven straight and 13 of their last 15 while the Rangers have lost 10 of their last 11. The Rangers are hitting .236 in that stretch while scoring just 21 runs and going 11-for-81 with runners in scoring position. Ryan Rua has their only two hits in their last 31 at-bats with runners in scoring position.
The Angels, on the other hand, are missing Josh Hamilton but still hitting .343 during their winning streak and averaging nine runs per game.
"It doesn't matter who we are playing, we have to try and win ballgames," third baseman Adrian Beltre said. "We've got a job to do. We've got to go out and compete. It's September, obviously we don't have the guys we want, so they are trying to see guys that have a chance to be here next year. It's not the best scenario."
Shoemaker, who hasn't lost in a month, went 6 2/3 innings and allowed one run on seven singles and a walk while striking out one. Rua singled home a run in the seventh.
Tepesch lasted 4 2/3 innings, giving up three runs on a season-high 10 hits, two walks and two strikeouts. He is now 4-10 with a 4.47 ERA.
"Overall I made some good pitches and some bad pitches," Tepesch said. "That first inning they put some good swings on the ball, and I was pitching up in the zone a little bit."
Tepesch put himself in trouble in the first when he hit Mike Trout with a pitch with one out. Albert Pujols then tripled home a run and scored on a single by Howie Kendrick. David Freese and Erick Aybar followed with singles, but center fielder Leonys Martin stopped the rally by throwing out Kendrick trying to score from second.
Tepesch worked into jams every inning, but the only other run off him came in the fifth, after Trout led off with a walk. On a hit-and-run, Trout broke for second and Pujols hit a high pop behind first base that Adam Rosales couldn't hold on to racing out into shallow right field. Trout, who never stopped running, ended up at third, and he scored when Kendrick grounded into a double play.
"That first inning, his pitches were up," Bogar said. "He got the balls over the middle of the plate, and they didn't miss. He pitched well after that."
T.R. Sullivan is a reporter for MLB.com. Read his blog, Postcards from Elysian Fields and follow him on Twitter @Sullivan_Ranger. This story was not subject to the approval of Major League Baseball or its clubs.