With win, Halos' streak at seven, magic number at nine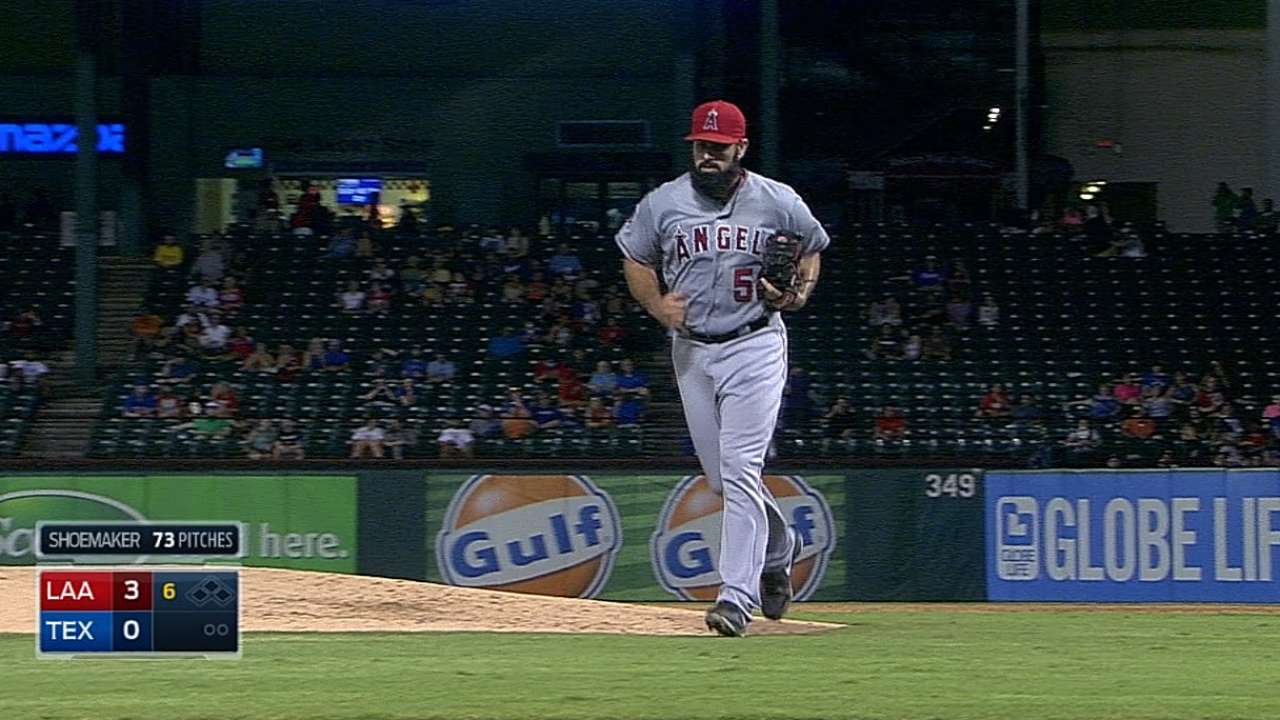 ARLINGTON -- The Angels' 8-1 victory over the Rangers at Globe Life Park on Wednesday night gave them a season-high seven-game winning streak, pushed them a season-high 35 games above .500 and locked down their first 90-win season since the last time they made the playoffs, in 2009.
They're now nine games ahead of the A's in the American League West with 17 left to play and have gained an unfathomable 13 games in the division over the last 32 days. But even more impressive is what they've done since their best starting pitcher, Garrett Richards, went down with a torn tendon in his left knee on Aug. 20 -- post the best record in the Majors and the second-best ERA in the AL.
Richards' injury, Albert Pujols said, "kind of pushed us together."
"That moment put us back together more than we were already," Pujols added. "At that time we were playing great, but you can easily lose your focus."
Since Aug. 21 the Angels have a 15-5 record and 2.98 ERA, with a pitching staff that has to piece together a bullpen game every time Richards' turn comes up. It's taken a strong bullpen, which has the second-best ERA in the Majors since the start of July. It's taken a strong offense, which has posted 58 runs over the last six games, even while cleanup hitter Josh Hamilton continues to miss time with a stiff right shoulder.
And it's taken such guys as Matt Shoemaker, who pitched 6 2/3 innings of one-run ball on Wednesday to set the Angels' rookie record for wins with 15 -- even though he didn't join the rotation until the middle of May.
"It's incredibly special," Shoemaker said. "You can only put so many things into words."
Shoemaker went undrafted out of Eastern Michigan University, spent almost the entirety of the past two seasons in Triple-A, was hardly on the radar in 2014 and is a rookie at the age of 27. And yet he held the Rangers scoreless through the first six innings on Wednesday and has posted a 3.16 ERA over 128 1/3 innings this season.
"Shoe is one of the big reasons we're even contending," manager Mike Scioscia said. "To do what he did is spectacular for us."
Since Richards went down, the Angels' four traditional starters -- Shoemaker, Jered Weaver, C.J. Wilson and Hector Santiago -- have allowed three earned runs or fewer in 15 of 17 starts. Their staff ERA in that span is 3.24.
"Proud of this team is an understatement," Shoemaker said. "This is such a great group of guys. We pick each other up, we all support each other no matter what. When 'G' went down, we all knew that if we did our job, we were going to be a successful team. And we're doing that."
Pujols finished a homer shy of his first career cycle, hitting grounders to shortstop in his last three plate appearances. But in the first inning, when he scored on Pujols' first triple since 2010, Mike Trout became the sixth player in baseball history to score 100 runs three times before his age-23 season.
The Angels added a run in the first on Howie Kendrick's RBI single and ran away with it thanks to a three-run eighth, with pinch-hitter Efren Navarro hitting a two-run triple and pinch-runner Gordon Beckham scoring on a wild pitch.
"Top to bottom, they probably have the best lineup in the league," Rangers starter Nick Tepesch said. "They have great hitters all through the lineup, and they all have a good approach."
The Angels' approach since Richards went down was to rally together and find new and creative ways to win on a nightly basis.
They've won 13 of their last 15 games and have a stranglehold on a division title.
"It seems like everybody's contributing," Pujols said. "You don't have to pick one guy every night. We're just playing baseball, having fun, doing the little things."
Alden Gonzalez is a reporter for MLB.com. Read his blog, Gonzo and "The Show", and follow him on Twitter @Alden_Gonzalez. This story was not subject to the approval of Major League Baseball or its clubs.