Kipnis doesn't have one reason for offensive struggles
Oblique issue, new contract have impacted second baseman's season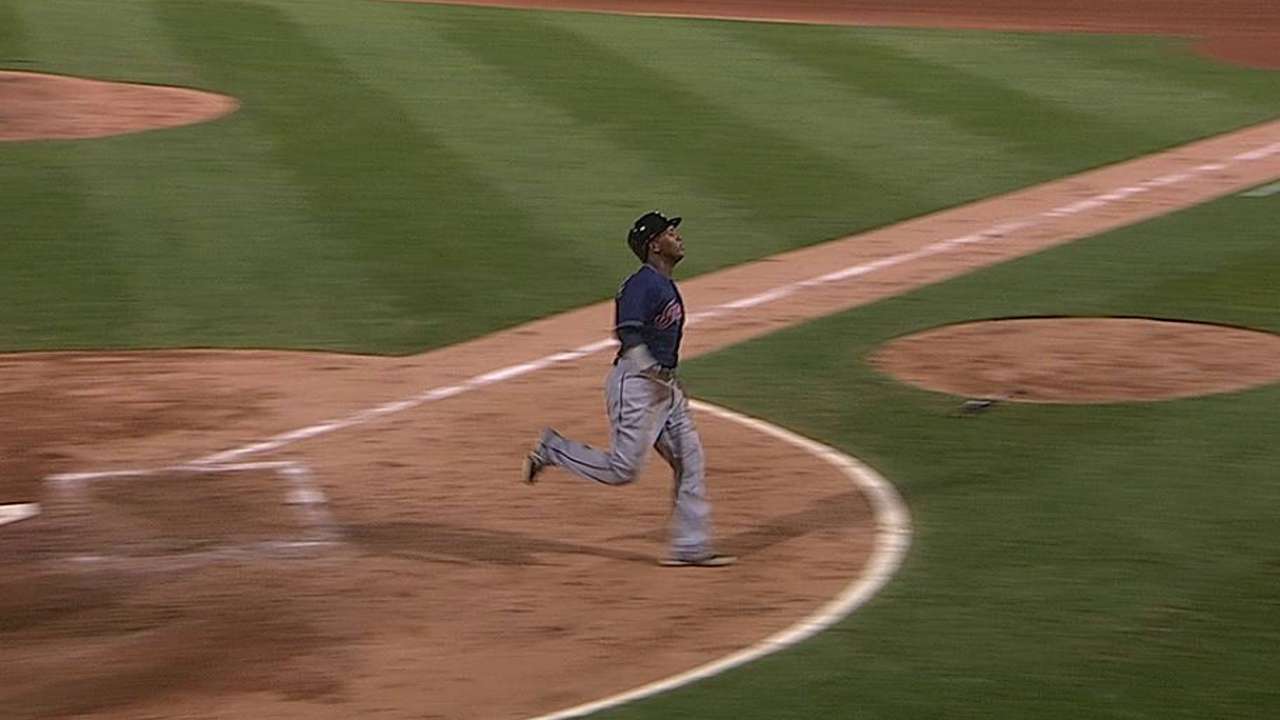 CLEVELAND -- Indians second baseman Jason Kipnis does not believe there is a simple answer for his subpar season. The early-season oblique issue has had a ripple effect on the entire year. He has not flashed his signature opposite-field power. He has dealt with the pressures of a new contract.
"It's just been a bunch of things," Kipnis said on Wednesday afternoon. "I've learned a lot from it. I've grown a lot from it. I've definitely learned to handle this game, the ups and downs, a lot better."
Coming off a breakout All-Star campaign a year ago, Kipnis signed a six-year extension worth $52.5 million that includes a team option that could keep him in Cleveland through 2020. With only a few weeks remaining on the Tribe's regular-season slate, Kipnis feels that the new deal had a negative effect on his approach early in the year.
Rather than relaxing, Kipnis felt pressure to perform to the standards of his paycheck.
"I might've taken it the wrong way," Kipnis said. "There's one of two ways to go abut it. There's either, 'Hey, I got the security and the money. Now I can go out and just play the game of baseball.' "I took the way where, 'I got this money, I've got to live up to it.' So, I might've pressed at the beginning. I might've tried to do too much. In hindsight, it could've hurt me and kind of played a little part in this season.
"You can go one of two ways, but obviously it doesn't mean I'm going that way next year or the year after."
Through 117 games this season, the 27-year-old Kipnis has turned in a .248/.320/.344 slash line. That goes along with six homers, 24 doubles, one triple, 41 RBIs, 22 stolen bases and 60 runs.
Last year, he hit .284/.366/.452 with 17 homers, 36 doubles, four triples, 84 RBIs, 30 stolen bases and 86 runs in Cleveland's run to the American League Wild Card Game.
On April 29, Kipnis injured his right oblique swinging at an outside pitch in a game against the Angels. The second baseman returned on May 28 and has posted a .332 slugging percentage with three home runs in 365 at-bats. There have been lingering problems with the oblique at times.
Attacking outside pitches was a strength of Kipnis' last season, when he peppered left-field walls around the league for extra-base hits. This year, the second baseman has enjoyed the same kind of success to the opposite field.
"The oblique's not an excuse," Kipnis countered. "There's good days and bad days with it, but there's also good days and bad days with hitting when you're at full health. At times, there was hesitancy to go after that pitch. At times, it was weak. It wasn't re-strengthened yet. And there are times when it was just a bad swing. It really was. It's not just the oblique."
During a recent game in Cleveland, Kipnis paused at the top step of the dugout and chatted with manager Terry Francona.
"He was walking up to the plate," Francona said. "I was trying to give him a litle pep talk and he was like, 'I realize now, I don't play for the money.'"
What did Kipnis mean?
"Judging by the two [full] seasons," Kipnis said, "if I had to pick, I'd take the minimum league salary and be hitting well and helping this team, over more money and struggling. A lot has happened since last year. It's a frustrating game and it can be frustrating at times and kind of test your confidence and you question your abilities.
"But, that's one of the biggest things about this game, is keeping the part above your shoulders the right way and having enough confidence in yourself."
Quote to note
"Screaming and yelling doesn't make guys swing the bat. It doesn't make you score runs. This is a game of almost who can handle the frustration the best, because there's so much of it. You've got to keep plugging away. Even on nights where maybe you're not swinging the bats well, if you find a way to be one run better, you go home and you did your job."
-- Indians manager Terry Francona
Smoke signals
• Thursday's traditional doubleheader with the Twins will mark the fourth twin bill of the season for Cleveland. The Indians also had doubleheaders against the A's (April 2), Padres (April 9), Tigers (July 19) and D-backs (Aug. 13). The last time the Indians played five doubleheaders in a single season was in 2000.
• Francona noted that Indians utility man Mike Aviles, who has been sidelined with concussion-like symptoms since Sept. 1, felt good after taking part in most of Tuesday's pregame activities. It is possible that Aviles will gain clearance to return to game action by Thursday or Friday at the earliest.
• Indians All-Star Michael Brantley has hit .314 with 18 home runs, 19 stolen bases and 89 RBIs through 139 games this season. Entering Wednesday's action, Brantley was the only player in the Majors with at least a .300 average, 15 homers, 15 stolen bases and 85 RBIs.
Jordan Bastian is a reporter for MLB.com. Read his blog, Major League Bastian, and follow him on Twitter @MLBastian. This story was not subject to the approval of Major League Baseball or its clubs.