White Sox rally past A's with eighth-inning uprising
Avisail drives in pair of runs; Bassitt allows one run over six-plus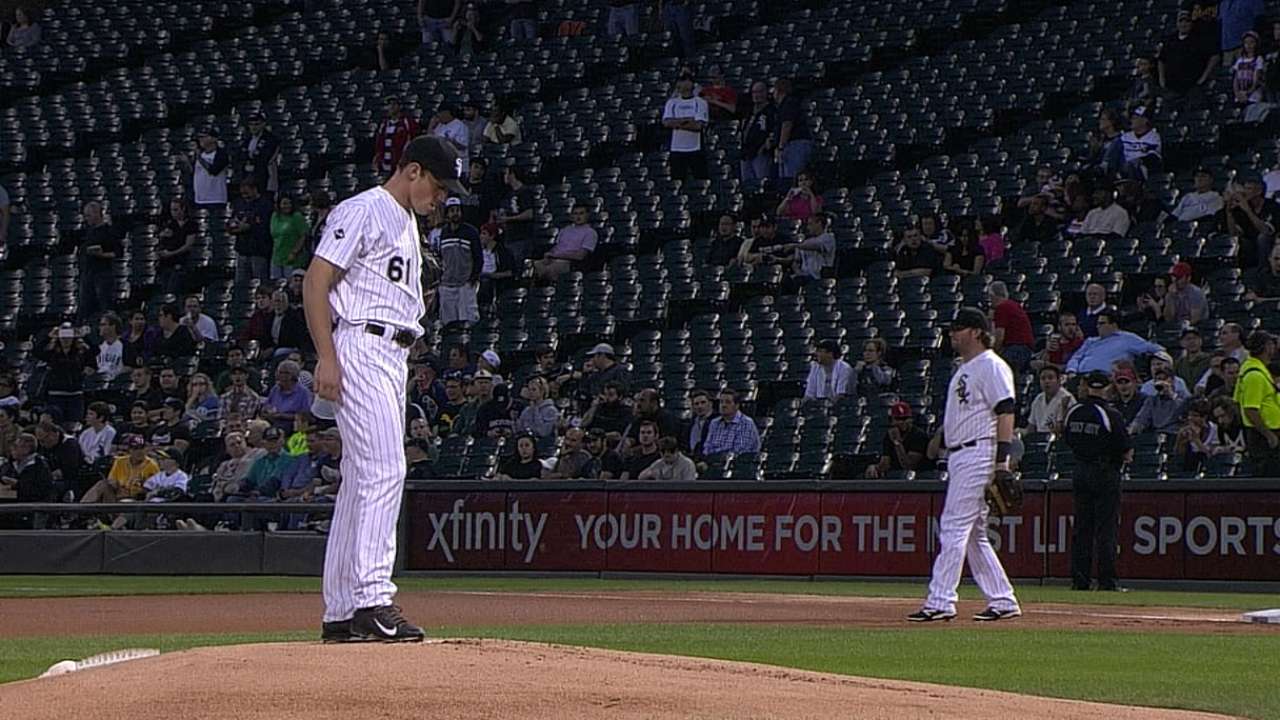 CHICAGO -- When does a starter's no-decision feel like a victory? When you pitch as well as rookie Chris Bassitt did against the playoff-contending A's and your team rallies for a 2-1 win as the White Sox did Wednesday night at U.S. Cellular Field.
Zach Putnam (5-3), who threw a scoreless eighth, was the beneficiary of two unearned runs allowed by Luke Gregerson (4-4) and the A's (81-64) in the bottom of the frame. But it was the six-plus stellar innings turned in by Bassitt during his second career start and third Major League appearance that gave the White Sox (65-80) a fighting chance against Oakland starter Jeff Samardzija.
Bassitt allowed one run on five hits, while striking out five and walking two. After the team's 32nd comeback win of the season, Bassitt praised White Sox pitching coach Don Cooper and bullpen coach Bobby Thigpen for the work they've done to help him improve during his short big league stint.
One of the noticeable changes was the way in which the right-hander worked to left-handed hitters.
"We've really been working hard in to lefties, changing my approach on lefties," said Bassitt, after throwing 61 of his 95 pitches for strikes. "It's pretty much going to be live or die how much I throw inside to lefties.
"Obviously, my two-seam sinker is my best pitch, but if I can't throw in effectively to lefties, that pretty much eliminates my best pitch. That was the key tonight."
Increased usage of his changeup also was on Bassitt's agenda. He joked that the amount thrown Wednesday was more than he threw all last season for Double-A Birmingham.
Even with Bassitt's exceptional effort, the White Sox trailed, 1-0, into the eighth on the strength of Adam Dunn's two-out single to score Coco Crisp in the fourth. The White Sox rally was spurred by first baseman Nate Freiman's throwing error on Adam Eaton's hard-hit grounder following Carlos Sanchez's leadoff single. Freiman tried to rush the throw in an attempt to double up the speedy Eaton, but threw the ball into left field.
Gregerson managed to strike out Alexei Ramirez with two on and nobody out, but the runners moved up to second and third on a wild pitch with Jose Abreu at the plate. In search of his first September RBI and his 100th of the season, Abreu chased a steady diet of sliders and struck out swinging. Abreu doubled in the first, marking the 100th game in which he has hit safely this season.
Conor Gillaspie was intentionally walked to load the bases with two outs. And on a 1-0 Gregerson fastball, Garcia dropped a single to center to bring home the game-winning runs.
"Avisail came up and got a big hit for us," Eaton said. "We snuck one out."
"We're putting way too much pressure on pitching at this point," Oakland manager Bob Melvin said. "We've got to find a way to add on some runs."
Jake Petricka pitched a perfect 10-pitch ninth for his 12th save, marking his first appearance since the Friday birth of his daughter, Madison. He returned to Chicago on Tuesday, threw a bullpen session and was ready for action.
"It has been a real busy week," Petricka said. "I was just happy to get back out there and get the feel of pitching again."
Samardzija fanned six in seven scoreless, lowering his career ERA to 0.47 over 19 innings at U.S. Cellular. But Bassitt matched him almost pitch for pitch.
Wednesday's start was designed to give an extra day of rest to Chris Sale and Jose Quintana, but it also gave the White Sox another look at Bassitt, who didn't pitch this season until July 12 because of a broken right hand sustained in a non-baseball related injury. He'll play this offseason in the Arizona Fall League, furthering his cause for a 2015 roster spot. But Bassitt isn't concerned about anything past these final weeks.
"I'm worried about coming in tomorrow and seeing what Coop has to say," Bassitt said. "I'm going to take my lumps here, I know I'm going to. It's a huge learning curve, it's the big leagues. So I'm not even thinking about next year."
Scott Merkin is a reporter for MLB.com. Read his blog, Merk's Works, and follow him on Twitter @scottmerkin. This story was not subject to the approval of Major League Baseball or its clubs.