Defense lets Samardzija, A's down in loss
Right-hander blanks White Sox on six hits; Dunn drives in lone run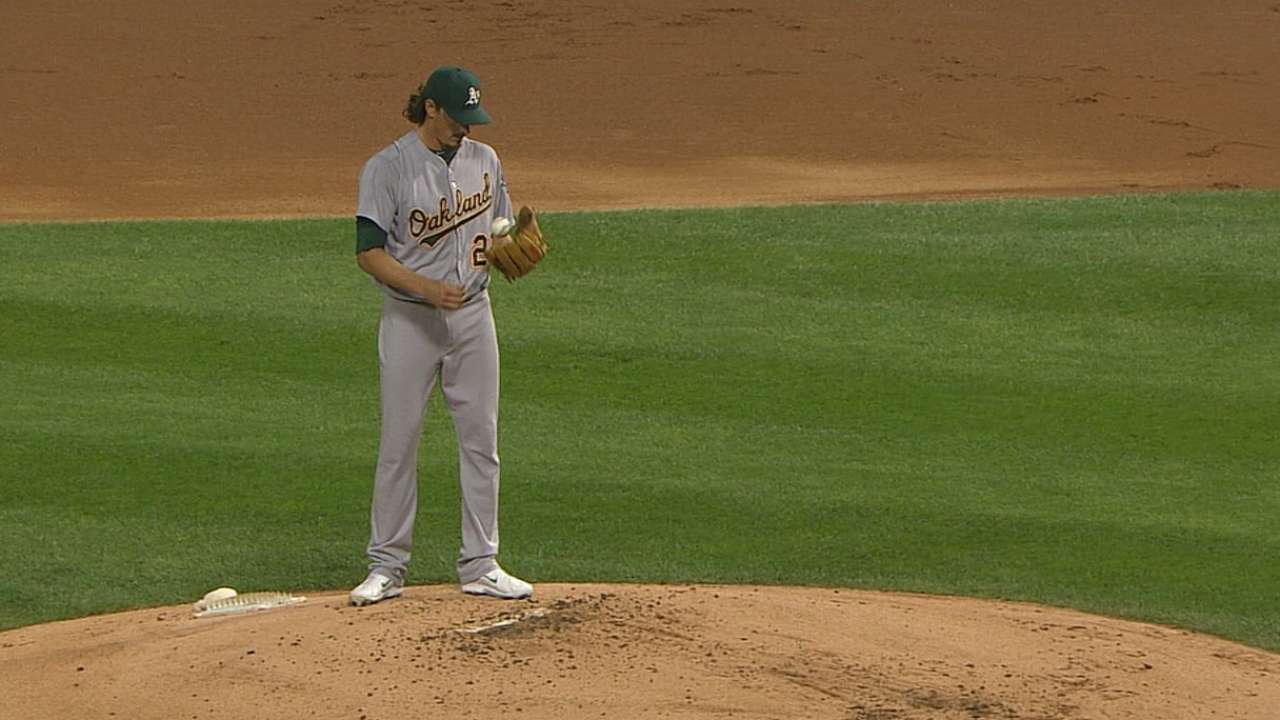 CHICAGO -- What was shaping up to be a narrow A's win led by Jeff Samardzija turned into the latest heartache in a downward September spiral as Oakland conceded a come-from-behind 2-1 loss to the White Sox on Wednesday night at U.S. Cellular Field. Fortunately, the loss didn't cost the A's ground for the American League Wild Card.
Brought in to protect a one-run advantage, Luke Gregerson surrendered a two-out, two-run single in the eighth inning to Avisail Garcia, following a critical error by first baseman Nate Frieman.
Frieman threw wildly to second base to start a potential double play, allowing the go-ahead run to reach base.
Gregerson was on the verge of getting out of the jam -- the runners advanced to second and third on a wild pitch -- after consecutive strikeouts. The A's then intentionally walked Conor Gillaspie to load the bases, and Garcia struck the decisive blow on an 0-1 fastball.
Gregerson was charged his fourth loss despite allowing no earned runs. And Samardzija's would-be fifth win in 13 tries was erased.
"We're putting way too much pressure on pitching at this point," A's manager Bob Melvin said. "We've got to find a way to add on some runs."
The A's, who maintain a 1 1/2-game lead over Seattle and Detroit for the AL's first Wild Card, were limited to just five hits, one for extra bases, and had runners in scoring position just three times -- a night after scoring 11 runs on 18 hits.
Oakland was handled by White Sox September callup Chris Bassitt. In his second career start, Bassitt allowed the lone run and five hits with two walks and five strikeouts in six-plus innings.
Melvin said the small sample size of material to study Bassitt shouldn't have been a problem after the first time through the lineup.
"We were aware of what he was throwing," he said. "Every pitcher gets into a certain rhythm and throwing certain pitches in certain counts, and we saw everything he had the first time around. We had some better at-bats and better swings later, but not good enough."
Samardzija continued his command of the White Sox before leaving a 1-0 lead in the bullpen's hands. A midseason acquisition from Chicago's other team, the Cubs, Samardzija worked seven scoreless innings, allowing six hits, with two walks and six strikeouts.
In seven appearances against the White Sox, Samardzija has held them to a .159 batting average with a 1.25 ERA.
Yet, as was the case during his stint with the Cubs, Samardzija left with a lead, but didn't pick up a win. He's 6-12 this season with both teams, holding a 3.09 ERA.
"I think any time you pitch in the big leagues, you've got to be conscious of the situation, the game, how it's going and what the score is," Samardzija said. "The older you get, the more you learn how to pitch in certain situations and when to attack and when not to attack. It's always a tough game, no matter who you're facing. You always have to be at your best."
It was Bassitt, however, who had the upper hand early.
The 25-year-old righty tossed three perfect innings before Coco Crisp singled to center on the first pitch in the fourth. Adam Dunn laced a single to left past a shifted infield to score Crisp, who advanced to third while Josh Donaldson hit into 6-4-3 a double play.
"I didn't expect to come up and just dominate," Bassitt said. "I'm going to take my lumps here, I know I'm going to. It's a huge learning curve, it's the big leagues. I know there's things I'm really going to have to improve on and obviously pitching to lefties is going to be one big thing going forward."
When asked where to go from here offensively, Melvin said: "Just got to keep grinding. There's not much else you can do. They've put in a lot of work. They're trying. They're prepared. At times, we're just a little tight because of the fact that we're not scoring runs."
Daniel Kramer is an associate reporter for MLB.com. This story was not subject to the approval of Major League Baseball or its clubs.