Gattis expects to return for weekend set vs. Rangers
Braves catcher 'optimistic' after recovery from strep throat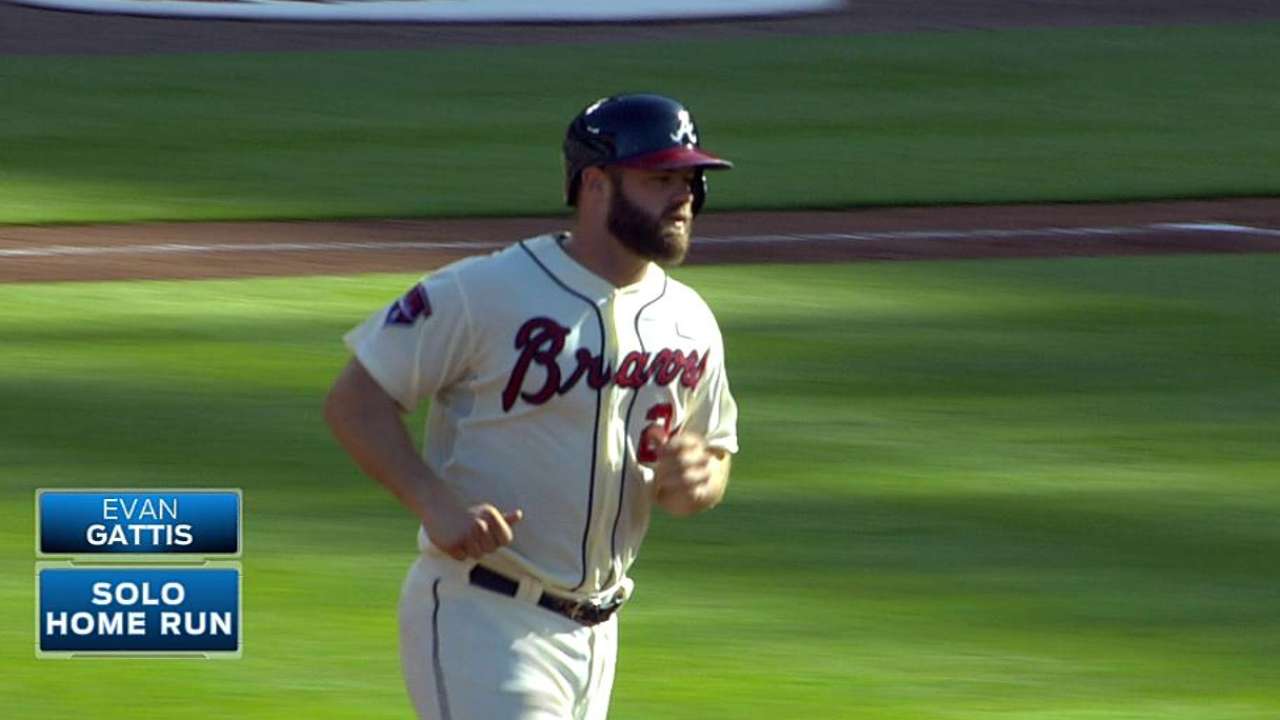 WASHINGTON -- After spending the previous two days dealing with the effects of strep throat, Evan Gattis rejoined his Braves teammates for Wednesday afternoon's series finale against the Nationals. But as he stood in front of his locker at Nationals Park, Gattis admitted he had not yet regained enough strength to play in a game.
Gattis was expected to join the Braves on their charter flight from Washington to his hometown of Dallas on Wednesday night. The burly catcher believes he could be ready to play in front of the many friends and family members who will be present for Friday night's series opener against the Rangers.
"I'm optimistic," Gattis said. "I feel good."
Along with taking antibiotics the past couple of days, Gattis also spent some time on Tuesday regaining some necessary fluids intravenously.
Though Gattis might not be back to full strength, the Braves have the benefit of using him as their designated hitter throughout the weekend series against the Rangers. As things currently stand, Christian Bethancourt will likely handle the catching duties during the first two games, and Gerald Laird will be behind the plate when Mike Minor starts the series finale.
But if Gattis feels strong enough, there might be reason to put him behind the plate to ensure that he doesn't get too rusty in the defensive department.
"I need to do something; I've been sleeping for however many hours," Gattis said when asked if he was permitted to do any form of exercise on Wednesday.
Gattis was disappointed about the fact that he was not healthy enough to play in this week's three-game series against the Nationals. Because the hotel did not carry the local broadcast, he said he kept up with the games on his phone.
So far, the Braves have been fortunate that none of their other players have shown signs of being infected with the ailment that Gattis first felt during Sunday afternoon's game in Miami.
"During the game, I didn't really feel that good," Gattis said. "I just felt like I was tired. I just felt a little more tired than usual and I didn't know why. After the game, I was the last one out of the dugout and I just didn't feel right. On the airplane, I got shivers and a fever. That's when I knew something was wrong."
Mark Bowman is a reporter for MLB.com. This story was not subject to the approval of Major League Baseball or its clubs.