BTS Jinx? There are those who believe
Perhaps it is no coincidence long streaks often end soon after players go public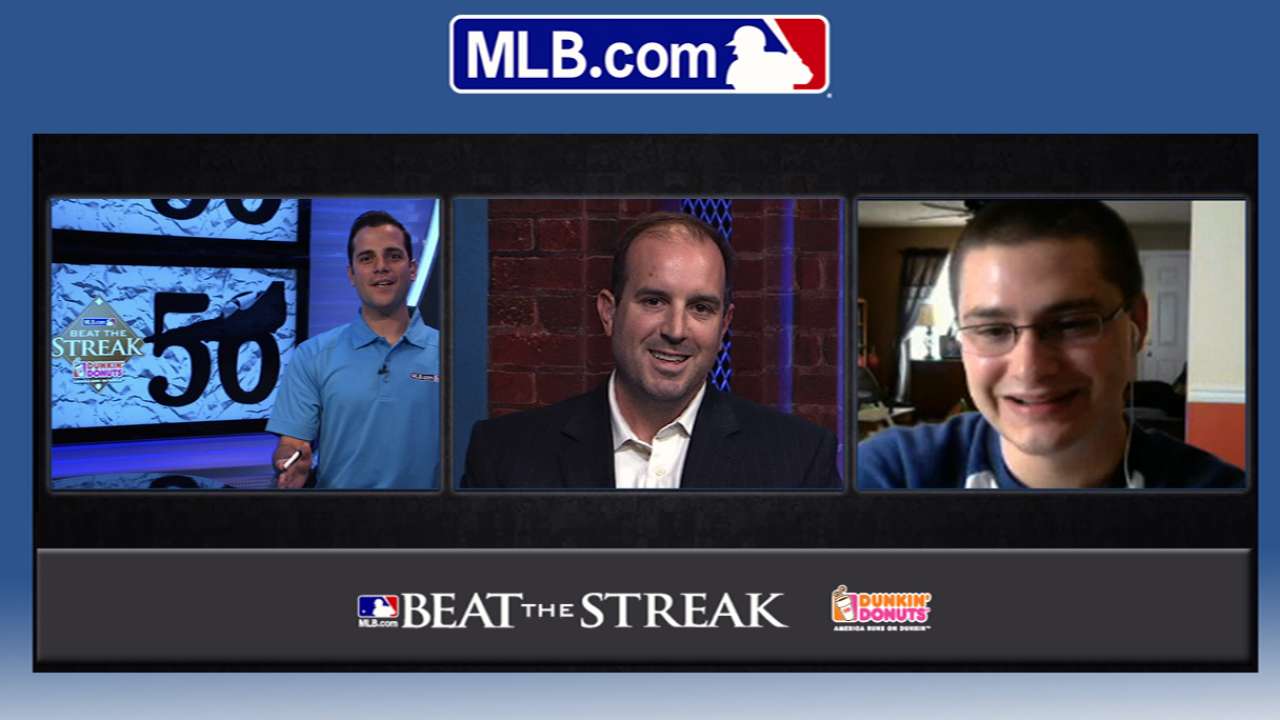 In almost 14 seasons of Beat the Streak play, millions of users have pieced together tens of millions of streaks using every strategy imaginable. But they all have one thing in common: Their runs have all ended short of Joe DiMaggio's record 56-game streak in 1941.
Since 2007, MLB.com has contacted more than 50 BTS players as their streaks approached 40 games, hoping to shed a little light on their personalities and picking processes. In a high percentage of cases, the contestant lost his or her streak within two days of MLB.com reaching out. Is it possible that these two events -- submitting an email interview and going hitless -- are somehow cosmically related?
Forty-eight Streakers have reached 40 games -- an average of nearly 3.5 per season -- yet only seven of them have exceeded 45, and none has reached the 50-game plateau. So what makes that final push toward the Yankee Clipper so difficult? Some would write it off as simple regression to the mean. Others point to the mounting pressure of picking with a multimillion-dollar grand prize within reach. But there may be a different, more mythical stumbling block on the road to 57: The BTS Jinx.
There's still time to win prizes in BTS in a Day, as cool stuff is given away with runs as small as five straight successful selections. However, a lifetime's worth of fame and fortune won't be mathematically available until 2015 if you were to start today.
The Sports Illustrated cover jinx has been well documented, and the Madden cover curse seems to rear its head quite often, so why not? At the very least, several BTS authorities seem to think the Jinx is real.
Mike Karatzia, who set the all-time BTS record with a 49-game streak in 2007, adhered to a strict code of silence during the first seven weeks of his run. But with a shot at Joe D just days away, he reversed course and responded to an MLB.com interview request. Karatzia quickly come to regret that choice, as a Placido Polanco 0-fer ended his streak the very next night.
Karatzia had agonized for several days about whether to reply to MLB.com -- specifically worried about the possibility of jinxing his chance at the big payday -- before some coworkers talked him into embracing the publicity.
"If I had to do it over again, I wouldn't have responded," he said. "Polanco still hasn't paid me back, by the way."
Like Karatzia, Bob Paradise became something of a BTS legend for both his streak (48 games in 2008) and his mysterious identity. Despite repeated attempts to contact him, the gamer then known only as "Spooky93" refused to answer questions about himself or his streak in progress. Suspense grew to the point that we ran a mock interview in which a fake Spooky said he'd use the grand prize cash to buy a unicorn. Finally, after Ichiro Suzuki ended his streak on July 4, Paradise agreed to chat. In an interview years later, Spooky still stood by his better-safe-than-sorry reasoning.
"When you're on a winning streak, you don't rock the boat," Paradise said. "During that 48-game hit streak, obsessive compulsiveness became my best friend. Remaining anonymous was a must, and that meant no background info until I reached Joltin' Joe's incredible record of 56. My wife and friends thought I was publicity-shy, but I knew better."
Although many top Streakers -- such as the precocious BTS participant Matt Borelli -- have been more receptive to MLB.com's questions in recent seasons, the Jinx could still be proclaimed and present by superstitious types.
Borelli, however, isn't buying it.
"It's odd timing that my streak ended after gaining publicity, but no, I don't believe in jinxes," Borelli said.
"It's similar to when a pitcher is throwing a no-hitter and no one is allowed to talk about it. Even the great Vin Scully said he doesn't believe in those kind of jinxes, so why should I?"
As one of four Streakers atop the BTS season leaderboard with runs that lasted 38 straight picks, Borelli is currently in position to take home a split of the game's $10,000 consolation prize. For this, the soon-to-be college student is appreciative.
"It feels great that I'm still eligible for a split of the $10,000 consolation prize, assuming the spot holds," Borelli said. "That's still a lot of money, and it could certainly help me with some college fees that come my way. And for those wondering, yes, I will still donate to charities [such as Red Cross, St. Jude and ALS Association.]"
Borelli said he will be back in the BTS routine at the outset of 2015, when the allure of a $5.6 million payout is scheduled to resume in full force. Whether he or anyone else can finally break the BTS "Jinx" remains to be seen. Perhaps you will be the lucky one.