Guarantee of no repeat champ ties MLB's longest stretch
With Red Sox eliminated, current streak matches record from 1979-92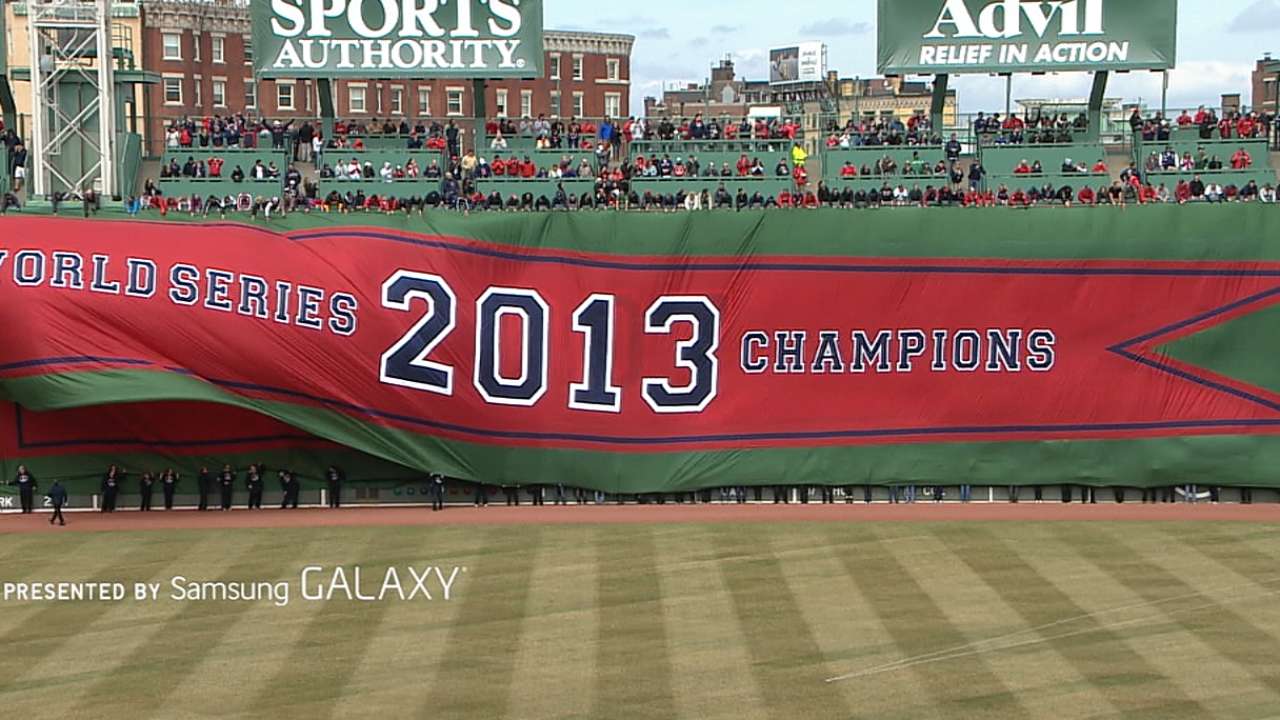 Now that the Red Sox have been officially eliminated from contention, Major League Baseball has tied the record for the longest stretch without a repeat champion.
This will be the 14th consecutive season that no team has won a consecutive World Series title, dating back to the Yankees' three-peat from 1998-2000. That matches the previous record set from 1979-92, before the Blue Jays repeated in the 1993 season.
"I think it's a good thing, because each team each year, it's a new team to win the World Series," said Cardinals catcher Yadier Molina, who was a rookie in 2004 when the Cardinals were swept by Boston, and then a key member of the '06 and '11 title clubs. "They are all doing a good job, preparing a winning team obviously. It's good for baseball."
It's especially good if you like competitive balance in your baseball. Whichever team wins the 110th World Series next month will have the task of trying break this long string -- or ensuring that this is an era of competitive balance like no other.
"It's not easy," Red Sox slugger David Ortiz said of repeating. "Well, you see that those Yankees, every year they had the team with the highest payroll out of everybody. Every good free agent out there, they'd go out and grab them. I'm pretty sure that what they did was something super special, because I don't think many teams had done it before -- winning that many years in a row."
Ortiz led Boston to the championship last year, and he made those comments to MLB.com the day before Game 1 against the Cardinals in that series. Obviously, not much has changed.
"Everybody puts a different team together every year, so it's hard to keep up with going to the World Series every year," he said. "You see guys going to the playoffs -- 'Oh, we've got a good team.' You get to the playoffs, the next thing you know, it's a short series and anything can happen."
The D-backs ended that Yankees reign in 2001, and they were followed in triumph by the '02 Angels, '03 Marlins, '04 Red Sox, '05 White Sox, '06 Cardinals, '07 Red Sox, '08 Phillies, '09 Yankees, '10 Giants, '11 Cardinals, '12 Giants and '13 Red Sox.
Championship teams seldom stay together like they used to, given Hot Stove League activity. In Boston's case, the team lost Jacoby Ellsbury and Jarrod Saltalamacchia from last year's title squad.
Naturally there is a greater chance for such a sustained run without repeats in this modern age. There were two eight-team leagues for most of MLB's history, and the club with the best record in each league went straight to the Fall Classic.
The postseason was expanded in 1969 to four teams with the advent of two League Championship Series, then expanded to eight teams in 1995 with the addition of a Wild Card team in each league and then it was expanded to 10 teams in 2012 with the Wild Card Game in each league.
Mark Newman is enterprise editor of MLB.com. Read and join other baseball fans on his MLB.com community blog. This story was not subject to the approval of Major League Baseball or its clubs.