Simmons rests, regroups after rough second-half stretch
Braves want NL Gold Glove Award winner to improve mentally at plate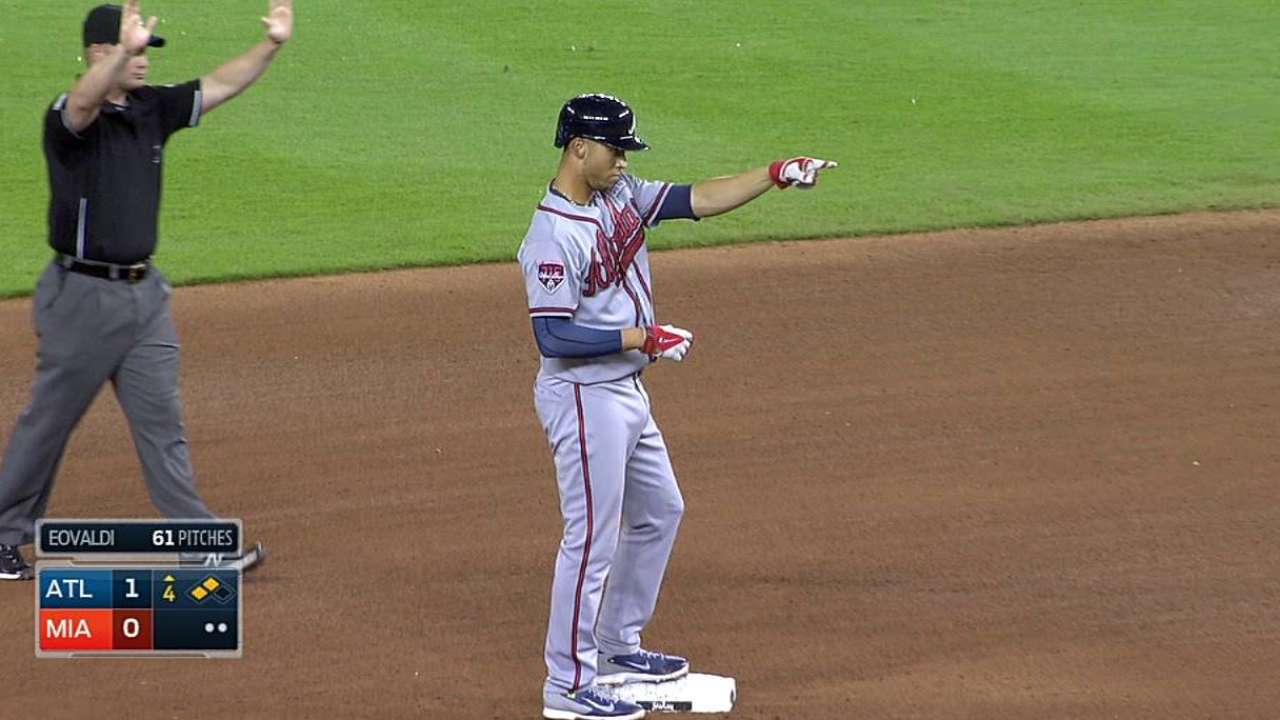 WASHINGTON -- Andrelton Simmons has spent the early portion of his career drawing justifiable comparisons to Hall of Fame shortstop Ozzie Smith. But in the process of cementing his place as a defensive wizard, Simmons has spent the past couple months providing reason to once again wonder if he can succeed offensively at the Major League level.
As his struggles have mounted, Simmons has managed to become even more overly aggressive at the plate. Consequently, he has been consistently producing off-balance swings that have been as ugly as the resulting statistics. Since hitting .265 with a .309 on-base percentage in 90 games before the All-Star break, he has hit .181 with a .228 OBP in the second half of the season.
"I think he's allowed himself to get frustrated, and that is the worst thing a baseball player can do," Braves hitting coach Greg Walker said. "It's easily done. Most of us do. It's something he's going to have to fight. He's allowed way too many negative thoughts in his brain this year. You can't play like that."
Sensing the frustration that has only escalated as Simmons has notched three hits in his first 30 at-bats this month, Braves manager Fredi Gonzalez opted to keep his prized shortstop out of the starting lineup for Wednesday afternoon's series finale against the Nationals.
After entering the game in the seventh, Simmons once again allowed his aggressive nature get the best of him as he was easily thrown out attempting to turn a single into a double in the eighth inning.
"He's a young kid that wants to do really, really well and he cares," Gonzalez said. "We've seen it defensively, where if he makes an error and they score a run and we end up losing by one run, he wants you to leave the lights on while he takes a hundred more ground balls. He takes the offense the same way."
After taking batting practice on Wednesday afternoon, Simmons decided not to address his struggles that seem to be influenced by last year's success.
Though he hit just .248 with a .296 on-base percentage during the 2013 season, Simmons also hit 17 homers. Considering he had entered the year with a total of nine home runs at the professional level, there was certainly reason to be skeptical about his chances of matching last year's total.
As the past few weeks have progressed Simmons has more frequently taken off-balance swings that have caused him to fall across the plate whenever has swung and missed.
"He's at a stage where he is learning to hit in the big leagues," Walker said. "He's had good stretches. He has to decide what kind of hitter he wants to be. He gets frustrated and overswings with no balance. He swings with way too much effort level and out of control. Then, there are times when he plays the game the way we want, where he has a chance to be a .280 hitter. He's going to have to make a decision if he wants to make the mental commitment to do it.
"It's the mental side that he needs to get more focused [on] and decide who he wants to be as a hitter. I believe he'll get there. I believe he's a special talent. He's got a baseball brain, especially defensively. He's just got to say, 'I'm committed to use the whole field and hit for average.' The power should develop later."
Mark Bowman is a reporter for MLB.com. This story was not subject to the approval of Major League Baseball or its clubs.