MLB.com Columnist
Terence Moore
Thanks to Wild Cards, it's a September to remember
Playoff races invigorated since addition of second spot for each league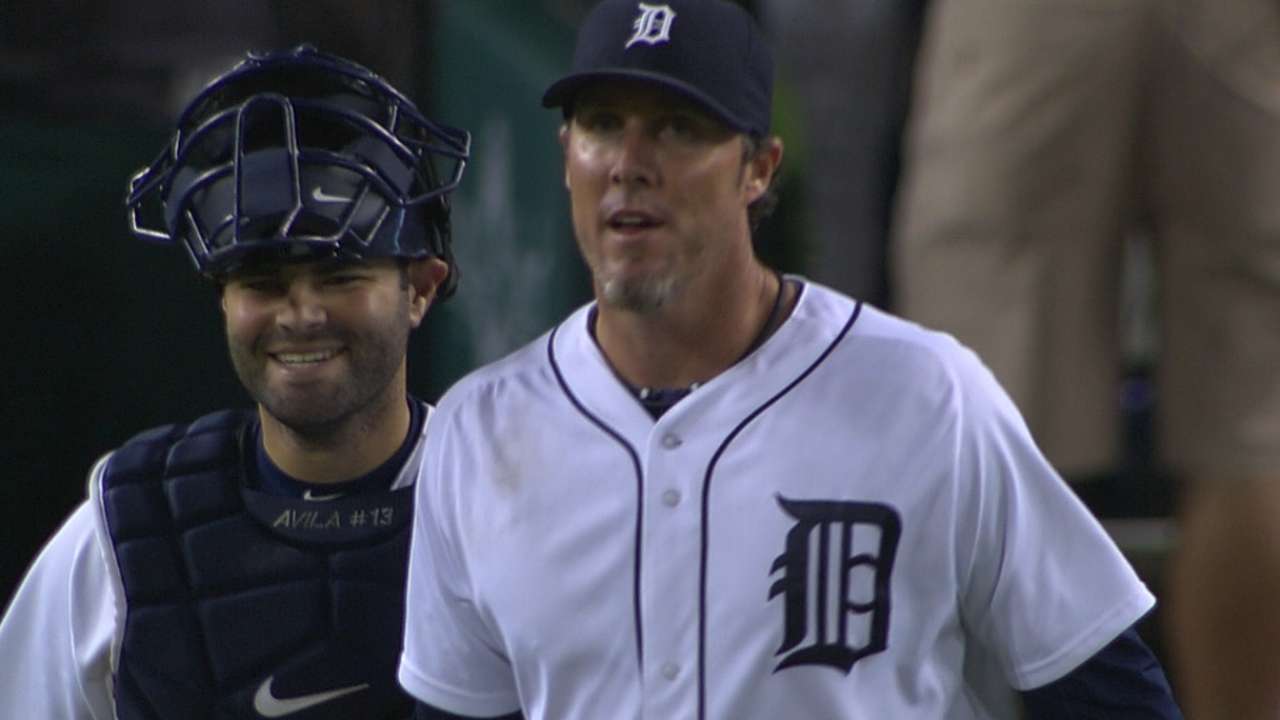 It's nearly mid-September after a lengthy spring and summer of baseball, but from now through the end of the month, there will be a slew of significant games.
Thank you, Mr. Selig.
The Tigers have spent the last few days in Detroit fighting for their American League Central lives against the Royals, and Comerica Park has been rocking when it hasn't been rolling. You can expect much of the same this weekend in San Francisco. There, inside the orange-and-black noise factory that will be AT&T Park, the Giants and the Dodgers will continue their rivalry. This time, they're trying to sprint past the other toward the finish line of the National League West.
The Astros? Well, they were eliminated from playoff contention long ago, but consider this: Including tonight in Seattle, eight of the Astros' next 11 games are against the Mariners and the Indians, and both of those teams are fighting like crazy to reach the postseason. So when reporters asked Houston interim manager Tom Lawless earlier this week if he planned to use a lot of his September callups the rest of the way, which is what most non-contending teams do this time of year, Lawless emphatically said no.
He added, "While we're playing these games in the playoff hunt, it's not fair to everybody else [to play callups]. We're going to try to win the game, bottom line."
Even out-of-the-running teams remain motivated these days.
We're back to Mr. Selig, otherwise known as Bud, or the Baseball Commissioner, if you prefer. Interleague Play. Expanded replay. Old-new ballparks. Three divisions in each league. The toughest drug policy among the major sports leagues in North America. Everywhere you look, you see the visionary mind of the retiring Selig, who keeps dragging the game's traditionalists (my hand is raised) into the 21st century. That's why it isn't surprising that his decision two years ago to add a second Wild Card for each league to the postseason is the gift that keeps on giving and giving … and giving some more.
Several things, and they all are splendid. For starters, more than half of the 30 Major League teams either are pretty much assured a playoff berth through winning their division or own a decent chance right now of playing in October courtesy of one of those Wild Card spots. Then there are teams like the Astros, with one eye on next year, but with the other on trying to gain momentum for 2015 by spoiling the dreams of contenders.
Let that sink in. That already is more than enough to salute Selig for what he's done during his 23-year reign.
In case you've forgotten the not-so-distant old days of the game whenever July and August faded into September, I'll remind you: There was nothing like this regarding impactful games. In fact, back when there were Big Red Machines and Yankees dynasties led by Ruth, DiMaggio or Mantle -- or even those years of a Miracle Mets-type team here and there -- pennant races often consisted of, well, nobody, or maybe a couple of teams fighting for one spot … or perhaps three or four, but that was about it.
Things became more competitive down the stretch after the 1968 season, when baseball went to two divisions in each league. Then Selig added three divisions and a Wild Card for each league into the mix in 1994. Under this system, the division winners were joined in the playoffs by that Wild Card team, and it remained that way until 2011.
Great stuff, especially for Wild Card teams.
During that stretch, 10 Wild Cards reached the World Series, including one every season from 2002-07. The 2002 World Series even featured both the Giants and the Angels as Wild Cards, and the Halos eventually became one of five Wild Cards to capture a World Series championship.
Selig knew baseball's playoff system could become even greater than that. So he added that second Wild Card team to each league before the 2012 season to create a "win-and-you're-in" game at the end of the regular season for both the American League and the National League involving their Wild Card teams. Talking about a brilliant move, because it did more than increase the number of contenders during a given September. It made a Wild Card spot something that a playoff-hopeful team would want only as a last resort.
Now division winners are relevant again. Unlike Wild Card winners, division winners still are guaranteed the chance to play more than just a single-elimination game during the postseason. Thus the current obsession of the Tigers, Royals, Giants and Dodgers with trying to capture their respective divisions as opposed to settling for a Wild Card berth. Elsewhere, the Pirates lead the Braves and the Brewers by 1 1/2 games for the NL's second Wild Card spot, but you just know anybody with a "P" on his cap in the Pirates' clubhouse would prefer to erase the Cardinals' 4 1/2-game lead in the NL Central.
This isn't to say Wild Cards aren't welcomed by some.
"Our goal always is to win the [NL East], but the way things are right now in baseball, just getting into the playoffs somehow at the end of the season and finding a way to keep playing in October isn't bad," said Braves manager Fredi Gonzalez, whose team is nine games behind the division-leading Nationals. "If we get in as a [Wild Card] team, and if we all of a sudden run the table and win the World Series, you're good with that, right?
Right, but the odds of that happening aren't the best anymore.
Which is good.
For nearly everybody.
Terence Moore is a columnist for MLB.com. This story was not subject to the approval of Major League Baseball or its clubs.