Wright, Gee visit first responders at firehouse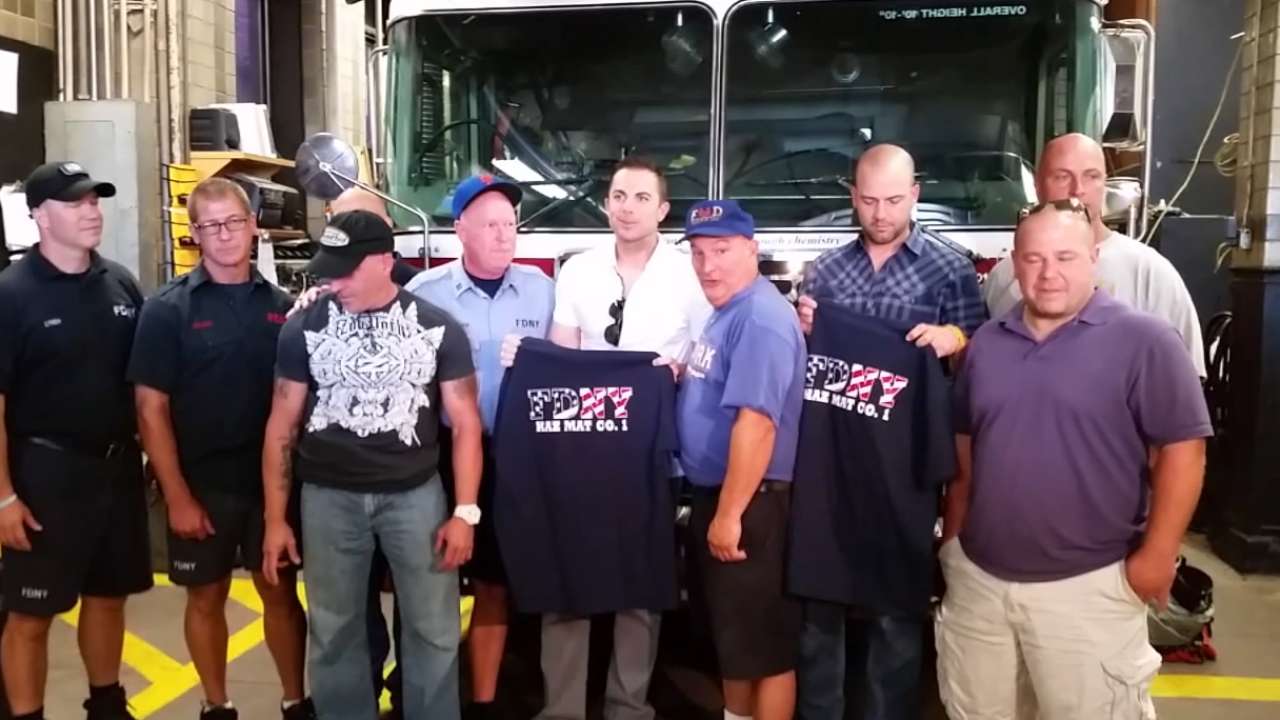 NEW YORK -- David Wright made an appearance away from Citi Field on Wednesday, and along with it came all of the usual indications of his stardom: cameras, some security and a handful of fans clutching fresh baseballs and pens. Then came the inevitable question: How's that shoulder?
"I'll be at the stadium later," said Wright, who on Tuesday decided to end his season due to lingering left shoulder inflammation. "I don't want to water down what it means to be here -- not to be rude."
This visit -- to FDNY Squad 288, HazMat 1 in the Maspeth neighborhood of Queens -- wasn't about one shoulder or one player. It was about expressing an appreciation for the people Wright called "the real heroes of New York."
This firehouse, a mere 10-minute drive from Citi Field, lost 19 members in the terrorist attacks on Sept. 11, 2001. Its relationship with the Mets organization began shortly thereafter, when Mike Piazza met Carol Gies, whose husband Ronnie was one of the Squad 288 firefighters to lose his life, and her sons at Shea Stadium.
Since breaking into the Majors in 2004, Wright has visited a local firehouse on or around Sept. 11 every year. On Wednesday, the eve of the 13th anniversary, he returned to Squad 288 with Dillon Gee.
Wright and Gee both have a special appreciation for emergency responders. Wright's father, Rhon, is a recently retired Virginia police officer. Gee's dad, Kevin, is a firefighter in Fort Worth, Texas.
"It's close to home for me," Gee said of the visit to Maspeth. "I was way back in Texas in high school when Sept. 11 happened. But over the last few years, I've been able to come up here and meet these brave men and women who were there that day, who helped out that day, who lost friends and loved ones."
"To see this memorial," Gee continued, pausing in front of plaques dedicated to the Squad 288 firefighters who passed away. "It definitely makes you realize what these guys do every day."
That was the important message for Wright -- the every day. The thankfulness that dominated the tone Wednesday should be the case regularly, not just the week of Sept. 11.
"Everybody can do a better job of not celebrating firefighters [only] once a year," Wright said. "I think it's something that we all can do a better job of -- understanding the sacrifice, and how brave these men and women are on a more consistent basis rather than having to have a catastrophe happen to understand what these men and women mean to the community, especially here in New York."
Tim Healey is an associate reporter for MLB.com. This story was not subject to the approval of Major League Baseball or its clubs.