Shields pitches Royals back into AL Central lead
Righty fires seven shutout frames as KC takes one-game advantage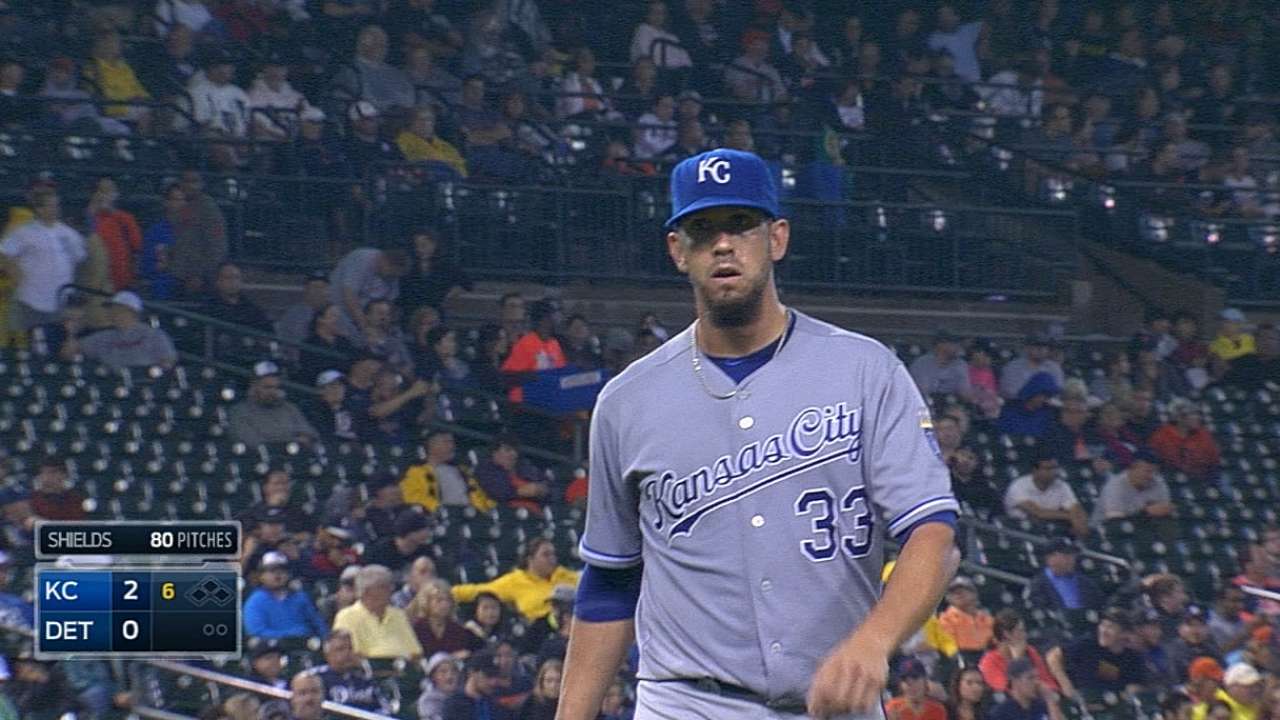 DETROIT -- Say this for Big Game James Shields: He can win a big game.
Kansas City needed this one at rain-drenched Comerica Park and Shields, a master of efficiency, delivered in a 3-0 victory over Detroit on Wednesday night to put the Royals back in sole possession of first place in the American League Central.
"You don't earn a nickname like 'Big Game James' for nothin," manager Ned Yost said. "And it just showed exactly how he got his nickname tonight. Games don't come bigger than this. Every game is big, but this was a huge game for us."
The Tigers settled back into second, one game behind, but they did prevail in the showdown series by winning the first two of the three games.
"We're closer than we were when the series started, and that's a positive," said Tigers manager Brad Ausmus. "Let's be realistic, it's tough to get a sweep in Major League Baseball. They're a pretty good team, and James Shields is a pretty good pitcher. Are we disappointed? You're disappointed every time you lose. We didn't give this game away. They beat us."
Shields pitched seven scoreless innings, facing just two batters over the minimum 21, and he gave up just two singles and one walk. He struck out eight.
"This is a big series. We didn't want to come in here and get swept," Shields said. "Today was a big one for us."
Shields' 31st start of the season opened with Ian Kinsler's lined single to right. But Shields promptly picked off Kinsler -- with the aid of an instant replay review -- and he got on a roll.
"I thought I had him, at least. I think that was a crucial pickoff in the game," Shields said. "Leadoff hit, next thing you know, Torii Hunter hits the ball up the middle and it just so happened it hits my leg."
Shields recovered the ball and threw out Hunter for the first of 18 straight batters retired. Nobody reached base until, with one out in the seventh, Hunter smacked a single to left.
Then, Shields unleashed a pitch that sailed high over batter Miguel Cabrera and catcher Salvador Perez. The ball rebounded off the backstop back to Perez, but his throw couldn't stop Hunter from reaching second. Cabrera followed with a walk, the first of the game.
The start of the game had been delayed 42 minutes by rain which occasionally revisited the 29,751 fans at Comerica, causing umbrellas to sprout like mushrooms. The grounds crew was constantly tending the infield and the mound, but it was very wet.
"My back foot was slipping out. It was really soft, muddy and mushy," Shields said.
But Victor Martinez flied out deep to center, moving Hunter to third, and Shields struck out J.D. Martinez to end the inning. The pitcher left the mound screaming in excitement.
"Our club feeds off his emotion," Yost said. "He finds a way to get everybody fired up."
To that point, the Royals had a 2-0 lead, built against Tigers starter Rick Porcello in the fourth inning on singles by Josh Willingham, Eric Hosmer, Perez and Lorenzo Cain.
One inning earlier, Alcides Escobar was thrown out at the plate. He singled, stole second -- his 29th theft this season -- and took third on catcher Alex Avila's throwing error. But Kinsler grabbed Nori Aoki's grounder and threw Escobar out, barely, trying to score.
They finally picked up a third run in the ninth inning against former Royals closer Joakim Soria, just off the Tigers' disabled list, on Cain's leadoff triple and Escobar's sacrifice fly.
Shields' first six innings were a demonstration of methodical efficiency.
The most spectacular fielding play behind him was executed by third baseman Mike Moustakas in the fifth inning -- again involving that constant pest, Hunter.
Moustakas stretched high to snare Hunter's bouncer and threw from foul ground. Over at first base, Hosmer eased in to grab the ball and tagged Hunter as he flashed past, a glove gem on both ends.
"I've seen Moose make some pretty darn good plays, but that was pretty unbelievable," Yost said.
After Shields departed, Kelvin Herrera pitched a perfect eighth inning. That gave him 29 2/3 consecutive scoreless innings.
Wade Davis, subbing for closer Greg Holland, worked a 1-2-3 ninth for his third save. And that gave Davis 30 2/3 straight scoreless innings.
The Royals were back alone on the throne.
"We didn't want to go out of here one game down and we had the right man on the mound, and he pitched a phenomenal game for us," Yost said.
That man was Big Game James.
"I think it's a big game, definitely one that we needed, for sure," Shields said. "But I think every game from here on out is pretty crucial so we're having fun with it. That's what it's all about. We took a couple tough losses the last couple of days, but we're having fun right now and enjoying the moment."
Dick Kaegel is a reporter for MLB.com. This story was not subject to the approval of Major League Baseball or its clubs.