Big day of firsts, but Boston bows out
Butler gets first three big league hits; Rivero launches homer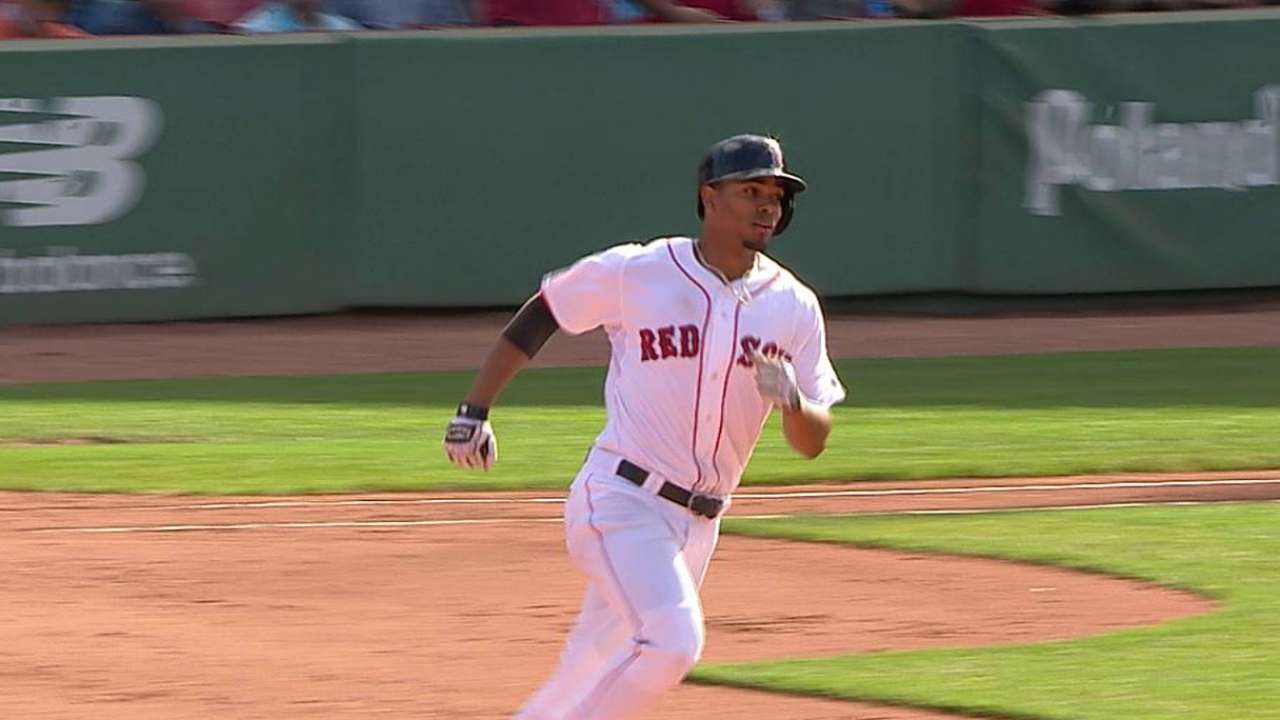 BOSTON -- For undrafted free agent Dan Butler and veteran Minor League journeyman Carlos Rivero, there were some satisfying moments to be taken even as the Red Sox suffered a 10-6 loss to the Orioles on Wednesday afternoon at Fenway Park.
Not only did Butler break up Wei-Yin Chen's bid for a perfect game with a one-out double in the bottom of the sixth, but the shot off the Green Monster was his first career hit. Butler's second hit, another double, came two innings later. And his three-hit day was capped with a single in the ninth.
The 27-year-old Butler, a backup catcher at the University of Arizona who had been bypassed in the First-Year Player Draft, has been with the Red Sox organization since 2009.
"Yeah, a big day for him," said Red Sox manager John Farrell. "Obviously getting his first one out of the way, and the three base hits, and when you look back at the path he's taken, which is not a common one, it's a big day in his baseball career."
The same could be said for Rivero, who clubbed his first career home run, a three-run shot in the bottom of the ninth. This, after Rivero spent most of the last 10 seasons in the Minor Leagues.
"It's something really special to me," said Rivero, who sparked a five-run bottom of the ninth for Boston. "Such a long road. To be able to hit my first home run here at Fenway Park was something that really meant a lot to me and is something I'll never forget."
Prior to the outburst in the ninth, Boston had scored a total of three runs over 37 innings.
The defeat officially eliminated the defending World Series champions from the postseason race, though that had stopped being a realistic goal at the end of July.
But there was another positive development for the Red Sox, as Xander Bogaerts continued his recent hot streak, producing two hits and belting a homer for the second straight day.
"Yeah, I've been working a lot with the hitting coaches, just trying to get back to who I am, the kind of player that I am," said Bogaerts.
For the 10th consecutive start, Brandon Workman (1-9, 5.27 ERA) was unable to get a win. This time, he didn't come close.
The righty was pounded for six hits and six runs over three innings, with all of the damage coming in one highly unfortunate top of the third inning.
The Orioles scored six times and sent 11 batters to the plate.
"I have to do a better job of limiting damage," Workman said. "Seems like lately, it's been one inning that's gotten me. In Seattle, at New York, or today, it's one inning that all my runs have come in."
Alejandro De Aza's RBI single to right opened the scoring. Adam Jones lined a two-run RBI double to left. Workman didn't do himself any favors when he walked Steve Pearce to force in a run. Caleb Joseph and Ryan Flaherty rounded out the damage with RBI singles.
Craig Breslow gave up a two-run homer by Joseph in the fifth that narrowly cleared the Monster.
At this time last year, Workman was evolving into a reliable setup man, one who would pitch key innings in the postseason. But he got back to his original path as a starter this season, and it has been rocky to say the least.
"I still believe in myself 100 percent," said Workman. "That doesn't change after a bad outing or a couple of bad outings. I do what I need to do on the mound and execute my pitches and I'm fine. It just comes down to execution and I haven't been as sharp."
Ian Browne is a reporter for MLB.com. Read his blog, Brownie Points, and follow him on Twitter @IanMBrowne. This story was not subject to the approval of Major League Baseball or its clubs.