Scoring burst backs Harang, helps take down Nats
Vet allows one unearned run; Braves score two in 6th, three in 7th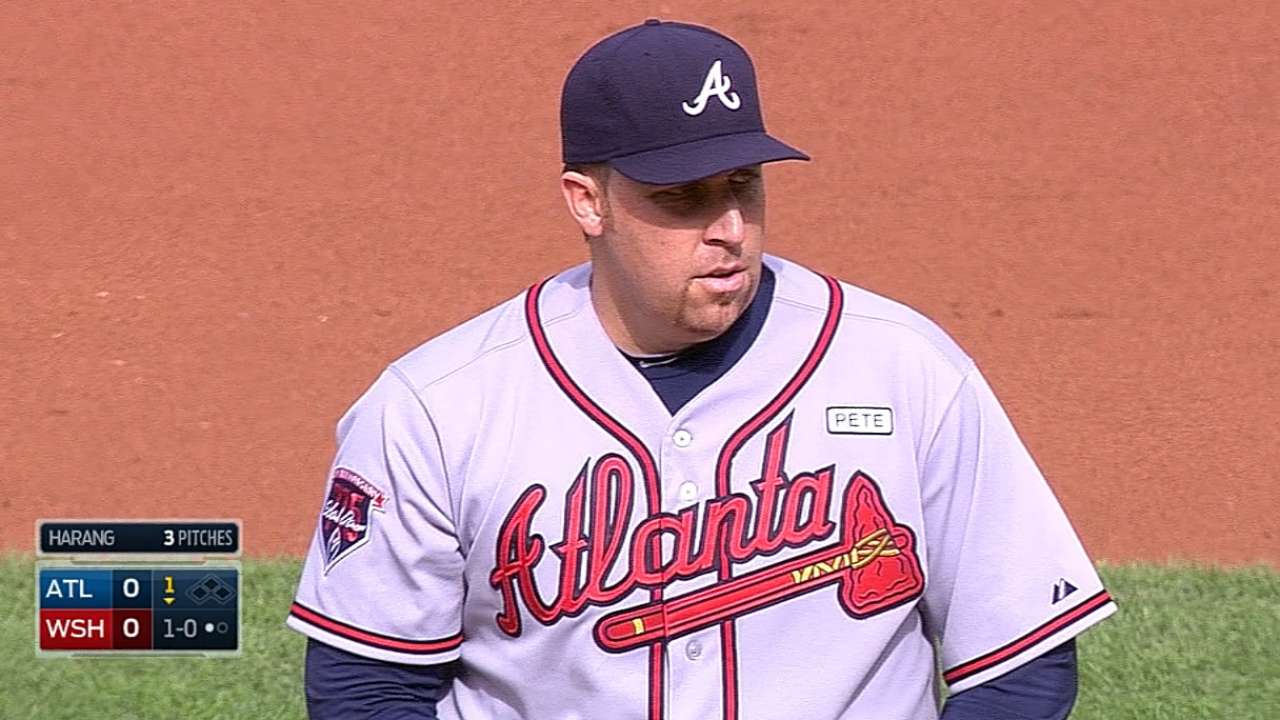 WASHINGTON -- When the Braves dropped the first two games of this week's series against the Nationals, they essentially bid adieu to any realistic hope of defending their National League East title. But by avoiding a sweep with Wednesday's 6-2 win at Nationals Park, they gained confidence in their maddening offense and some momentum as they prepare to journey through the season's final two weeks in search of a playoff spot.
"This is a big win," Braves manager Fredi Gonzalez said. "This is a win you look forward to maybe tagging on three or four more in a row and getting us back on top in the Wild Card race."
Barring an epic collapse in their final 18 games, the Nationals will preserve their comfortable lead -- eight games -- in the NL East. But even with their division title hopes resting on a miracle, the Braves take great satisfaction in the fact that despite winning just seven of their past 17 games, they enter Thursday within 1 1/2 games of the Pirates, who are currently positioned to claim the National League's second Wild Card spot.
"We can't focus on the division as much as the Wild Card right now," Aaron Harang said. "We've got to go out there and look not too far ahead, and just play it one game at a time and focus on one game at a time."
Harang set the tone in the series finale as he completed a a stellar seven-inning effort that was blemished only by an unearned run he surrendered with two outs in the fifth inning. But while his contributions provided hope that he might finish the season like he started it, the Braves had even more reason to be encouraged by their offense, which produced at least four runs in a second consecutive game for the first time since Aug. 29.
Those who have followed the Braves closely were likely not surprised to see this latest offensive eruption come at the expense of Stephen Strasburg, who has gone 0-4 with a 4.98 ERA in nine starts against the Braves since the start of the 2013 season. The struggles and hard luck he has encountered have helped Atlanta win 23 of the 35 games played against the Nationals during this span.
While Jason Heyward accounted for three of Atlanta's 13 hits, Justin Upton made his presence known as drove in three runs. Freddie Freeman, who has hit .476 (30-for-63) against the Nationals, fueled the decisive two-run sixth inning with a leadoff double.
"We swung the bats well and Aaron just kept us in the ballgame," Gonzalez said. "I thought that might have been one of the best outings he's given us in a long time."
After Harang and Strasburg traded zeros through the first four innings, the Braves struck first when B.J. Upton began the fifth inning with his second homer of the season off the Nationals right-hander. Harang then squandered the lead when he surrendered consecutive two-out singles ahead of a passed ball that deflected off rookie catcher Christian Bethancourt's glove and allowed Denard Span to score.
Freeman's double to begin the sixth inning gave Justin Upton a chance to be rewarded for his unselfish attempt to hit the ball to the right side. In doing so, he skipped a sharp grounder into right field and then watched as Freeman scored from second base. Before concluding his six-inning effort, Strasburg allowed Bethancourt to conclude an eight-pitch at-bat by reaching across the plate to send what proved to be a decisive RBI single to right field.
"He's giving us good quality plate appearances when he gets up there," Gonzalez said of Bethancourt. "You feel good when he gets up to the plate."
Harang helped himself by beginning the three-run seventh with a single off Jerry Blevins. Justin Upton highlighted the inning with a two-run double off Ryan Mattheus.
While the hit provides an opportunity to smack talk in the clubhouse, Harang had reason to be more satisfied with what he did on the mound. The 36-year-old veteran entered this start having produced a 6.95 ERA in his previous five outings. His previous two had been against the Marlins, who have given him fits throughout the year.
But the 36-year-old veteran will enter next week's outing against the Nationals with confidence. Harang has allowed just two earned runs in 20 innings against them this season.
"It's big to help flip things around and get us out of here on a good note," Harang said. "If we had come in here and gotten swept, that is going to be a sour taste in everyone's mouth going into the next series and even next week when [the Nationals] come to our place."
Mark Bowman is a reporter for MLB.com. This story was not subject to the approval of Major League Baseball or its clubs.