MLB.com Columnist
Anthony Castrovince
Unlocking Puig's power key for Dodgers
Recent slump looms large as LA makes push toward postseason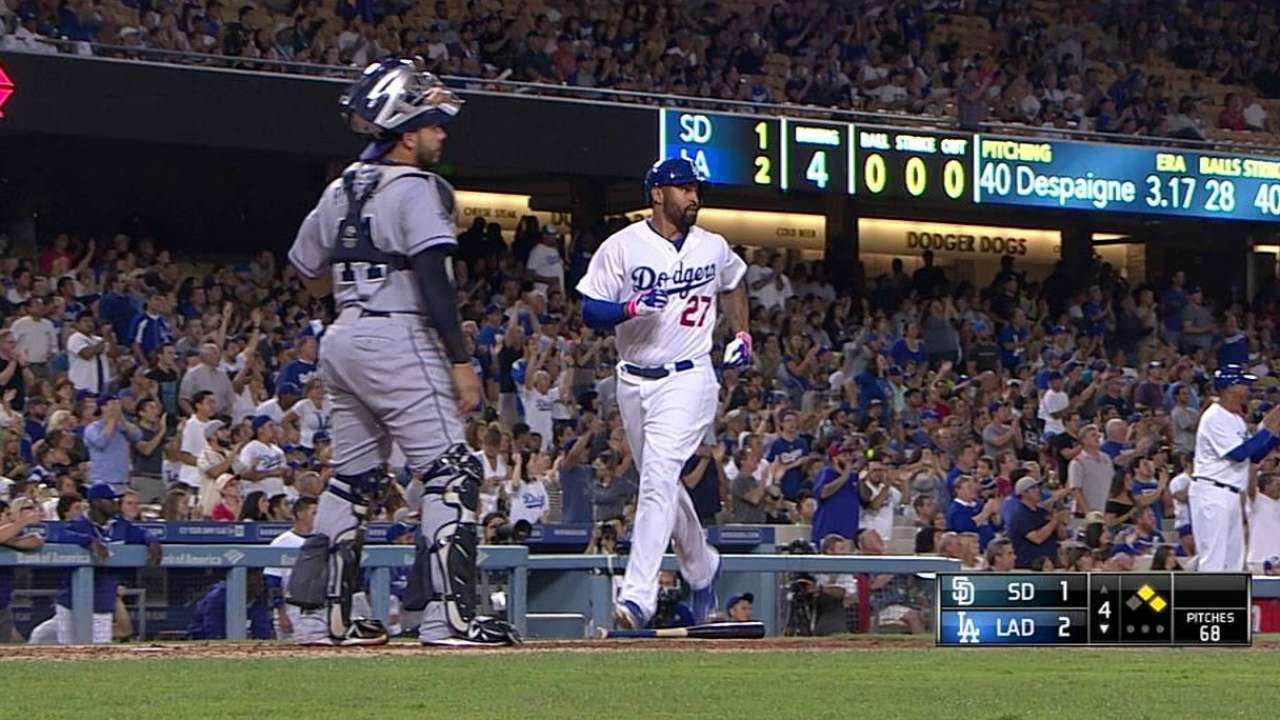 Yasiel Puig's once-profound power has, unfortunately, become a matter of imagination.
On Tuesday night, for instance, there was an official post on the Dodgers' Twitter account that mistakenly identified Puig as the producer of a batting-practice home run that sailed clear out of Dodger Stadium. The ball actually, according to onlookers, came off the bat of Hanley Ramirez.
And that just speaks to the problem with Puig right now: His power has simply disappeared, and that's a dangerous development for a Dodgers team that saw its National League West lead shrink to 2 1/2 games Tuesday night and is headed to San Francisco this weekend for a pivotal three-game series at AT&T Park.
It is not, however, a development that ought to prompt Don Mattingly to bench his slumping star, because the truth is that Dodgers still need Puig if they're going to live up to the World Series expectations that accompany their Major League-leading payroll.
What the heck has happened to Puig's power? That's one of the biggest questions in baseball.
There was a time when we were talking about Puig as a sneaky down-ballot NL MVP Award candidate, but that conversation has ceased. From the Australian opener through June 6, Puig had a .324/.413/.544 slash line (the 1.023 OPS was second in the NL only to that of Troy Tulowitzki) with 11 homers and 44 RBIs. Since June 7, it's a .259/.343/.385 slash (only 23 qualifying NL players have a lower OPS in that stretch) with just two homers and 20 RBIs.
June 7 is not an arbitrary starting point in this discussion. That's the day Puig slid awkwardly into second base trying to break up a double play, leading to what was reported as hip discomfort. A couple weeks later, he was visibly limping and had to be removed from a game in the eighth inning. Puig complained of tightness in the left hip.
So, is the hip injury a bigger deal than Puig -- or the Dodgers -- have let on?
That would be the simplest answer to all this, but that doesn't mean it's the right one. Buried within that second slash line listed above was a month of July in which Puig had a .688 slugging percentage, hitting two homers (his only two of the past three months), 10 doubles and five triples.
Really, it's only since Aug. 1 (.210/.304/.235) that Puig has been a total non-factor in the Dodgers' lineup, and that's a much smaller sample to work with.
Maybe, then, it's a simple matter of fatigue -- fatigue exacerbated by the midseason move to center field -- that has hampered Puig's ability to catch up to fastballs as he once did. It was late August when manager Don Mattingly discussed the subject of Puig fatigue.
"I think Yasiel's really emotional," he said at the time, "and it's hard to be really emotional and play 162."
Mattingly cited Dee Gordon's growth and maturity as an example of a player learning to understand the rigors of the daily grind. But the patience Mattingly has extended to Gordon does not seem to apply to Puig. Gordon had a .288 on-base percentage from July 2 to Sept. 1, but he never lost grip of his leadoff spot on the days he played or got yanked from his comfort zone. He has since responded encouragingly with 10 hits in his last 29 at-bats.
For Puig, the leash has not been nearly as long. At the tail end of August, Mattingly began moving him all over the lineup. Since Aug. 30, Puig has batted first twice (on days Gordon was rested), fifth once, sixth twice, seventh twice (including Tuesday night) and in his customary No. 2 spot just once.
Batting order position is inherently overrated, but players do put a value on it, and it's pretty clear (perhaps even understandable) that Mattingly's patience is thinner with a player notorious for going with his own pregame program than one who toes the proverbial line. Puig showed up to Dodger Stadium mere minutes before pregame stretch on Sept. 2, and newly promoted prospect Joc Pederson got the start over him that night. Five days later, Puig was pulled for Pederson in the seventh inning of a win over the D-backs.
The Dodgers are at an important juncture not just in their season but in their handling of Puig. The simplest fact of the matter is that from his June 3, 2013, arrival through July 31 of this year, Puig put up a .941 OPS bested by just five other players in that span - Mike Trout (1.001), Miguel Cabrera (.967), Tulowitzki (.961), Andrew McCutchen (.954) and Edwin Encarnacion (.949). The slump from Aug. 1 on could be just that -- a slump.
So if Puig is healthy -- and that's admittedly an "if," given the June hip issue -- the best way to pull him out of his troubles is to leave him alone in the two-hole and hope the power and consistency resurface. In recent days, Ramirez has batted second and, despite a four-hit burst of brilliance Monday night against the Padres, he's hit .238 in 11 straight games there. And his bat has sagged overall in the second half as he's played through pain in his free-agent walk year.
Ramirez, in other words, is no better option than Puig at this point.
Whether the Dodgers like it or not, in light of recent results, Puig is still the key to their offense. Even if his power is down, he's capable of getting on base to create opportunities for Adrian Gonzalez and Matt Kemp. If Puig is hurt, rest him. But if he's fatigued, test him, because this weekend's games could ultimately decide the division. Calls to play Andre Ethier over Puig are misguided, because Ethier's offensive struggles are of the season-long variety, whereas Puig's are a more recent development.
Yes, the Dodgers are capable of riding their big three in the rotation -- Clayton Kershaw, Zack Greinke and Hyun-Jin Ryu -- to the NL West title, possibly beyond. But Puig remains their biggest X-factor and their most fascinating figure in the bid for a title.
Anthony Castrovince is a reporter for MLB.com. Read his columns and follow him on Twitter at @Castrovince. This story was not subject to the approval of Major League Baseball or its clubs.