MLB.com Columnist
Roger Schlueter
MLB Notebook: Tigers at their best vs. the best
Run of division titles fueled by success against top competition in AL Central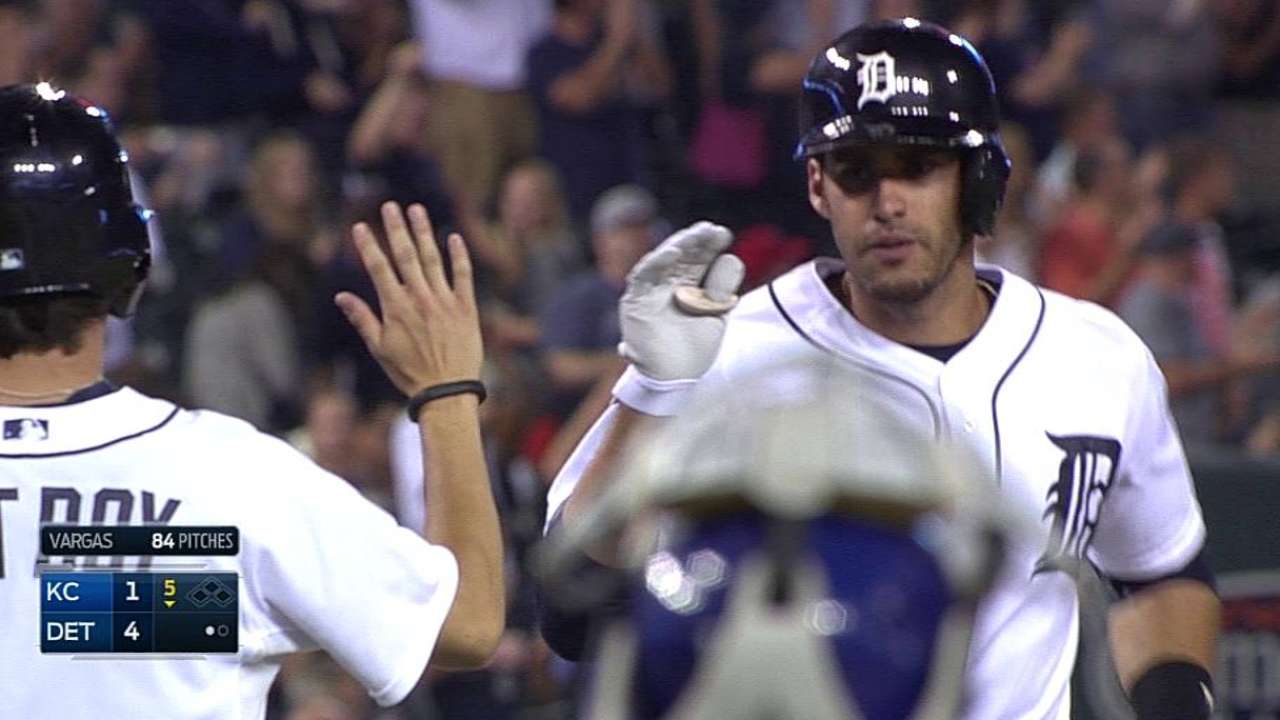 Since the start of 2011, no team in the Majors has won a greater percentage of its regular-season games than the Detroit Tigers, whose .564 winning percentage just -- by the slimmest of margins -- outworks the Cardinals' .563 mark. And over the course of these past four seasons, Detroit has really made a name for itself when it comes to playing the best teams.
The Tigers own a .544 winning percentage against clubs with a .500 or better record, which gives Detroit the best mark by a hefty advantage over the number No. 2 club, Atlanta. Among the many reasons Detroit has captured three straight American League Central titles (for example, it's awfully nice to have Miguel Cabrera, a three-time AL batting champ who averages 153 games played and 75 extra-base hits per season) and is in legitimate position to make it four in a row, this success against quality competition kind of stands out.
Tigers not ready to abdicate throne to Royals
The Tigers defeated the Royals, 4-2, on Tuesday to move into a tie with Kansas City for first place in the AL Central. With the victory, the Tigers improved to 11-4 against the Royals in 2014.
When the Tigers edged out the White Sox (by three games) for the AL Central title in 2012, Detroit won the season series against Chicago, 12-6. When the Tigers got past the Indians for the '13 AL Central crown (by one game), they were 15-4 against the Tribe. This run gives them a 38-14 record since 2012 against their top division competition.
In Tuesday's win, Detroit's J.D. Martinez cracked his 20th home run of the season, giving the fourth-year player an extra-base-hit percentage of 11.84 for the season (49 extra-base hits in 414 plate appearances). There have been 12 Tigers players to end a season with at least 400 plate appearances and a percentage at or above 11.80, with Hank Greenberg having the most such seasons -- seven (no other Tigers player has more than two). The past five Tigers to do this: Bobby Higginson in 1996, Curtis Granderson and Magglio Ordonez in 2007 and Cabrera in '10 and '12.
Jones helping O's flex muscle
The Orioles got a pair of home runs from Alejandro De Aza and one from Adam Jones and defeated the Red Sox, 4-1.
With De Aza and Jones going back-to-back in the third inning, the Orioles finished the game with an AL-pacing 191 long balls on the season. While the O's season total promises to fall shy of the team record (an AL-leading 257 in 1996), this club's separation from the pack is notable. In '96, the No. 2 team -- the Mariners -- banged out 245 home runs. This year, the Blue Jays hold the second spot with 163.
Jones' homer was his 25th of the year, giving him four consecutive seasons with at least 25. His four-year run of at least 25 marks the fifth time in franchise history a player has had at least four straight, joining Eddie Murray from 1977-80 and '82-85, Cal Ripken, Jr. from '82-87 and Rafael Palmeiro from '95-98.
In addition to now having at least 25 homers in four straight seasons, Jones (with 19 walks in 621 plate appearances) looks to be in great position to author his fourth straight season with a walk rate below five percent. If he can maintain this rate, he would join Garret Anderson (2000-03) as the only players in history to post four straight seasons with at least 25 homers and a walk rate below five percent. Only one other player -- Andre Dawson -- had four such seasons in his career.
Petit makes quick work of D-backs
Needing only 84 pitches to work through 29 batters, San Francisco right-hander Yusmeiro Petit hurled a four-hitter with nine strikeouts and no walks and the Giants defeated the D-backs, 5-1.
Petit's 84 pitches were the fewest in a nine-inning complete game since Aaron Cook used 81 in a two-hit shutout for the Red Sox on June 29, 2012. The 84 are the fewest for a San Francisco hurler in this scenario since Bill Swift threw 82 pitches in a seven-hit shutout on Sept. 17, 1993.
In his past two starts against Arizona, Petit has thrown 179 pitches, worked two complete games, faced 57 batters (three over the minimum) and allowed five hits and one run with 16 strikeouts and no walks. The prior effort came on Sept. 6, 2013, when Petit came within a strike of a perfect game.
Since 2009, Giants pitchers have 11 outings in which they have worked a nine-inning complete game and faced no more than 29 batters. Those 11 since 2009 represent 9.6 percent of all the efforts produced in the Majors. The Phillies and Cardinals are tied for the second most, with nine apiece.
Panik has unique five-hit night
In the Giants' victory, second baseman Joe Panik -- playing in his 56th career game -- went 5-for-5, contributing five singles but not scoring or driving in any runs.
Panik was the fourth Giants player since 1914 to have a five-hit game so early into his career, joining Jimmy O'Connell (31st game on June 1, 1923), Tito Fuentes (40th game on May 8, 1966) and Fred Lewis (16th game on May 13, 2007).
Panik is only the 26th player since 1914 to have a game with at least five hits and no runs scored and no RBIs, and the first since the Athletics' Adam Kennedy on Aug. 15, 2009. Among these 26, Panik is one of 12 to also have no extra-base hits, and the first to do this since the Cardinals' Aaron Miles on June 22, 2008. Panik is the only member of the Giants on this 26-man list.
Here and there
• The Nationals took another step toward the National League East crown, defeating the Braves, 6-4. In the victory, five Nats hurlers combined for 11 strikeouts and no walks, advancing the club's strikeout-to-walk ratio for the season to 3.55. No team in the modern era has finished a season with a mark this high, with the existing standard held by the 2012 Phillies (3.39). The 2014 Yankees currently have what would be the second-highest mark all-time, at 3.46. The current high mark for any AL club belongs to the 2006 Twins (3.27).
• The Reds defeated the Cardinals, 9-5, with catcher Devin Mesoraco delivering his 24th double and 23rd home run in the victory. Mesoraco has come to the plate 395 times this year and owns a 5.82 home run percentage. The most recent Reds catcher to have at least 400 plate appearances and finish the year with a percentage that high was Johnny Bench, who homered 24 times in 407 plate appearances in 1980.
Roger Schlueter is senior researcher for MLB Productions. This story was not subject to the approval of Major League Baseball or its clubs.