MLB.TV reduced to $9.99 for stretch run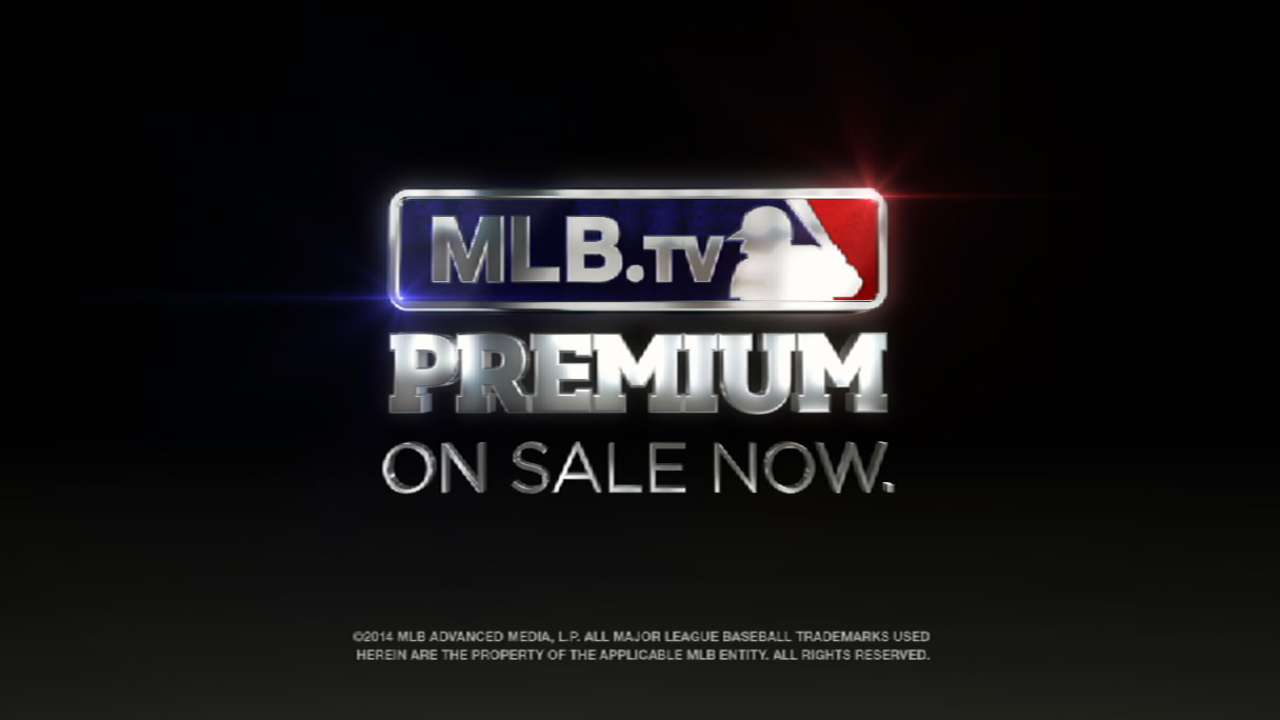 More than 250 games remain in the Major League Baseball regular season, and you can watch any of the live out-of-market action plus the first live World Series streams by ordering an MLB.TV Premium yearly subscription for the just-lowered price of only $9.99.
In case you have been waiting around all season, that's about as low as it's going to go, following previous reductions based on the gradual winnowing of the schedule. The sooner the better, too, because the first of 10 postseason-berth clinchers could come as early as this weekend, and MLB.TV is a natural companion if you are scoreboard-watching like many of us.
MLB.com also just reduced the price of the No. 1 app in sports history, MLB.com At Bat. If you order MLB.TV Premium, that app download will be free, for use on iPhone, iPod Touch, iPad, supported Android smartphones and tablets, Amazon Kindle Fire and Windows Phone 8. With At Bat and MLB.TV Premium, you are all set to watch every remaining live out-of-market game this regular season, plus the World Series.
Virtually every game on Wednesday's schedule includes at least one team that is legitimately in the playoff hunt, and there are some serious matchups that will require MLB.TV toggling in order to be immersed in the races. See the finale of the big Royals-Tigers series at Comerica Park, featuring starters James Shields (13-7) for Kansas City and Rick Porcello (15-10) for Detroit. Can anyone stop right-handers Matt Shoemaker (14-4) of the Angels or Hisashi Iwakuma (14-6) of the Mariners? They are both going after their 15th wins on Wednesday, the former at Texas and the latter at home against Houston.
No matter who shows up for that 110th Fall Classic late next month, you could be among the first to watch it streamed live in the U.S, through FOX's participating video providers. MLB.TV Premium subscribers got to watch the live FOX stream of the All-Star Game for the first time, and the World Series will follow suit as the Internet's longest-running and No. 1 sports streaming product grew again in 2014.
MLB.TV Premium subscribers have access to every live out-of-market game across more than 400 supported mobile and connected devices, and so far this season, it has added Xbox One and PlayStation 4 to the list.
MLB.TV just celebrated its 12th birthday on Aug. 26, dating back to that first live stream for a 2002 Rangers at Yankees game. Derek Jeter played in that historic game at old Yankee Stadium, and if you sign up now and are outside of the Yankees' market, you are assured of being able to watch all of his final regular-season games this way in this farewell season.
"Sure, you have access now," Jeter said recently, when asked about MLB.TV. "Before, I remember growing up, and we had the Cubs because they were on WGN, we had the Braves on TBS, and then you had to wait for that Game of the Week that came on. Now, I mean, you have access to every team every day if you want. I think it's a great thing for the fans."
MLB was the first sport league to stream its entire season (2003); the first to wire its venues for TV-quality streaming ('05); the first to use adaptive bit rate streaming ('08); the first to stream live 720p HD video ('09); the first to stream live games/subscription product to iPhone ('09); the first live video on connected devices ('09); the first to stream live video to a gaming console ('10); the first to embed live games on Facebook and Twitter ('11); and the first to make a live video stream embeddable to any site on the Internet ('13).
"Having MLB.TV is a great thing for me [with] the passion I have for baseball and the love I have for the game," Mets legend and MLB.TV subscriber Dwight Gooden said. "Obviously I'm a Met at heart, but there are a lot of teams I like to follow. I like to follow a lot of the young pitchers, so if I'm traveling or doing anything and can't get to my TV, I have my laptop right there where I can keep up with the game instead of waiting for it to come on with the postgame stuff. I get the live action right there."
Mark Newman is enterprise editor of MLB.com. Read and join other baseball fans on his MLB.com community blog. This story was not subject to the approval of Major League Baseball or its clubs.