Passion for game still resonates for MLB's 40-somethings
Jeter, Colon among those who continue to perform after most peers have retired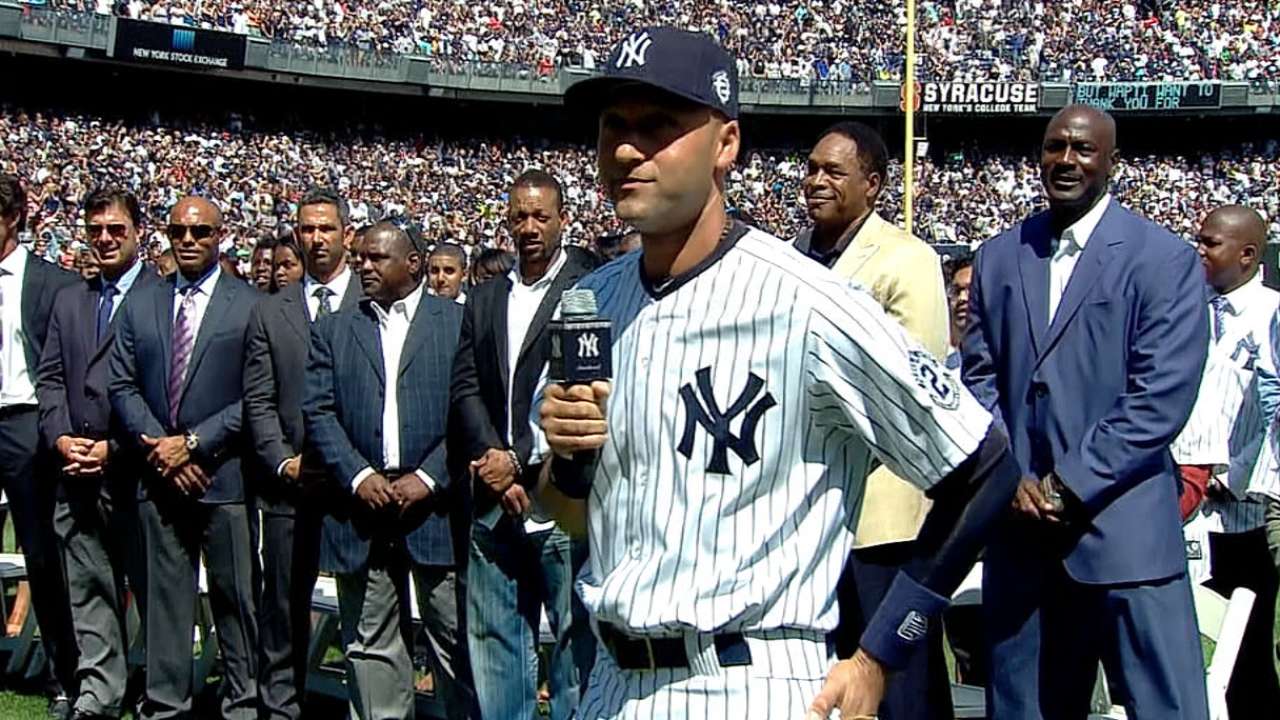 Anyone who says age is just a number is probably young and likely hasn't tried to maintain a career in Major League Baseball. With very few exceptions, when that age number goes up for ballplayers, it's hard to keep the others from going down -- especially once the odometer hits the big four-oh.
As the 2014 season reaches its twilight, the man representing the active fortysomething class was honored just this past weekend. Derek Jeter was talking playfully about Yankees fans, but he could have been referring to the rest of the cadre of eight players competing at the game's highest level this year at 40 or older, saying, "Some of you guys getting old, too."
Yeah, well, several players are even older than Jeter. With that in mind, here are the guys playing at age 40 or older in the Majors this season:
Jason Giambi, Indians
He's baaaaa-ack -- and old enough to know that reference. At age 43 (born 1/8/71), the venerable left-handed hitter missed much of the season while being out with various injuries, most recently left knee issues, and he's 2-for-7 in spot duty this September. Giambi is already been a managerial candidate, and that's a likely career path once he hangs them up.
Raul Ibanez, Royals
Ibanez has gone back to the future -- yes, yes, he's old enough to know that reference, too. Ibanez (born 6/2/72) turned 42 earlier this season, just before being released by the Angels and then picked up by the Royals -- the team he played for when found his Major League groove in 2001-03. He's been there for Kansas City's summer surge, though he's been on the shelf all of September so far.
LaTroy Hawkins, Rockies
The oldest closer in the game, Hawkins has delivered on 22 of 25 save opportunities for the Rockies, who are enduring a rough season. At 41 (born 12/21/72), Hawkins has had a couple of shaky outings early in September, but he has put together a solid season.
Bartolo Colon, Mets
Colon leads his team in wins (13) and innings pitched (179 2/3), and he has MLB's fewest walks per nine innings at 1.152 -- all at age 41 (born 5/24/73).
Ichiro Suzuki, Yankees
It was 14 years ago that Ichiro burst onto the scene as the American League Rookie of the Year Award winner and the AL MVP Award winner for the Mariners in 2001 -- and that was after he starred for seven seasons in his native Japan. Now 40 (born 10/22/73), Ichiro still shows some of those skills as a part-time player, batting .287 in 307 at-bats.
Jeter, Yankees
Oh, him. Jeter turned 40 earlier this season (born 6/26/74), and he has been out there at shortstop for 128 of the Yankees' first 142 games. His average is at .258, a career low for a full season, but he has continued to contribute for the Yanks as he winds through a farewell tour, highlighted by Sunday's tribute in the Bronx.
Bobby Abreu, Mets
Abreu turned 40 in Spring Training and made his first appearance on April 22, returning to MLB action for the first time since 2012. Abreu (born 3/11/74) spent August in Triple-A, and he's back in the big leagues as of Tuesday.
John McDonald, Angels
McDonald (born 9/24/74) hasn't hit the big milestone yet, but he will before the season is out -- and he'll be the guy in his 40s most likely to take his old self into the postseason. He has been bringing his defensive prowess at several positions, which makes up for his light hitting and augments his presence as a guy who has been around a long, long time.
"I know what kind of player I am, that I've always been -- but I also know I'm going to turn 40," McDonald said recently. "There aren't many guys that play past 40."
John Schlegel is a national reporter for MLB.com. You can follow him on Twitter at @JohnSchlegelMLB. This story was not subject to the approval of Major League Baseball or its clubs.