Donaldson reverses course with five-hit night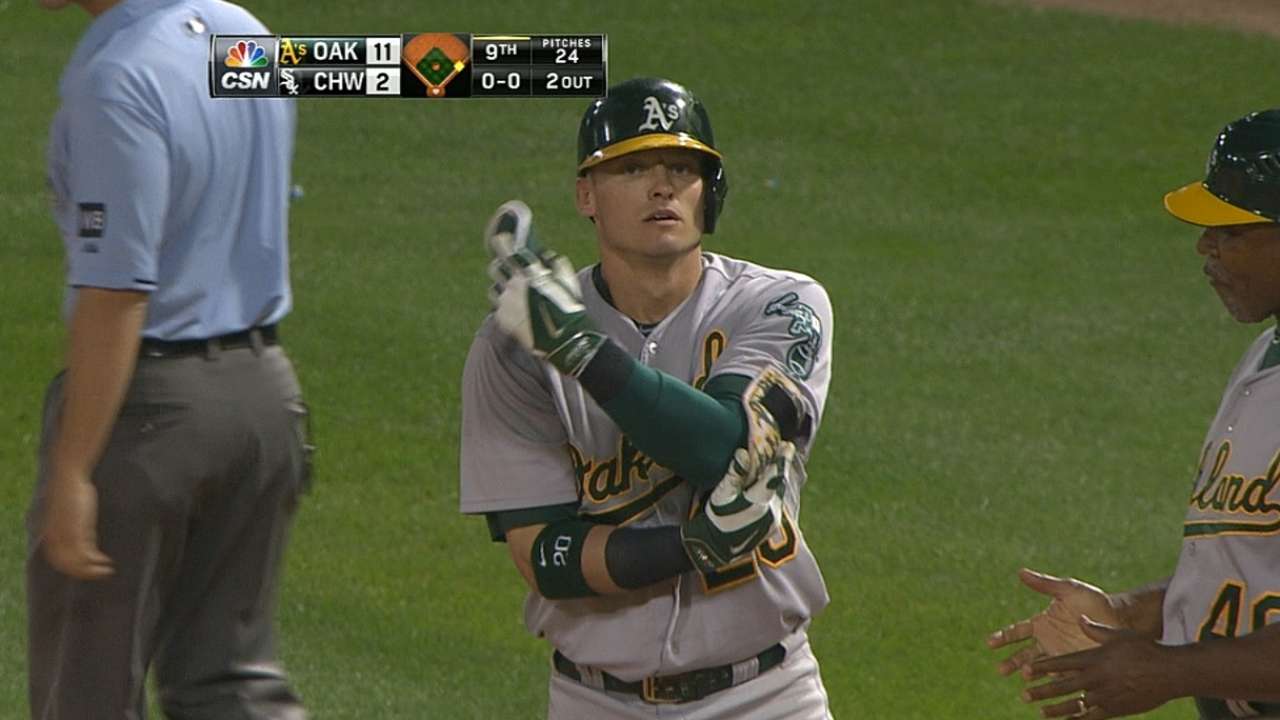 CHICAGO -- Josh Donaldson scored two runs and sent home four by virtue of a career-high five hits in the A's 11-2 win over the White Sox on Tuesday.
This after the All-Star slugger entered the game batting .083 during the team's 1-5 skid going into the game, including an 0-for-5 outing with four strikeouts in Monday's series opener, a 5-4 loss.
"Baseball is a stupid game. It's just one of those things where last night I didn't even come close to touching anything; four punches," Donaldson said. "And tonight I was able to get, probably, the most hits in my career in one game. Like I always try to say, you just try to turn the page, try to forget it."
Donaldson spent time reviewing tape after Monday's defeat to find a remedy for his recent woes.
"There's just a little bit of where my hands were getting away from my body," he said. "Whenever my brain says to swing, my bat's just barely behind. In order for me to get there, I have to try to speed my barrel up in order to hit the ball."
"So it's just kind of one of those things where I was just trying to get my hands a little bit closer to my body during my load and just really feel like the barrel of my bat is going to lag throughout the zone the entire time."
Donaldson added that Tuesday's win is just the kind that can help the A's right their ship to finish the final 19 games strong. The A's are 1 1/2 games ahead of the Tigers and Royals for the first American League Wild Card berth.
"No doubt, the whole fact of the matter is that we need to start playing better. And we all know that," Donaldson said. "When we can realize, 'Hey, you just go out there and play the game we normally play, things are going to work out.'"
Daniel Kramer is an associate reporter for MLB.com. This story was not subject to the approval of Major League Baseball or its clubs.