Postseason Picture for Wednesday, Sept. 10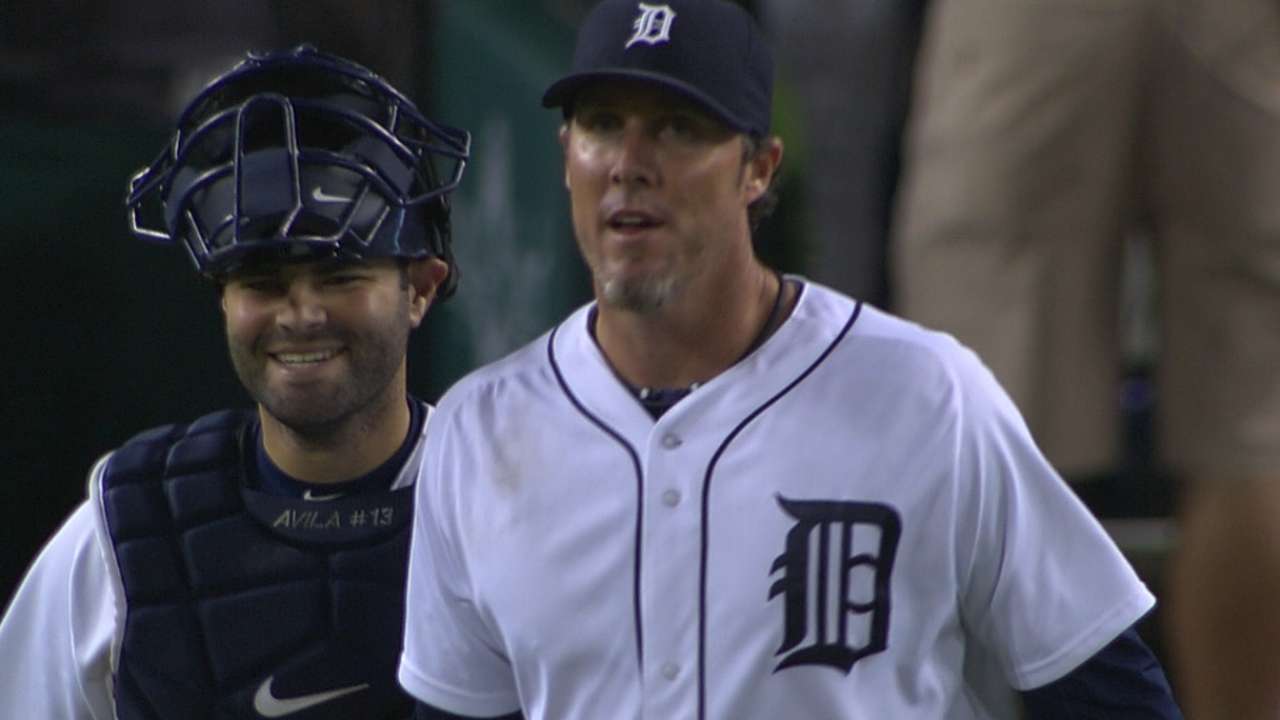 The Pulse of the Postseason was riveting Tuesday in ballparks across the Majors. The Tigers made it two in a row at Kansas City's expense and caught the Royals with a 4-2 victory in Detroit, setting up a dramatic race to the finish in the American League Central and the AL Wild Card chase. Another race tightened, the Giants moving to within 2 1/2 games of the Dodgers in the National League West with a 5-1 win at home against the D-backs while the Padres were snatching a 6-3 verdict from the Dodgers in Los Angeles.
It was another big night along the Beltway. With a 4-1 win in Boston, the Orioles reduced their magic number in the AL East to nine. The Nationals shaved their magic number in the NL East to 10 with a 6-4 home decision over the struggling Braves. The AL West-leading Angels continued to power their way to the best record in the Majors with a 9-3 romp in Texas. The slumbering Athletics offense got a wakeup call in Chicago, pounding the White Sox, 11-2, to remain on top of the AL Wild Card scramble, 1 1/2 games ahead of the Tigers and Royals, two in front of the Mariners. In the NL Central, the Cardinals fell in Cincinnati but lost no ground to the Pirates or Brewers.
IF THE POSTSEASON STARTED TODAY ...
American League
Wild Card: Tigers or Royals at A's
Division Series: Wild Card at Angels | Tigers or Royals at Orioles
National League
Wild Card: Pirates at Giants
Division Series: Wild Card at Nationals | Cardinals at Dodgers
In Detroit, closer Joe Nathan picked off pinch-runner Jarrod Dyson at second and struck out Salvador Perez to end it after a pair of infield hits opened the ninth, creating familiar anxiety for Tigers fans. Max Scherzer was good and lucky in holding the Royals to one run across 6 2/3 strong innings for his 16th win to match the Angels' Jered Weaver for the league lead. Rajai Davis' two-run homer and J.D. Martinez's solo shot powered the offense against Jason Vargas. Royals fans moaned when Alex Gordon's bid for a go-ahead, three-run homer in the fifth inning hooked foul down the right-field line.
The Orioles pushed their lead to 10 games behind 12-game winner Chris Tillman in Boston. Alejandro De Aza homered twice and Adam Jones also went deep for Baltimore. Tillman, Mr. Consistency, stretched his streak to 18 consecutive starts in which he's allowed three earned runs or fewer.
Victory dance! O's are up 10 games in the AL East, magic number is 9. #Birdland http://t.co/UF8NLv4yxS

- Baltimore Orioles (@Orioles) September 10, 2014
The Nationals jumped on Atlanta's Ervin Santana for four first-inning runs in support of Jordan Zimmermann, who moved to 11-5. The Braves remained 1 1/2 games behind the Pirates in pursuit of the second NL Wild Card.
The young, upwardly mobile Marlins overpowered the fading Brewers, who also are 1 1/2 games behind the Bucs in the Wild Card hunt. The Marlins edged closer to a Wild Card, within 3 1/2 games of the Pirates, who are four behind the Giants.
"All the way around, a lot of good things happened tonight," said ex-Brewer Casey McGehee, whose two-run, to-ahead homer in the ninth was followed by Marcell Ozuna's solo blast
The Brewers let a bases-loaded opportunity with nobody out in the eighth get away, deepening their frustrations.
Yusmeiro Petit continued his amazing work for the Giants, shutting down the D-backs as table-setters Angel Pagan and Joe Panik combined for nine hits, five by Panik, to drive the attack in San Francisco. Down south, in Los Angeles, Hanley Ramirez's two errors made three of the Padres runs against Roberto Hernandez unearned. Andrew Cashner and the bullpen made it stand up, much to the delight of Giants faithful.
Josh Donaldson's five hits and four RBIs pumped life into the A's on Chicago's South Side, where Jon Lester claimed win No. 14. The Mariners fell two games behind Oakland in the AL Wild Card chase when they were edged by the Astros, 2-1, after Logan Morrison's homer got the Mariners even in Seattle. Collin McHugh held Seattle to two hits over eight innings. The Blue Jays, with a win at home against the Cubs, are 4 1/2 games out of a Wild Card spot. The Indians and Yankees lost, dropping five and 5 1/2 games off the pace, respectively.
5-for-6, 4 RBIs. That, @BringerofRain20, is a good day: http://t.co/6dzduHdXkN pic.twitter.com/yuwk24J6PI

- MLB (@MLB) September 10, 2014
All eyes on Wednesday will be on Detroit's Comerica Park, where the Tigers will go for a sweep of the Royals and sole ownership of the AL Central lead. A full schedule of games will impact the division and Wild Card chases.
TODAY'S KEY GAMES TO WATCH (all times ET)
Braves (Harang, 10-10) at Nationals (Strasburg, 11-10), 4:05 p.m. Preview
The Braves have to get their offense consistently on track, but Stephen Strasburg is never a comfortable at-bat for anybody.
Twins (Gibson, 11-10) at Indians (House, 2-3) 7:05 p.m. Preview
The Indians are looking to a hot lefty, T.J. House, to keep their postseason hopes alive against the dangerous Twins. House held Chicago to one run across seven innings on Friday, striking out seven with no walks.
Pirates (Worley, 6-4) at Phillies (Williams, 5-5), 7:05 p.m. Preview
Vance Worley is familiar with Citizens Bank Park, having spent his first three seasons with the Phillies, but now he has to confront that dangerous lineup in a big game for the Bucs against the wily Jerome Williams.
Royals (Shields, 13-7) at Tigers (Porcello, 15-10), 7:08 p.m. Preview
With Kansas City and Detroit deadlocked atop the AL Central on the line, James Shields is coming off one of his dominant games of the season against the Yanks. Rick Porcello had one of his least effective efforts last time out against the Giants.
Cardinals (Lackey, 13-9) at Reds (Simon, 13-10), 7:10 p.m. Preview
The Cards have found their late-season mojo and look to big John Lackey to shut down the disappointing Reds.
Marlins (Cosart, 13-8) at Brewers (Peralta, 15-10), 8:10 p.m. Preview
Another big challenge for the fading Brew Crew against Jarrod Cosart, who has been lights out for the Marlins in their pursuit of a postseason berth.
Athletics (Samardzija, 6-12) at White Sox (Bassitt, 0-1), 8:10 p.m. Preview
The A's need to get their offense rolling against an unfamiliar arm, Chris Bassitt, a 6-foot-5 righty making his second Major League start.
Astros (Tropeano, 0-0) at Mariners (Iwakuma, 14-6), 10:10 p.m. Preview
The Mariners send one of the game's best, Hisashi Iwakuma, out against Nick Tropeano, a 24-year-old right-hander making his Major League debut against Robinson Cano and Co.
MAGIC NUMBERS
To calculate a team's magic number, take the number of games it has remaining and add one. Then subtract the difference in the number of losses between that team and its closest pursuer.
AL East: Orioles 9 over Yankees and Blue Jays
AL Central: Royals and Tigers 14 over Indians
AL West: Angels 11 over A's
AL Wild Card 1: A's 18 over Tigers and Royals
AL Wild Card 2: Tigers and Royals 18 over Mariners
NL East: Nationals 10 over Braves
NL Central: Cardinals 14 over Pirates
NL West: Dodgers 16 over Giants
NL Wild Card 1: Giants 15 over Pirates
NL Wild Card 2: Pirates 17 over Brewers and Braves
TIEBREAKER SCENARIOS
A tiebreaker game will be played to determine a division winner, even if the tied clubs are assured of participating in the postseason. If a division championship tiebreaker is necessary, the head-to-head record between the clubs will determine home-field advantage. If the head-to-head record is tied, then division record will be the next tiebreaker.
If two clubs are tied for the two Wild Card berths, home-field advantage will be determined by the head-to-head record between the clubs. If the head-to-head record is tied, then division record will be the next tiebreaker.
Lyle Spencer is a columnist for MLB.com. This story was not subject to the approval of Major League Baseball or its clubs.