MLB.com Columnist
Mike Bauman
Stanton deserves MVP, regardless of Marlins' finish
Even if surprising Fish don't make playoffs, slugger's stats speak for themselves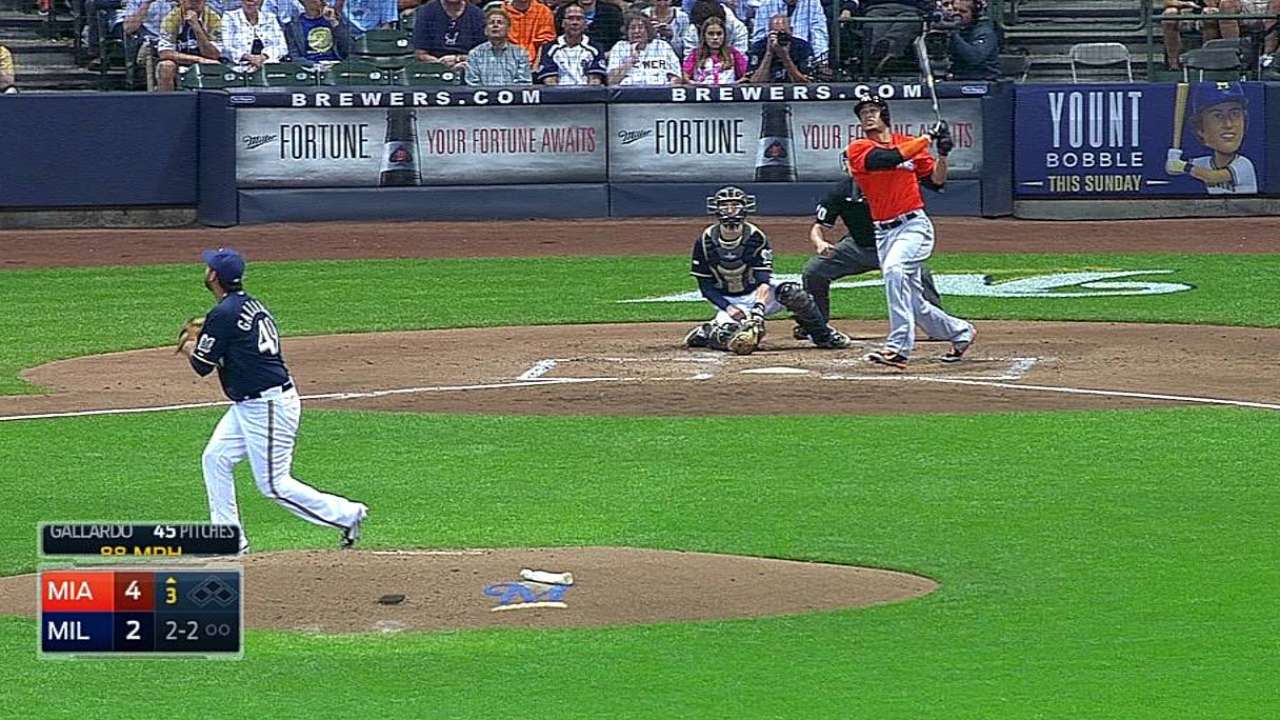 MILWAUKEE -- Giancarlo Stanton ought to win the 2014 National League Most Valuable Player Award.
This thing you hear -- that Stanton should get the NL MVP Award if the Miami Marlins qualify for the postseason -- is a completely arbitrary distinction. That would be an obvious plus for Stanton's candidacy, but it shouldn't be a prerequisite for the award.
Check the context: One year after losing 100 games, the Marlins are competing for a postseason berth in September. On Tuesday night at Miller Park, they delivered a thrilling 6-3 victory over the Brewers that put them just 3 1/2 games out of the second NL Wild Card berth.
This is, in terms of growth and development, a success story. It has several more chapters still to come, but major strides have already been taken by this team. And the focal point of this success is Stanton.
This is a highly positive situation.
"We've got a lot of really talented guys who are just coming into their own," veteran third baseman Casey McGehee said. "They're full of energy, and it's a great group of guys to be around."
McGehee was Tuesday night's MVP. With the game tied at 3 in the ninth, Stanton walked and stole second. McGehee then delivered the tiebreaking two-run homer. Miami manager Mike Redmond described the result as "a huge win, an emotional win. ... That was probably as good a feeling as we've had in the dugout all year."
At the center of this success stands Stanton. He leads the NL in home runs and RBIs. Stanton also leads in total bases, which is included here because it was one of Henry Aaron's favorite categories. Stanton is also first in walks, first in extra-base hits, first in slugging percentage, first in OPS and second in on-base percentage.
Nothing can be said to diminish Clayton Kershaw's splendid work for the Dodgers. But something can be said about the relative merits of these two NL MVP Award candidacies. As we speak, Stanton has appeared in all 143 games the Marlins have played. Kershaw has appeared in 24 games for the Dodgers.
Again, there is no attempt to slight Kershaw in any way. But there can't be much debate about which player wins on the basis of daily contributions. Kershaw can collect his third NL Cy Young Award in four years and be suitably honored once again.
Miami knows better than anyone else about Stanton's level of worth. Is he the MVP?
"Absolutely for me," said Redmond. "He's had a huge year. There's what he's meant to our ballclub, but I mean, you look at his numbers, and his numbers speak for themselves. This guy's playing with a lot of confidence right now, and he's definitely helped us win a lot of ballgames. He's had a great year. A great year."
With Stanton not playing in a major media center, the full range of his talents are probably under-recognized on a national level. What you will see from Stanton on the highlights is most likely one of his monumental home runs. And that's fine. Stanton has immense power, awe-inspiring power. But his game contains so much more than that.
"Obviously, everybody talks about the power, but he's playing a really good right field for us," McGehee said. "He's hitting for a high average. He's a better hitter than I thought he was, seeing him from a distance.
"He's a big influence in our clubhouse, too. He's a great teammate. Maybe with lot of stuff that was written in the past about the situation [with the Marlins' history], he wouldn't come off that way, but he's an unbelievable teammate. Everything he's done and said is coming from a place where he just wants to win. You can really tell that by the way he goes about his business every day.
"He's had a lot of huge at-bats -- whether it be a walk or a single, doing the little things that don't make the highlight reels. They've probably been more important that the home runs he hits. Of course, those are fun to talk about, but he does so many other things that help us on a daily basis, other than just hitting the ball out of the ballpark."
Miami has come all the way back from a 100-loss season to be in postseason contention with less than three weeks to go in this season. This is one of baseball's best stories.
Whether or not the Marlins reach the postseason this October, the foundation is in place for future success. The parallel thing could be said about Giancarlo Stanton. If he doesn't win the NL MVP Award this season, at age 24, there should be plenty of other years in which he will be in serious contention for the award.
But that sells him short in the here and now. Stanton deserves the NL MVP Award for what he has already accomplished.
Mike Bauman is a columnist for MLB.com. This story was not subject to the approval of Major League Baseball or its clubs.