Miley's control problems lead to loss to Giants
Starter walks four, including two with bases loaded, over two innings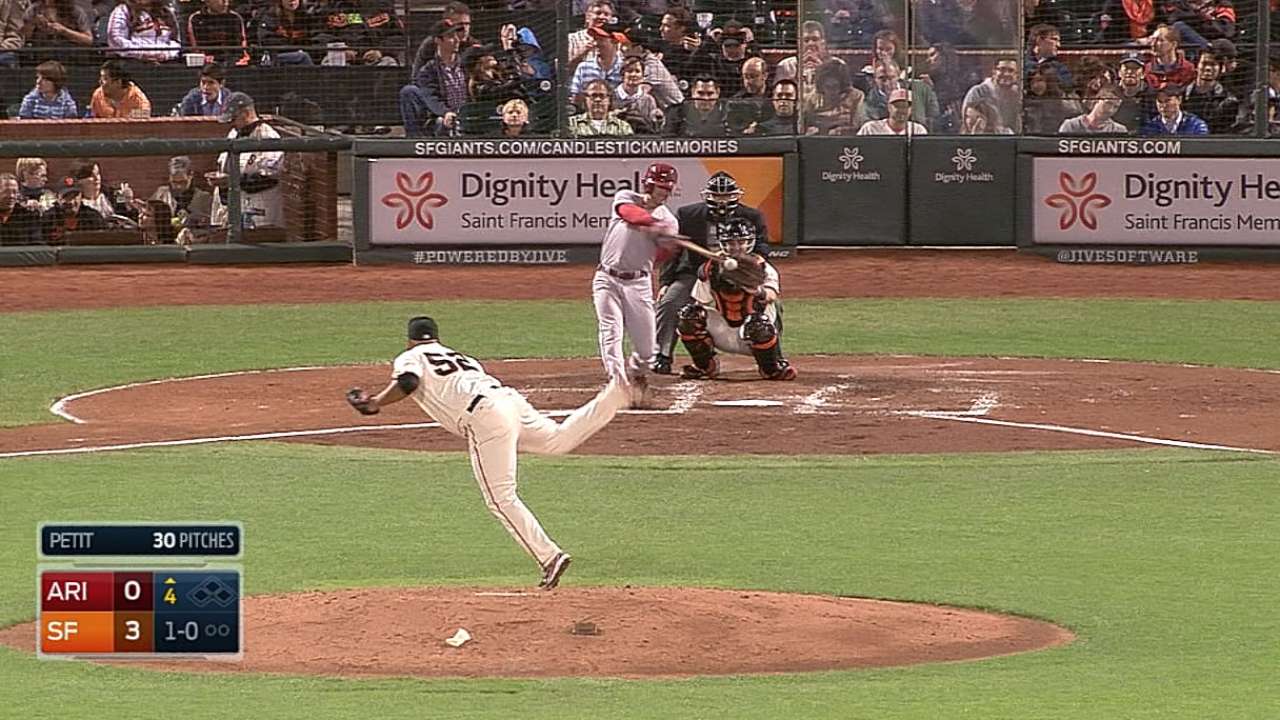 SAN FRANCISCO -- Wade Miley struggled with his command and it cost him as well as his team, as the Giants beat the D-backs, 5-1, on Tuesday night in the opener of a three-game series at AT&T Park.
Right from the get-go, it was clear things were going to be a struggle for Miley. His lack of command caused his pitch count to soar early, and he was able to last just two innings.
"I didn't think he was throwing very good," D-backs manager Kirk Gibson said. "And I think he had a lot of pitches, so I made the decision to move on and get somebody else in there that could maybe shut them down."
Of the 58 pitches Miley threw, just 31 were strikes. Yet he was able to limit the damage to three runs on five hits despite four walks and one strikeout.
"I actually felt really, really good," Miley said. "That's the most frustrating part. I felt so good. I felt really good in the bullpen. I thought I had life there. I really couldn't execute a fastball. I couldn't throw it anywhere close to where I wanted to throw it."
The trouble started early for Miley as he allowed back-to-back singles to open the first, and after he issued a two-out walk to load the bases, he walked Andrew Susac to force home a run.
In fairness, Miley could have been out of the second inning without a run scoring when with one out and the bases loaded Buster Posey hit a grounder to second. Chris Owings fielded the ball and made a good toss to shortstop Didi Gregorius. However, Gregorius' relay throw was poor and it skipped past Mark Trumbo.
Later in the frame, Miley walked Pablo Sandoval to force in another run and the Giants led 3-0.
After Miley came off the field at the end of the second, Gibson let him know that he was done for the night and Alfredo Marte was going to hit for him.
FOX Sports Arizona television cameras caught Miley yelling in Gibson's direction to make his case for staying in the game.
"I was trying to go back out and do what I could," Miley said. "I was just trying to do what I could. I was like, 'Let me try to fix it.' He has a decision to make. You have to respect his decision. He wants what's best for the club and the best for me. Six days later, I've got to try to pitch again, make some adjustments."
Gibson was having none of it.
"I called him over; we talked to him," Gibson said. "He doesn't have to like it. I do what I think is right for the team, right for the pitcher."
On the other side of the ledger, Yusmeiro Petit (5-3) once again turned in a dominant performance against his former team.
The last time Petit started against Arizona was last September, and he came within one out of a perfect game before pinch-hitter Eric Chavez broke it up.
This time around, Petit was perfect through three innings before Ender Inciarte led off the fourth with a homer into McCovey Cove.
Where Miley's pitch count skyrocketed early, Petit was able to make it through seven innings in roughly the same number of pitches it took Miley to finish two.
Petit wound up allowing just four hits and took just 84 pitches in tossing his first complete game of the year.
"He was very good," Gibson said. "If you just look at it, all his strikes were on the corners and down in zone, and that's why he's successful."
Steve Gilbert is a reporter for MLB.com. Read his blog, Inside the D-backs, and follow him on Twitter @SteveGilbertMLB. This story was not subject to the approval of Major League Baseball or its clubs.