Petit masterful as Giants gain on Dodgers
Righty tosses 84-pitch complete game; Panik tallies five hits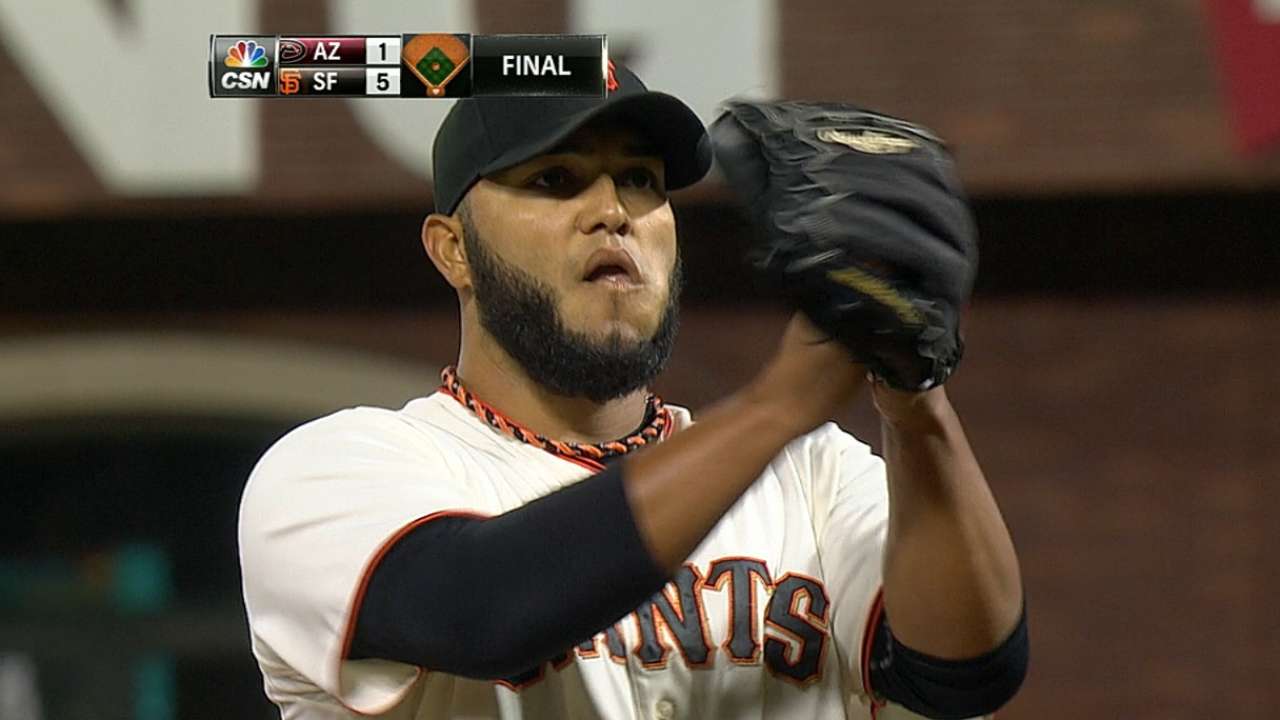 SAN FRANCISCO -- Yusmeiro Petit's late-season success, which continued Tuesday night with the Giants' 5-1 victory over the Arizona Diamondbacks, is nothing new. He also thrived toward the end of the 2013 campaign. The difference is that this time around, more people are watching.
They watched at Dodger Stadium, where the out-of-town scores conveyed the news that the Giants were on their way toward trimming Los Angeles' National League West lead to 2 1/2 games. They noticed at gatherings of the Pittsburgh Pirates, Atlanta Braves and Milwaukee Brewers -- San Francisco's three closest pursuers in the Wild Card race, all losers in Tuesday's action. And they gazed in admiration at AT&T Park, where Petit limited the D-backs to four hits in his second career complete game.
Others helped Petit deliver the Giants' 10th victory in 13 games and lengthen their home winning streak to seven. Second baseman Joe Panik maintained his uncanny hitting, becoming the first Giants rookie to go 5-for-5 since Fred Lewis accomplished the feat at Colorado on May 13, 2007. Panik and leadoff batter Angel Pagan, who scored three runs, combined for nine of the Giants' 12 hits.
"You never know what the day is going to bring," said Panik, who's batting .327. "You've just got to keep working and hopefully everything turns out. Tonight was one of those nights everything turned out."
San Francisco also capitalized on the D-backs' subpar defense. Their inability to turn a second-inning double play resulted in two Giants runs and left fielder Ender Inciarte's fielding error generated a sixth-inning run.
Yet Petit truly dominated the evening. His 84-pitch total was the lowest among any Major Leaguer to pitch a nine-inning complete game this season. According to the Giants, it also was the lowest recorded figure in their history for that type of effort since the franchise moved to San Francisco in 1958 (statisticians rarely counted pitches when Juan Marichal regularly threw games like this). Catcher Andrew Susac said collaborating with Petit was so easy that he felt as if he caught only five innings.
Petit flung 26 first-pitch strikes to the 29 hitters he faced and never reached a three-ball count while walking none and striking out nine.
"I tried to throw strikes every time because I don't like walks," he said with unassailable logic.
The right-hander seized upon the overaggressiveness of the D-backs hitters: "[Against] Arizona, you want to try to [get outs] quickly. They swing early [on the count]."
Though Petit's fastball reached 90 mph just twice, he muted Arizona's bats with superb location. Petit immediately proved to home-plate umpire Jim Wolf that he could graze the strike zone with his low-and-outside fastball.
"He gave me that pitch all night," Petit said.
Petit's 3-2 with a 5.36 ERA in nine outings as a starter, which falls short of the 4-1 record and 3.59 ERA he compiled in seven starts from Aug. 27, 2013, to the end of the season. But the Giants are 6-3 in his starts this year.
"He has been a lift for us," Giants manager Bruce Bochy said of Petit, who's 2-0 in three appearances since replacing Tim Lincecum in the starting rotation.
Petit has proven that such excellence is no fluke. He was one out away from completing the Major Leagues' 24th perfect game last Sept. 6 before Arizona's Eric Chavez singled. Comparing that performance with this one, Petit said, "When you're throwing a game like the other one and they have no hits, you do some things to keep it that way. In this game, I focused on keeping the ball down all the time."
Petit set a big league record this year by retiring 46 consecutive batters in a span of eight appearances, including six in relief.
He'll receive an opportunity to steal the stage again Sunday, when he opposes Los Angeles' formidable left-hander, Clayton Kershaw, in the finale of a three-game series.
"Sera," an unperturbed Petit said in Spanish upon learning of his matchup against Kershaw. Translation: "It will be."
If Petit can approach his best against the Dodgers ace, it will be well worth watching.
Chris Haft is a reporter for MLB.com. Read his blog, Haft-Baked Ideas, and follow him on Twitter at @sfgiantsbeat. This story was not subject to the approval of Major League Baseball or its clubs.