Villar's great game backs McHugh in Seattle
Shortstop shines on defense, drives home go-ahead run in ninth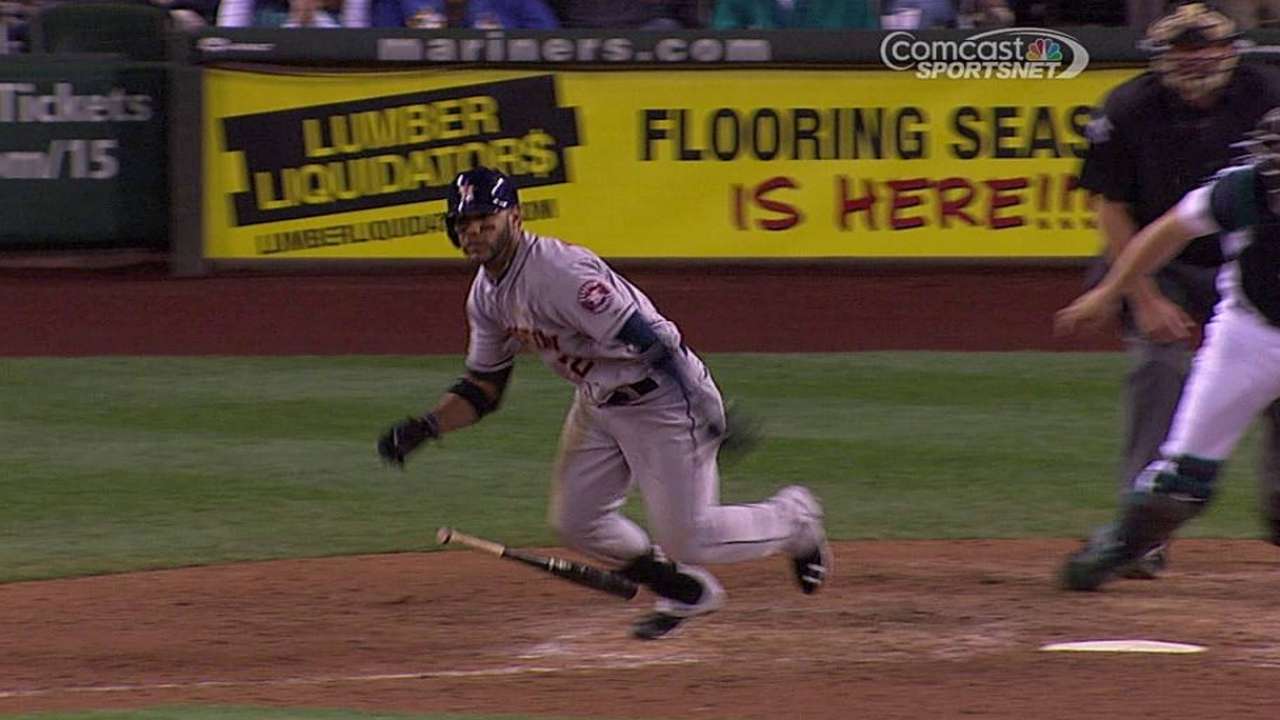 SEATTLE -- These are the kinds of games that make the Astros believe they have something special in Jonathan Villar.
Villar, whose mental lapses have kept him from establishing himself in the big leagues, made a pair of terrific defensive plays at shortstop and went 2-for-4, driving in the go-ahead run with a single in the ninth inning to send the Astros to a 2-1 over the Mariners on Tuesday night at Safeco Field.
"He could be that player every day if his focus and concentration is like that night after night," said interim manager Tom Lawless, who's worked with Villar in the Minor Leagues for four years.
Starting pitcher Collin McHugh, who introduced himself to Astros fans in grand fashion at Safeco Field nearly five months ago by striking out 12 in 6 2/3 scoreless innings, held the Mariners to two hits and one run in eight innings to win for the fifth time in six starts.
"He's been tough on a lot of people lately," Mariners manager Lloyd McClendon said. "He's been throwing the ball extremely well and today was no different. I thought he had a pretty darn good cutter in on left-handers, breaking ball was sharp, threw some decent changeups, he pitched pretty good. One of the better-pitched games of the year."
McHugh (9-9, 2.79 ERA) has allowed two earned runs or fewer in his past eight starts. He's 5-0 with a 1.80 ERA in his last six starts, posting a 0.95 WHIP in that span.
"I had better fastball command than I've had in a while," McHugh said. "I did a little radar-watching every once in a while. It felt good coming out of my hand. I wanted to know, does it feel as good as I think it does? It's nice to be able to kind of put the ball where you want. Makes things a little bit easier for you."
Villar, called up from Triple-A Oklahoma City last week, went into the hole in the sixth and made a long throw to rob Austin Jackson of a hit, and capped the eighth by making a diving stop on the right side of second base and throwing out Michael Saunders.
Josh Fields worked a 1-2-3 ninth inning instead of Chad Qualls, who's dealing with a minor hip issue. The Astros, who have won seven of their last nine games, have played one-run games in four of their last five, winning three.
"Builds character is what it does," Lawless said. "They have the confidence and they know they can win, and when you can have that, you come out ahead a lot of times. It's somebody different every night contributing something to the W, and that's really important for a team."
McHugh was working on a one-hit shutout before Logan Morrison hit a no-doubt homer to right with one out in the eighth inning to tie the game. Morrison is hitting .404 during a 13-game hitting streak against the Astros.
"Yeah, it's pretty frustrating," McHugh said. "You know you've battled through almost eight innings and you make a mistake like that. ... You got to tip your hat to him. I knew the game was tied, but we still had a job to do."
The Astros took a 1-0 lead in the fourth inning when Jon Singleton (2-for-4) ripped a two-out double off the top of the right-field wall to score Jake Marisnick from first base. The umpires initiated a review to determine whether it was a home run, but the double was confirmed.
McHugh sent down the first nine batters he faced before Jackson beat out an infield hit despite a terrific diving effort from Villar, whose throw to first was a tad late.
"Johnny Villar played his tail off," McHugh said. "Really got me off the hook there at the end. Yeah, it was a good night."
Brian McTaggart is a reporter for MLB.com and writes an MLBlog, Tag's Lines. Follow @brianmctaggart on Twitter. This story was not subject to the approval of Major League Baseball or its clubs.