Nats prospect Difo has big night for Hagerstown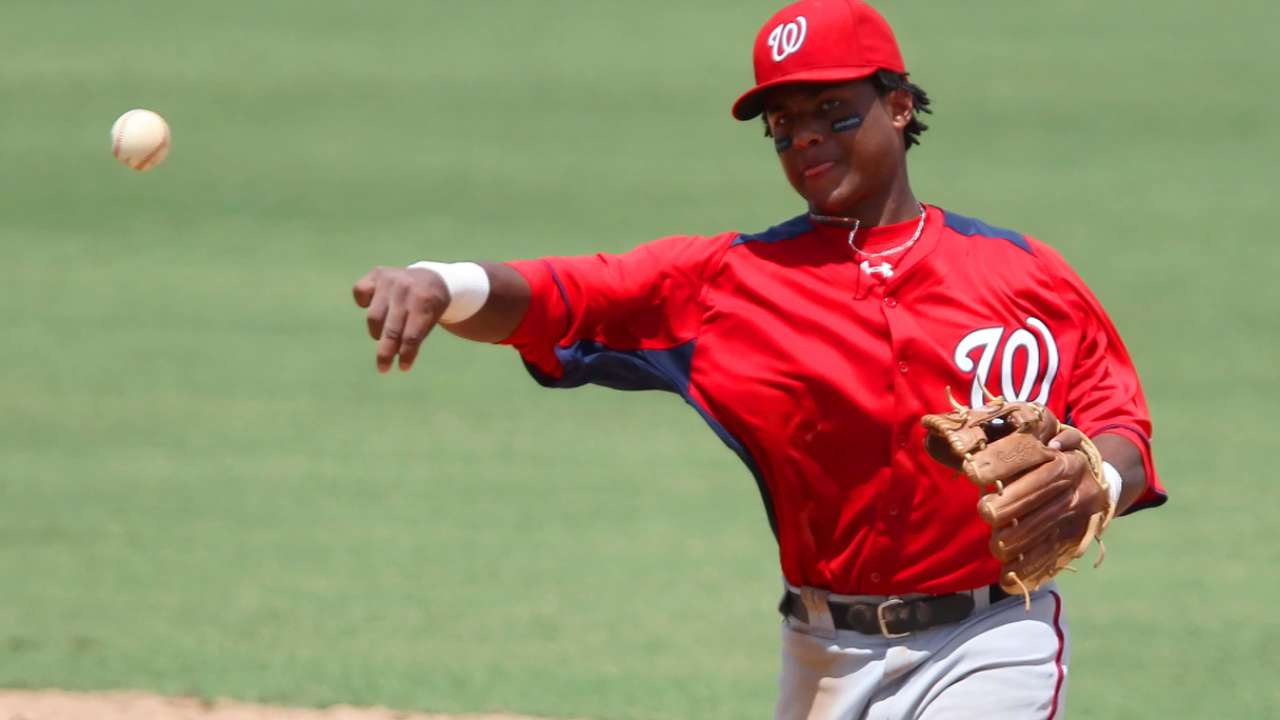 Second baseman Wilmer Difo's breakout season got another highlight Tuesday night in Game 2 of the South Atlantic League championship series.
Difo, the Nationals' No. 20 prospect, came to the plate with Class A Hagerstown and Asheville tied at 3 and two outs in the 10th inning. After taking a first-pitch ball to get ahead of right-hander Troy Neiman, Difo drove a solo home run over the right-field fence, giving Hagerstown the lead. His second homer of the night gave Hagerstown a 4-3 victory, evening the best-of-five series at one game apiece.
Difo finished the game 3-for-5 with two solo home runs and a double.
Third baseman Drew Ward, the Nationals' No. 8 prospect, went 2-for-4 with two doubles and two runs. He is hitting .438/.471/.750 with five doubles and four runs in four playoff games.
Difo had one of the best seasons of any player in the Nationals' system. The 22-year-old hit .315/.360/.470 with 14 home runs and 49 stolen bases in 136 games during the regular season and was named MVP of the South Atlantic League. He ranked second among all Minor Leaguers with 176 hits and ninth in stolen bases.
Before this year, Difo had struggled in the low levels of the Minor Leagues. In his first four seasons of professional baseball, he hit .248/.344/.346 in 224 games. But with a better mental approach to the game, Difo found success in Hagerstown and has carried that momentum into the playoffs, where he is hitting .471/.526/.941 in four games.
Difo and the Suns will try to build on Tuesday's victory when the championship series moves to Hagerstown for Game 3 on Thursday. First pitch is scheduled for 7:05 p.m. ET.
Teddy Cahill is a reporter for MLB.com. Follow him on Twitter at @tedcahill. This story was not subject to the approval of Major League Baseball or its clubs.