With family, friends watching, Barnes sharp in debut
First-rounder in '11, Red Sox righty tosses three scoreless frames at Fenway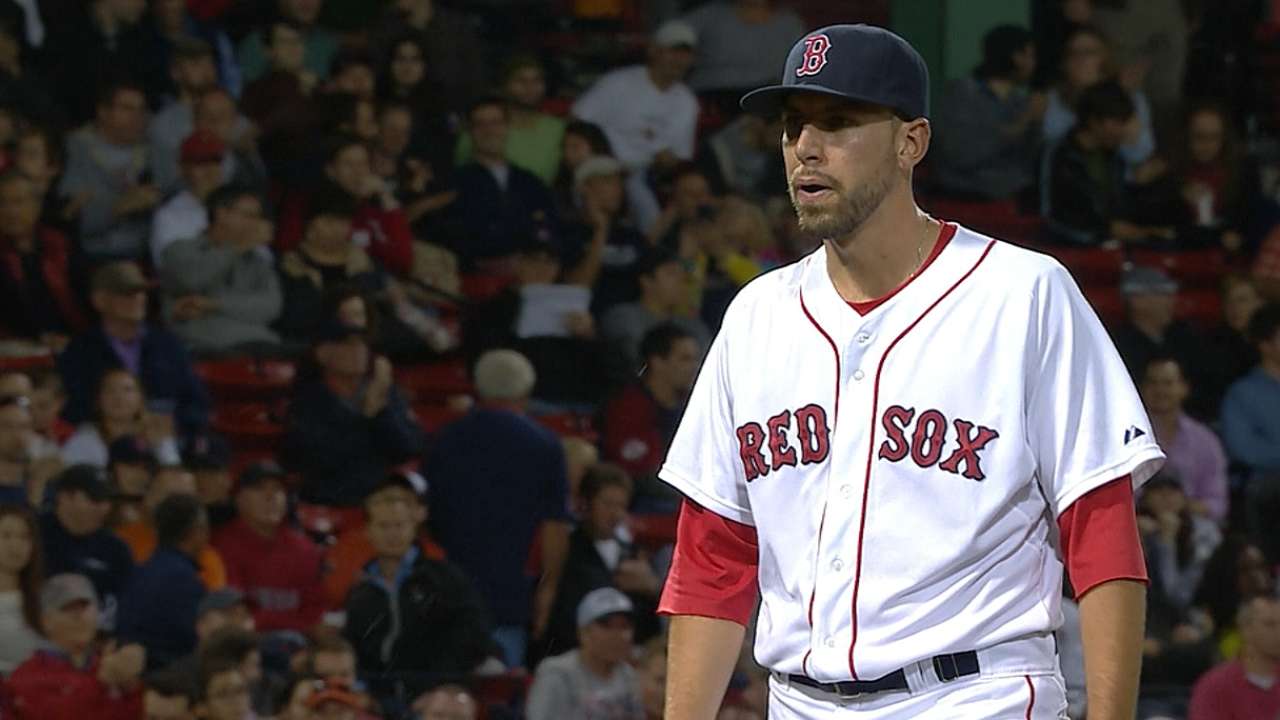 BOSTON -- Pitching in front of family and friends, Red Sox right-hander Matt Barnes controlled his nerves Tuesday night at Fenway Park and allowed three hits in three scoreless innings in his Major League debut.
He tossed the last three frames in a 4-1 loss to the Orioles, striking out two.
"Once I actually got out on the mound and into the game, I wasn't nervous. I was most nervous in my first three or four throws in the bullpen," said Barnes, Boston's first pick (19th overall) in the 2011 First-Year Player Draft and the club's No. 12 prospect, according to MLB.com. "After a few when he was down, instincts took over and I wasn't nervous at all."
After an easy 1-2-3 seventh in which he tossed just eight pitches, the eighth and ninth innings proved to be more eventful.
The eighth began with his first career strikeout against Chris Davis, followed by a double by Steve Pearce. However, Barnes didn't panic and used his secondary pitches to get Nick Hundley to fly out to right field and Ryan Flaherty to ground out to second.
"I felt I did a good job of mixing pitches. The fastball command was good," Barnes said. "I got ahead of some hitters and attacked them with that and felt good about the changeup. I also threw a few curveballs, but hung a few and they got hit."
The ninth proved to be even more intense. After Barnes got the first out, a single by Nick Markakis and a double by Alejandro De Aza put runners in scoring position. Barnes beared down and got Adam Jones to strike out before Nelson Cruz grounded out to second base.
"I didn't have a whole lot of anticipation, to be honest," Red Sox manager John Farrell said. "I had seen him briefly in Spring Training before the shoulder injury. He was very calm. An outstanding changeup, both to lefties and righties, very encouraging."
On hand to see every pitch were a slew of family, friends and coaches, who ventured just a few hours from Barnes' hometown of Danbury, Conn., to witness his debut.
"My mom, my dad, my grandma, my brother, my uncle, a bunch of friends, a few coaches all came to see me pitch," Barnes said. "Living a few hours away, it makes it awesome that they were able to come."
Barnes was called up from Triple-A Pawtucket on Monday after posting a 2.38 ERA since the All-Star break. He also led the International League with a 0.87 WHIP and a .167 opponents' average.
"Once you get past the nerves and being in front of everyone and who you are playing against, it is the same game," Barnes said. "I've been playing it for 20 years. Once you get out there, you don't really see anything but the glove. You just go out there and try to execute pitches."
Quinn Roberts is a reporter for MLB.com. This story was not subject to the approval of Major League Baseball or its clubs.