Santiago makes another short but solid start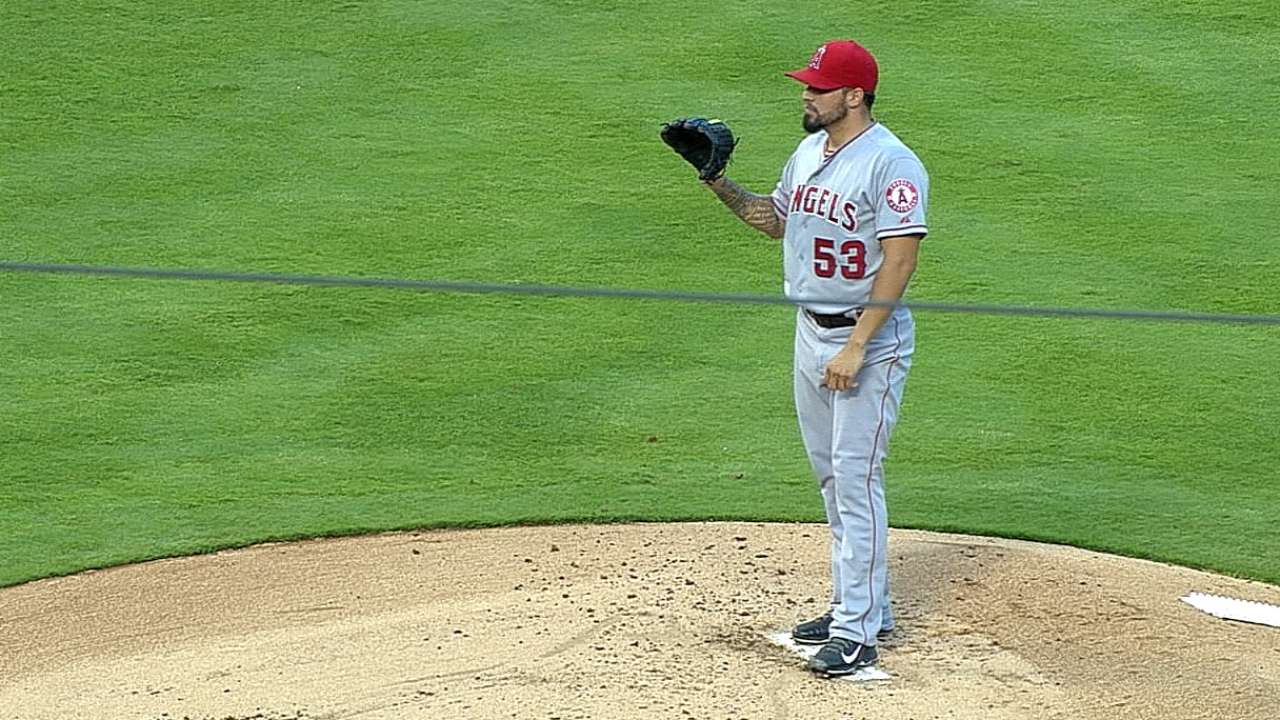 ARLINGTON -- Hector Santiago has just had to accept that his leash is shorter than most. The latest example came in the Angels' 9-3 win over the Rangers on Tuesday, when manager Mike Scioscia pulled his starter after five innings of one-run ball, even though he had only thrown 79 pitches.
"I feel like I can go more, but hey, who am I?" Santiago said. "I'm just out here to give us a chance to win; that's what I'm doing right now."
The 26-year-old left-hander has a 2.71 ERA since his June 10 callup, but Santiago has yet to see the seventh inning in that three-month span and he has only topped 100 pitches once (101, on July 10 at Globe Life Park). In four of those 14 starts, Santiago hasn't been allowed to throw 90 pitches despite giving up one run or zero.
"It's frustrating," Santiago said. "I want to go six or seven innings, and it hasn't been seven all year. You just go inside and get your work done, and get ready for the next one. My goal tonight was to give us a chance to win and keep us in the game."
With two outs in the sixth on Tuesday, Scioscia told Santiago that if the Angels didn't score, the bullpen would come in. After the game, Scioscia said it was "a matchup situation," because the Angels only had a one-run lead and the Nos. 2, 3 and 4 hitters were due up, and he wanted to get a right-hander in the game.
Santiago acknowledged that Scioscia was "in a tough spot," and didn't fault his manager for taking him out.
But it happens all the time.
"Hector had more length tonight," Scioscia said. "There's probably a range in there where he might be getting a little bit tired and some of his pitches are not as crisp. He's gone over 100 [pitches], but if the game situation dictates, where one mistake isn't going to hurt you where he might be getting tired, then you might stretch him a little further. But with the middle of the lineup coming up, and we had our bullpen lined up, I think it was better to match up at that point."
Santiago believes that "the longer I go, the stronger I get." And that hitters have a .190/.306/.357 slash line against him when he's at 101 or more pitches supports that claim. The biggest reason for his short leash could be two-fold:
1. The Angels have a deep and talented bullpen, which Scioscia will usually go to as soon as possible.
2. Santiago has a run-support average of 3.8, which means a lot of his games are close around the middle innings.
"I've had opportunities to go into the seventh inning," Santiago said, "but I feel like all my games are close."
Alden Gonzalez is a reporter for MLB.com. Read his blog, Gonzo and "The Show", and follow him on Twitter @Alden_Gonzalez. This story was not subject to the approval of Major League Baseball or its clubs.