Nathan's pickoff of Dyson looms large in tight race
Veteran closer sensed double steal was on with pair of pinch-runners on base in two-run game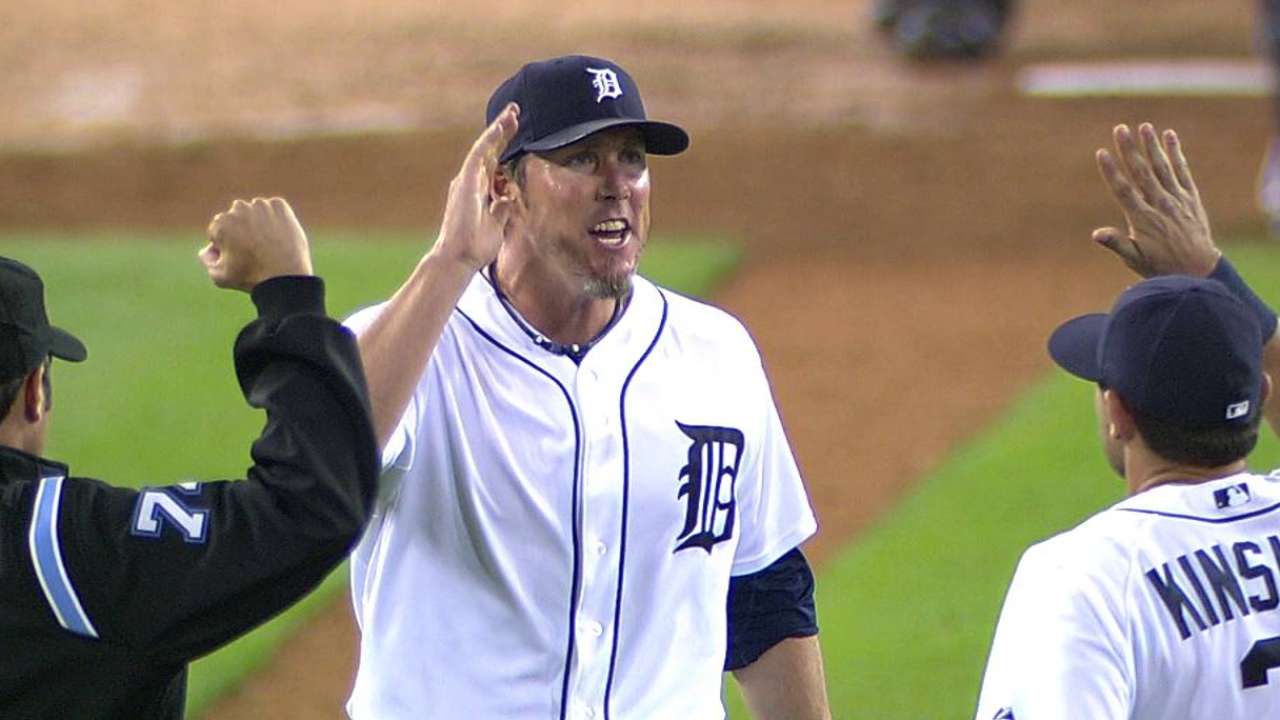 DETROIT -- Tigers fans had seen this script play out before.
Joe Nathan, in a high-pressure situation even for his role, had allowed the first two men to reach base. With a two-run lead, he was behind 2-0 on the third batter of the ninth inning, Alex Gordon.
But there was something different this time around for Nathan. In the past, he has said he could literally feel the crowd's disappointment when he goes behind on a batter. For whatever reason -- perhaps the massive division-race implications or Nathan's run of 11 of 12 saves converted -- the crowd was on his side this time.
"They were into it," Nathan said. "They were into it just as much as I was. My heart was beating a million miles a minute."
Nathan fought the nerves to come back from the hole against Gordon and strike him out. Gordon swung and missed on a 3-2 slider that Nathan called the best pitch he threw in the Tigers' 4-2 win over the Royals at Comerica Park.
In the middle of the next at-bat, Royals manager Ned Yost pinch-ran for Nori Aoki at second base, opting for Jarrod Dyson instead -- speed for even greater speed. That told Nathan and second baseman Ian Kinsler most of what they needed to know about Kansas City's plans for the inning -- Nathan said it was "pretty obvious" to him that something was up.
"I knew they were going to try and create something," Nathan said.
Added shortstop Andrew Romine: "You're not bringing him in to just score. That run doesn't mean anything. You're bringing him in to steal."
Nathan, in a stroke of genius, purposefully faked a slow move to second base to disrupt Dyson's timing and coax him into a bigger lead. Dyson bit.
"He flinched," Romine said. "It was a weird situation. We didn't think that he would just be taking off so anxiously like that. I don't know. Maybe he got anxious."
The 39-year-old closer made eye contact with Kinsler and got the sign that the play was on. He took one glance back toward the bag then did everything he could to make Dyson believe his next motion would be toward home. It wasn't, and that spelled disaster for the Royals.
"I just didn't get the job done," Dyson said. "There's no excuse for it."
It's a play that the Tigers practiced in Spring Training. It's highly unlikely they thought it could key them to a massive win in a September race.
Nathan stopped short of saying the pickoff move practice is simply going through the motions, but he said the focus is usually on just making a good throw to second.
"Joe's got a good pickoff move," Kinsler said. "Other than the spin move that he showed there, he's also got a good inside move. He was a shortstop coming up, so he's got really quick feet and he's very athletic."
Nathan executed, writing a different ending than the one Tigers fans grew accustomed to seeing earlier this season during his struggles.
Now, like a playoff team holding serve at home, it's up to the Royals to respond.
Matt Slovin is an associate reporter for MLB.com. This story was not subject to the approval of Major League Baseball or its clubs.