Crew ties it, but K-Rod allows homers in ninth
Closer can't contain McGehee after club misses big chance in eighth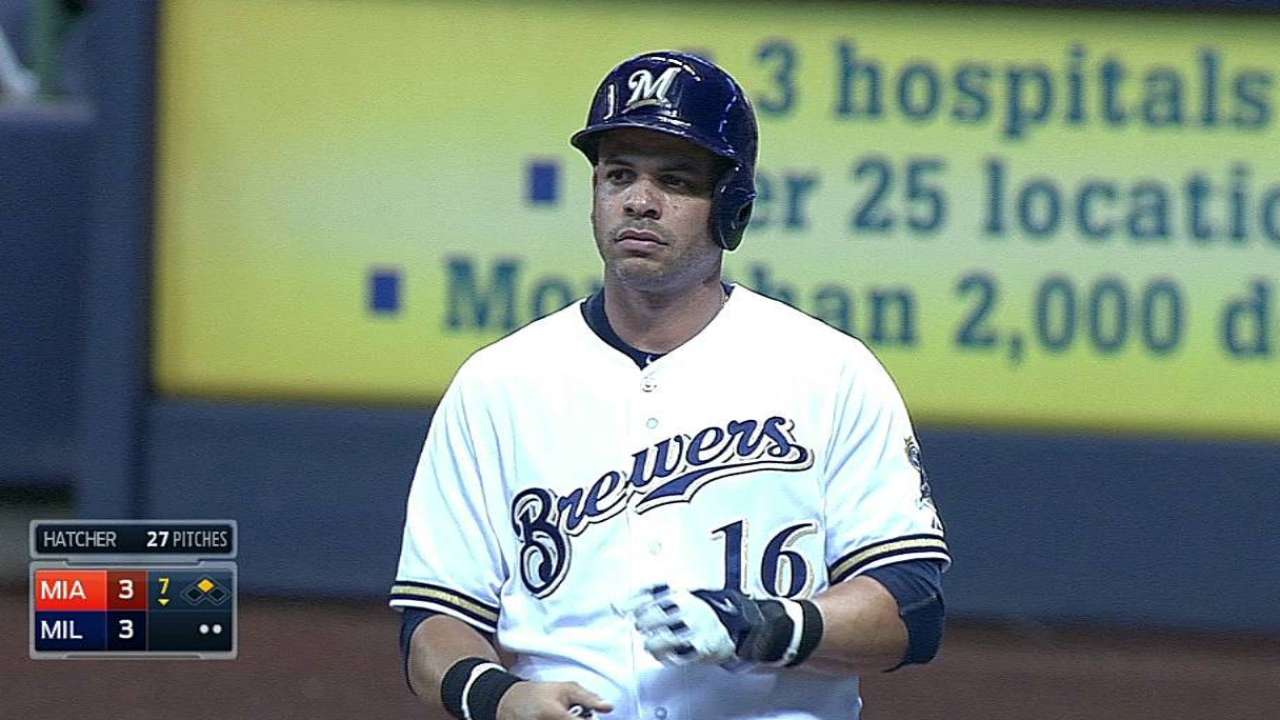 MILWAUKEE -- The go-ahead home run had barely landed in the bullpen from which he'd just emerged when Brewers closer Francisco Rodriguez removed his glove and slammed it down on the mound. In one motion, he summed up Tuesday night's 6-3 loss to the Marlins and a brutal Brewers slump.
"That's how everybody feels right now," said second baseman Scooter Gennett.
Gennett was lamenting his own letdown a half-inning before, but it was Rodriguez who absorbed the most crushing of his team's recent losses. When he surrendered back-to-back home runs with two outs in the ninth inning, it sent Milwaukee to its 13th loss in the last 14 games, and 16th loss in 19 games.
"Miserable. That's the right word for this," Rodriguez said. "Disgusting. All the bad words you can put into it. Extremely disappointing."
It was especially disappointing since the Brewers twice overcame a deficit to tie it against the Marlins, then loaded the bases with nobody out in the bottom of the eighth inning, only to come away empty. At the same time, elsewhere in the National League, the Cardinals, Pirates and Braves all lost, meaning the Brewers squandered an opportunity to gain ground in a postseason chase in which they most certainly still figure, despite recent events. Milwaukee trails St. Louis by six games in the NL Central, but remains tied with Atlanta only a game and a half behind Pittsburgh for the league's second Wild Card berth.
Of course, none of that came up in a quiet Brewers clubhouse, where the possibility of a losing season now looms. A team that spent 150 consecutive days atop its division and was 19 games above .500 in the waning days of June, has fallen all the way to 74-71 with 17 games to go.
When Rodriguez took out his frustration on his glove, his teammates knew the feeling. So did manager Ron Roenicke.
"I'm tired of coming in here and talking about another loss," Roenicke said. "We're playing hard, we're working hard. These guys are putting everything they can into it, and we keep coming up with the same results. It gets old. They will be at it again [Wednesday]. They will be playing hard again. Hopefully things go well."
Gennett said the loss fell on a Brewers offense that collected 11 hits but scored only three runs and went 2-for-14 with runners in scoring position, including those three tough outs in the eighth inning.
Rodriguez disagreed.
"In my opinion, I lost that game with the 2-2 count," he said.
Rodriguez was referencing a two-out walk to Marlins slugger Giancarlo Stanton, who looked at that 2-2 pitch for Ball 3, then took another ball and trotted to first base. Former Brewer Casey McGehee was up next and hit a 1-0 changeup into the Brewers' bullpen for a 5-3 Miami lead. It was only McGehee's fourth home run this season. Marcell Ozuna added a solo homer, his second in as many nights.
"I was in the situation, exactly where I wanted to be," Rodriguez said. "Right where I wanted to get, the first two guys out and keep them off the bases. You pick your own poison right there. Stanton is the last guy, obviously -- I don't want to get hurt [by him]. Once I got back into the count, 2-2, I still had two pitches to make -- quality pitches -- and I didn't."
Rodriguez has surrendered a career-high 14 home runs this season, most in the Majors for a reliever.
Brewers starter Matt Garza surrendered two runs (one earned) over four innings in his second start off the disabled list and was burned by the Marlins' propensity to foul off tough pitches, and his yips on an errant throw to second base, which led to a critical run. Aramis Ramirez led the Brewers' comeback by delivering his first two RBIs in September as the teams dueled to a 3-3 tie into the eighth inning, when the Brewers built, and wasted, their best opportunity.
With the bases loaded against Marlins right-hander Bryan Morris and nobody out, Rickie Weeks and Carlos Gomez hit ground balls to third base that created outs at home plate, and Gennett flied out.
"I should have done more with that pitch," Gennett said. "We didn't execute. That's the thing -- when things are tough like this, it's easy to go up there and try to do too much, try to end the game with one swing. We have to stay within ourselves and get the job done, whether it's move a runner over, hit a fly ball. We have to do a better job of that on the offensive side.
"We're hoping it turns around, and it's got to turn around quick, because obviously it's getting crunch time."
Adam McCalvy is a reporter for MLB.com. Read his blog, Brew Beat, and follow him on Twitter at @AdamMcCalvy. This story was not subject to the approval of Major League Baseball or its clubs.