Prospect Franco shows off bat, glove for Phils
Third baseman hits double, drives in winning run and makes a great diving stop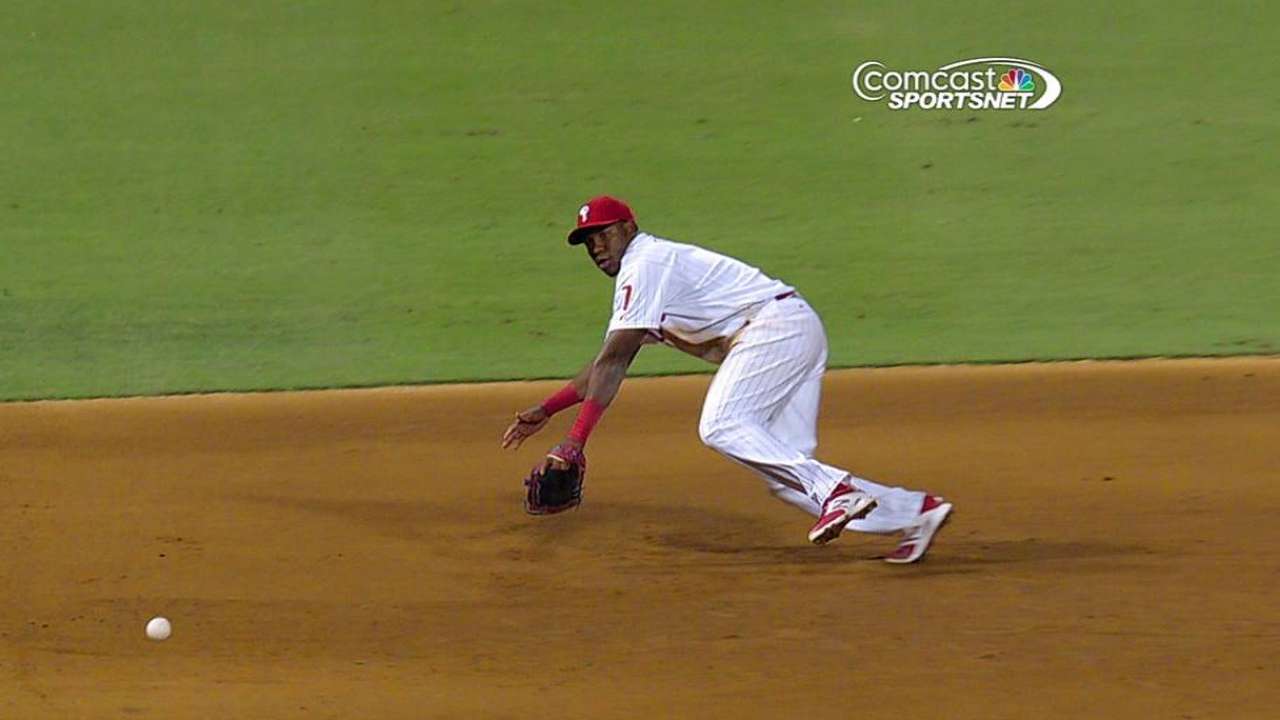 PHILADELPHIA -- Maikel Franco had more than one thing to be proud about Tuesday night at Citizens Bank Park.
He hustled for a double in the first inning, saved a run with a great diving catch in the fifth inning and singled to score the winning run in the seventh inning in a 4-3 victory over the Pirates. Asked which play stuck out, he said the game-winning hit.
"I helped my teammates and my team win," said Franco, who is ranked by MLB.com as the Phillies' No. 3 prospect. "That's what I'm looking for. Just try to do something to help my team. That's what happened."
Franco is just five games into his big league career, but the Phillies hope to see more nights like Tuesday. He went 2-for-4 with one double, one RBI and one run-saving play to go along with his typically smooth defense at third base.
"He's got everything to be good," Phillies shortstop Freddy Galvis said. "He just has to keep working, keep learning. He's real young, so he just has to keep learning and hopefully he'll be one of the best third basemen."
Franco earned his first career double in the first inning in atypical fashion. He popped up a 2-1 fastball from Pirates right-hander Edinson Volquez just a few feet behind the infield dirt in shallow right field. Franco broke hard out of the batter's box and never slowed, which paid off because Pirates second baseman Neil Walker lost the ball. It dropped between him and right fielder Gregory Polanco as Franco slid headfirst safely into second base for the first extra-base hit of his career.
"I knew that the thing I had to do was run hard and try to make it to second base," Franco said.
"That's playing the game the right way," Phillies manager Ryne Sandberg said.
Chase Utley followed and singled to left-center field. Franco read the ball well, moving toward third on contact and scoring easily once it dropped to hand the Phillies a 1-0 lead.
"Good instincts, getting off second base," Sandberg said. "He was still under control, having a look at it. And once he saw the ball was going to drop he was ready to score."
The Pirates had a runner on second with one out in the fifth when Andrew McCutchen smoked a ball down the third-base line. But Franco dove to his right, caught the ball, got up and fired a strike to Phillies first baseman Ryan Howard to get McCutchen for the second out.
Franco later ripped a two-out single to right field in the seventh inning to score Galvis from second base to give the Phillies a 4-3 lead.
"I'm feeling more comfortable out there," Franco said. "I'm trying to see very good pitches and go out there and not think about nothing. Just trying to see the ball and hit the ball hard."
Todd Zolecki is a reporter for MLB.com. This story was not subject to the approval of Major League Baseball or its clubs.