Wacha has rocky outing in second start off DL
Cardinals unable to pick up righty, but still maintain NL Central lead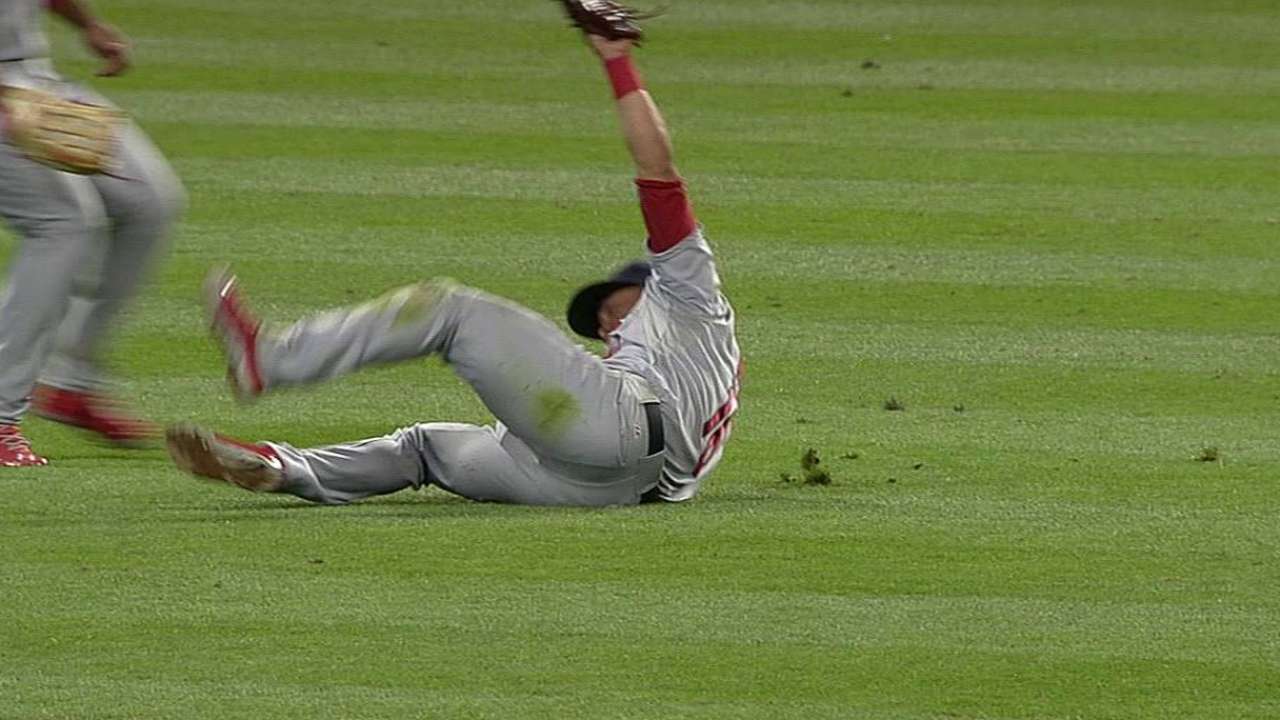 CINCINNATI -- The Cardinals are hoping they'll see the Michael Wacha of last September again this September as they continue what has become a forceful march toward October. But the 23-year-old right-hander's second start since returning from a right shoulder stress reaction was not a step in that direction.
Wacha, who missed 11 weeks with the injury, was roughed up for six runs (five earned) over four-plus innings as the Cardinals lost, 9-5, to the Reds at Great American Ball Park on Tuesday night. With the Pirates also losing to the Phillies, the Cardinals' National League Central lead remained at 4 1/2 games.
Wacha, who was limited to a maximum of 70-75 pitches after throwing 50 in his first start coming off the disabled list, threw exactly 70 on Tuesday night. But not before the Reds got to him early.
Devin Mesoraco hit a two-run homer off Wacha in the first, and after Cincinnati starter Mike Leake lined an RBI double to left in the fourth, Mesoraco struck again with an RBI double in the fifth. The next batter, Brandon Phillips, doubled home Todd Frazier -- who had reached on an error by second baseman Kolten Wong -- and Mesoraco to increase Cincinnati's lead to 6-1.
Following a Ryan Ludwick infield single and a Chris Heisey groundout, Zack Cozart singled Phillips home to extend the advantage to 7-1.
"I just wasn't good; I missed a lot of spots," Wacha said. "I didn't execute pitches when I needed to -- guys in scoring position, I just left a lot of balls down the middle of the plate, and you just can't do that and they make you pay for it."
Wacha's first outing off the DL came last Thursday against the Brewers in Milwaukee, when he allowed a run on three hits, walking one and striking out three over three innings. He wasn't using the current process of gradually building his arm strength back up as an excuse for his poor outing on Tuesday.
"It's September, and every win counts right now," Wacha said. "That's definitely the objective going out there. I just didn't put my team in a very good position to win a ballgame today. They scored plenty of runs today to get a win, and I just didn't do my part."
Cardinals manager Mike Matheny said Wacha's inability to command his fastball limited how effective he could be. He also emphasized that the process of getting Wacha back to being effective is important, but not the most important goal.
"Our priority is to win a game, and hope that we can use every one of our guys to do it," Matheny said. "And getting [Wacha] closer to being right, we believe, is going to help us to be a better club. … The priority is not getting his pitch count up; the priority is us giving ourselves the best chance to win."
The Reds tacked on two more in the eighth against reliever Sam Tuivailala, who made his Major League debut. The two runs came on a Heisey bloop single that right fielder Randal Grichuk couldn't catch on the dive.
The Cards' first run came on a fourth-inning sacrifice fly by Yadier Molina, his career-high-tying fifth of the season.
St. Louis added three more in the seventh. Oscar Taveras led off with a double, and following a Wong single, scored on Tony Cruz's single. One out later, Jon Jay singled home Wong. Matt Holliday reached on an infield single to load the bases, and one out later, Jhonny Peralta walked to bring in St. Louis' fourth run.
Xavier Scruggs' pinch-hit RBI double -- his first Major League hit -- made the score 9-5 in the ninth.
But despite the late life from the offense, Wacha's rocky start made the deficit tough to overcome. And though the young right-hander is in a tough spot as he tries to regain his former dominance while in the midst of a playoff chase, he's still only focused on one thing.
"I don't think about how I only got so many pitches in this start," Wacha said. "I go out there and just compete, and just try to get as deep into a ballgame as I can, and try and get a win for our team."
Manny Randhawa is an associate reporter for MLB.com. This story was not subject to the approval of Major League Baseball or its clubs.