Filling in for Rollins, Galvis drives Phils to win
Shortstop scores winning run during his best offensive game of '14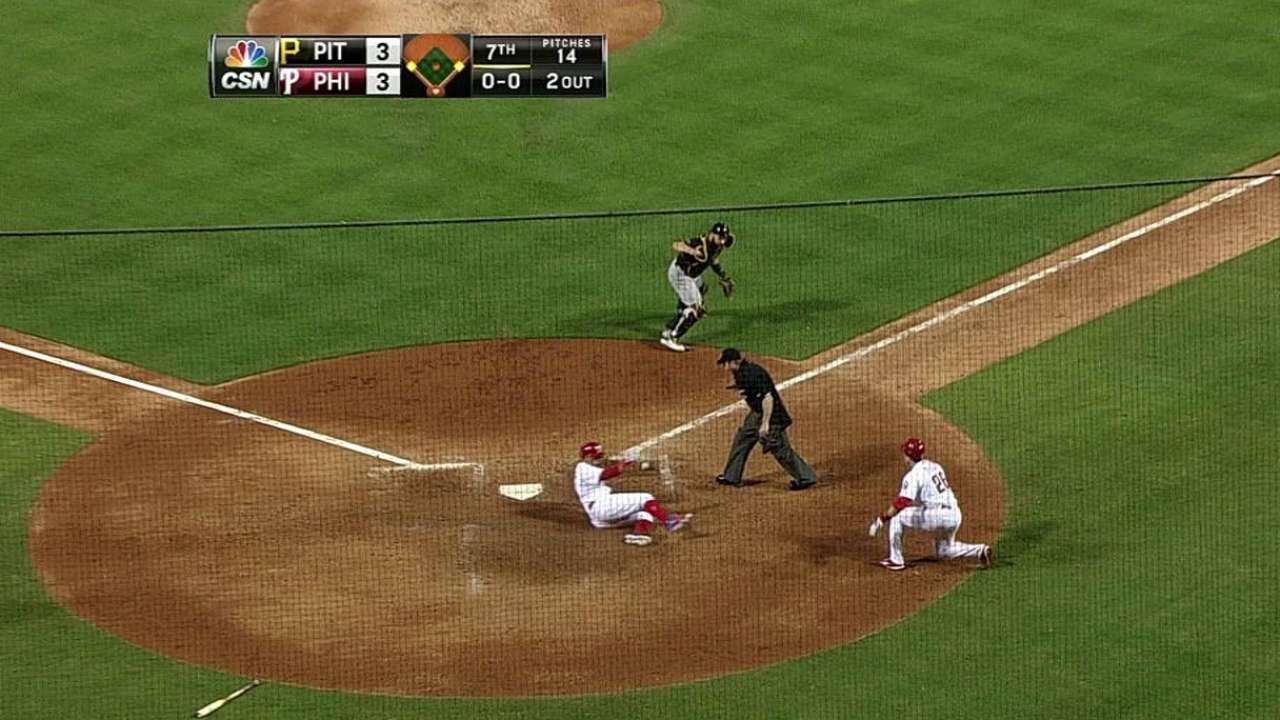 PHILADELPHIA -- Freddy Galvis is getting his chance this September. Already set to receive sprinkled starts with the Phillies out of contention and evaluating their roster for 2015, his playing time got an even bigger boost with Jimmy Rollins day to day due to a left hamstring strain. On Tuesday night at Citizens Bank Park, Galvis delivered, powering the Philadelphia offense from the eighth-spot in the lineup.
Entering the game 5-for-59 (.085) this season, Galvis went 3-for-3 with a homer and three runs scored, including the go-ahead run that gave the Phillies a 4-3 victory over the Pirates.
"I feel awesome. To have a good game, have a chance to play, do good and help the team win, that's good," Galvis said.
Galvis credited a few weeks playing for Triple-A Lehigh Valley with helping him find his stroke after a slow start to the season.
"After a few weeks in Lehigh, playing every day, I started to get my swing back and felt much better," Galvis said.
From Aug. 5 until his final day with the IronPigs on Aug. 22, Galvis hit .317 with three homers and 10 RBI in 63 at-bats.
"I felt Freddy was behind the eight ball when he was first here early on with the lack of Spring Training," Phillies manager Ryne Sandberg said. "His timing was off and he was just in a little bit of a hole that was hard to get out of when you don't have timing. He went to Lehigh Valley, swung the bat very well and made the most of his time there, played very good."
Maikel Franco set the table in the first with some help from the Citizens Bank Park lights. He hit a towering popup to shallow right field that both second baseman Neil Walker and right fielder Gregory Polanco lost in the glare, allowing the ball to land between the two and Franco to reach second for his first career double. Chase Utley singled him home in the next at-bat.
A dropped popup by catcher Carlos Ruiz opened the door for the game-tying run in the second. Russell Martin singled but was thrown out at second trying to stretch it into a double, and after Ruiz's error lent way to a Polanco walk with two outs, Jordy Mercer doubled to drive in Polanco.
In the second, Galvis turned on a high sinker from Pirates starter Edinson Volquez, banging it off the top of the out-of-town scoreboard in right field for his first double of the season. Phillies starter David Buchanan helped his own cause in the next at-bat by scorching a grounder up the middle for his second career hit and RBI to make it 2-1.
Martin hit a two-run double with two outs in the third against Buchanan, who needed 60 pitches to get the first nine outs. But from there, the 25-year-old rookie needed just nine pitches during a perfect fourth as he settled in. He went six innings and allowed three runs (two earned) on four hits and three walks while striking out five.
Three early walks all came home to score against Buchanan, so he took a moment to find his composure midway through his outing.
"After that third inning, I was pretty upset and I kind of went down back in the tunnel and really kind of had a moment to myself, just to tell me to clean up it up and start throwing the ball over the plate," Buchanan said. "So for the rest of the game, I told myself, pitch by pitch, get strike one. All right, now let's get strike two. So, main thing, just start using my fastball more and just really focus on hitting my spots."
Galvis clocked another sinker from Volquez in the fifth, this time sending it 10 rows deep into the right-field stands for his second homer of the season, tying the game at 3.
"I was behind in the count," Volquez said. "He put a good swing on the ball and he hit it out, the first one he hit a double. That's going to happen when you throw the ball right in the middle."
Galvis hit a leadoff single in the seventh, and after stealing second, he was brought home on a single by Franco for the game-winning run.
"That's what I'm looking for," Franco said. "To do something to help my team."
The Phillies' bullpen, which entered the game with a Major League-best 2.05 ERA since Aug. 5, added to that number with three scoreless innings in relief of Buchanan.
"They've been doing that all year, in my opinion," Buchanan said. "You never want to come out of the game, obviously. But being here, with the bullpen the way it is, when you come out of a game, you're pretty confident it's shut down from then on."
Erik Bacharach is an associate reporter for MLB.com. This story was not subject to the approval of Major League Baseball or its clubs.