Gentry concussed after collision at first base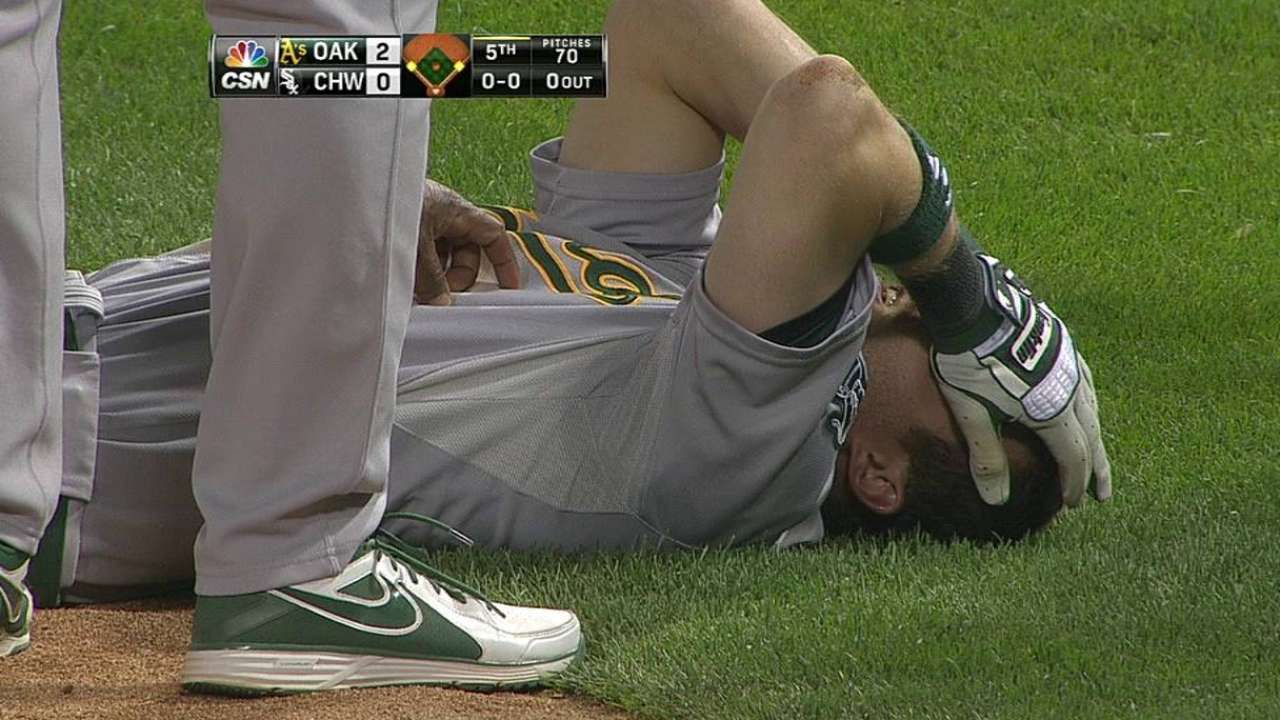 CHICAGO -- Outfielder Craig Gentry exited with a concussion in the fifth inning of Tuesday's 11-2 win over the White Sox after colliding with Carlos Sanchez at first base while trying to beat out a bunt.
The 30-year-old veteran is likely headed to the seven-day concussion disabled list, though manager Bob Melvin didn't confirm the move.
"I don't know for sure," Melvin said. "They have to go through different channels now, which is a good thing."
Gentry's potential hiatus would thin the A's outfield to five players, including Coco Crisp, who served as the designated hitter on Tuesday and has been limited in his return from a neck injury.
Touted prospect Shane Peterson is an option, with Triple-A Sacramento having finished its season last week, but Melvin didn't indicate that a callup for Peterson is likely, noting Billy Burns' presence and Brandon Moss' ability to play the outfield.
"I think we have enough," Melvin said.
Gentry's head smashed into Sanchez's shoulder as the second baseman raced to first to await the toss from pitcher John Danks, who had fielded the ball.
Gentry left the field under his own power but was visibly shaken.
"Any time you're talking about the head, that's tough to see," said starter Jon Lester. "But that's kind of the whole personality behind this team -- go hard until you get knocked down. We try to use it as a figure of speech, not go out there and actually literally go out there and get knocked down. Hopefully, it's not that bad. Hopefully, he just needs a couple days."
Gentry was ruled safe on the play; Josh Reddick came in as a pinch-runner. The bunt advanced Crisp to third, and Crisp and Reddick scored on a double by the next batter, Josh Donaldson.
Sanchez didn't appear hurt on the play and remained in the game.
A .254 batter this season, Gentry has played in parts of 94 games, with 58 starts. He started in center on Tuesday with Crisp as the DH.
The A's are already down catcher John Jaso to a concussion. Jaso is scheduled to meet with Dr. Micky Collins on Wednesday in Pittsburgh, and could return soon if cleared by Collins and Major League Baseball. Melvin said that Jaso likely won't catch again this season and would be used only in hitting situations.
Daniel Kramer is an associate reporter for MLB.com. This story was not subject to the approval of Major League Baseball or its clubs.