Umpires confirm out call at home on Drew
Rays catcher Hanigan ruled not to have violated Rule 7.13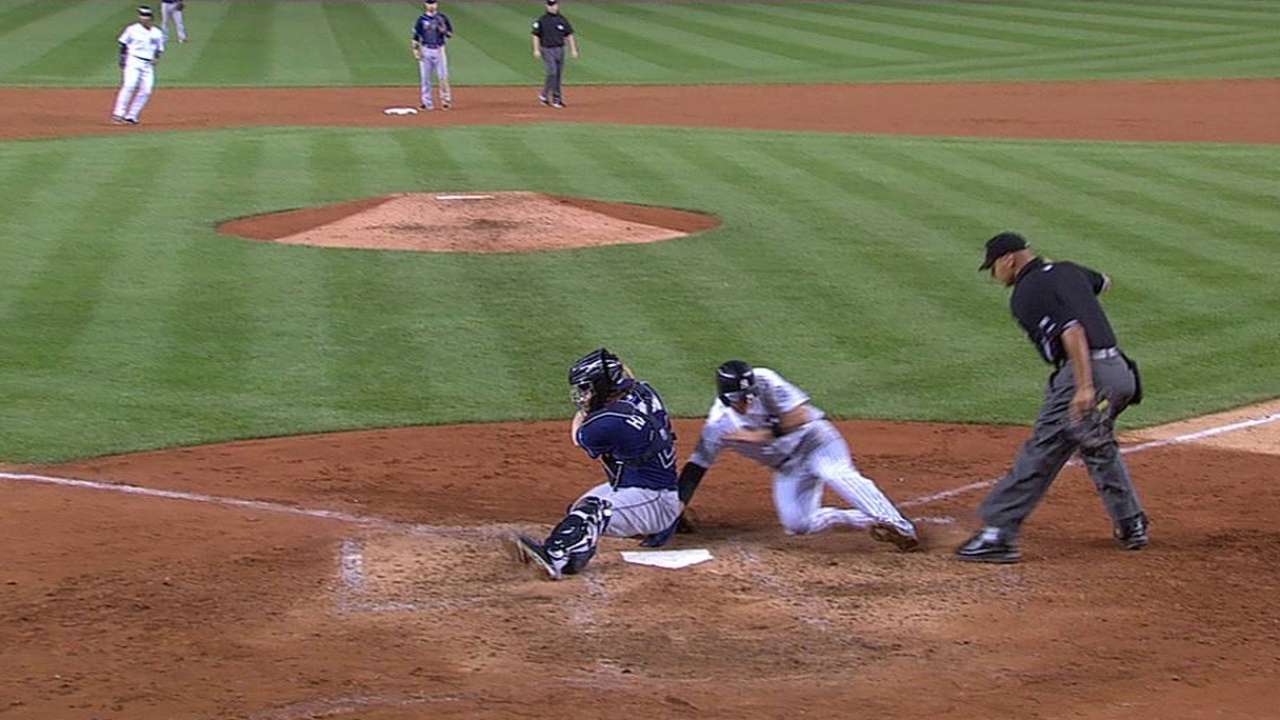 NEW YORK -- All 30 clubs have received an illustrated memorandum from Major League Baseball, attempting to clear up potential confusion about the rules governing collisions at home plate. It was quickly put to the test in Tuesday's 4-3 Rays win over the Yankees.
The umpiring crew confirmed an out call at home plate after initiating a crew-chief review, as New York's Stephen Drew was tagged out by Tampa Bay catcher Ryan Hanigan in the fifth inning.
With runners at first and second and none out, Jacoby Ellsbury singled to left field. Drew was waved home by third-base coach Rob Thomson and Matt Joyce's throw to the plate arrived well before Drew, who never touched the plate as he slid toward Hanigan's right leg.
The Yankees believed that Hanigan was blocking Drew's path to the plate, which prompted manager Joe Girardi to discuss the call made by home-plate umpire Vic Carapazza as a potential violation of Rule 7.13. Upon review, the original on-field ruling was confirmed, so Drew remained out -- a decision that puzzled him.
"You go back and look at the replay, it's kind of hard to look at the ruling," Drew said. "I don't really know what to say because as a runner, for me, you have nowhere to go. The ruling says do not block the plate, you've got to give a lane, but there was nowhere to go. So it's kind of frustrating."
Drew said that if he had an opportunity to run the play again, he would have tried to run Hanigan over.
"The only other alternative is to do the old-school way, try to take him out," Drew said.
The play proved to be decisive in the game, cutting down what would have been the tying run for the Yankees.
"The old obstruction rule is the same last year as it is today," crew chief Larry Vanover said. "If you're not in the act of fielding the ball, you can't block the runner's basepath. That applies everywhere on the field. That hasn't changed from last year to this year. That's still there. They've just taken variations of the rule and tweaked it to try to protect the players."
Vanover said that the umpires did not receive a memo, but they did have a call about it on Tuesday.
"Joe Girardi had every reason to go out there and ask for that to be reviewed," Rays manager Joe Maddon said. "Conversely, if that play's overruled, that's a travesty for me. That's such a routine baseball play to have. ... To say that that play would be illegal to me would pretty much be saying you can't turn double plays anymore or ground-rule doubles don't count. It's just in the fabric of the game, it was a good play."
Girardi said that he had not addressed that memo with his players before Tuesday's game because his understanding is that the league still is urging players to slide. However, during a pitching change later in the game, Girardi said that he told the Yankees' infielders -- Drew included -- that they should run over catchers on similar plays in the future.
"I wish they would just say it's back to normal and if you go out of your way to run the catcher over, you're suspended," Girardi said. "You know, I almost feel like you have to instruct your runners to run the guy over because every advantage is almost to the catcher now.
"... I am not sure what to instruct my runners to do now. When we got to the mound and talked about it, I said, 'Run him over. Bottom line, run him over.'"
Bryan Hoch is a reporter for MLB.com. Follow him on Twitter @bryanhoch and read his MLBlog, Bombers Beat. This story was not subject to the approval of Major League Baseball or its clubs.